Who's afraid of the big, bad IronWolf in this age of super-sized, super-fast SSDs, Jeremy Laird asks?
These days, performance storage is all about solid state. SSDs provide not only by far the fastest performance, they now also offer the largest capacities hitting 30TB – for a price.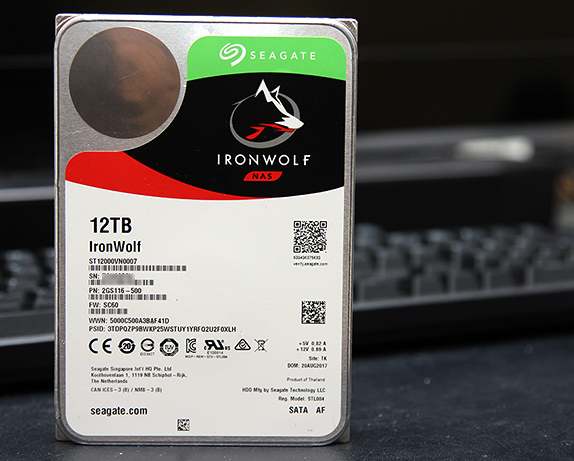 See also: Seagate Personal Cloud 4TB Review
Yet there's one metric that remains dominated by old-school magnetic hard drives: storage bang for buck. If you want maximum storage density for the minimum possible price then you'll need some spinning magnetic platters. With that in mind, it's no surprise to find that conventional hard drive technology marches on despite its relegation to a mere commodity product. A little over a year ago. the biggest mainstream hard drives weighed in at 10TB. Now we're reviewing our first 12TB drive, the Seagate IronWolf.
Seagate IronWolf 12TB Review: Double the lupine fun
Seagate offers two versions of the IronWolf: vanilla and Pro. This vanilla drive is aimed at connected homes. SoHo and SMB apps. while the Pro version is for full-on commercial and enterprise users. Both are packed with features and technology. That includes Seagate's AgileArray tech, which involves dual-plane balancing. RAID optimisation and advanced power management. Then there's rotational vibration (RV) mitigation, including several RV sensors that help maintain performance in multi-drive NAS enclosures.
In 12TB trim, the IronWolf sports a total of eight platters, thus 1.5TB per platter. As a consequence, its 3.5-inch chassis is crammed. The usual recesses on the bottom of the drive are nowhere to be seen. Rounding the main feature set out is the 7,200rpm spindle speed and a chunky 256MB of cache, all running through a standard SATA 6Gb/s interface.
Overall, this 12TB model is rated at 180TB per year of data traffic, has an MTBF (mean time between failures) of one million hours, and a three-year limited warranty.
For context, IronWolf Pro is optimised for 300TB per year, has an MTBF of 1.2 million hours, and a five-year warranty. It all adds up to one hell of a lot of storage for a pretty reasonable price. Granted, a 3TB or 4TB drive may offer marginally more storage per dollar, but the 12TB IronWolf is pretty competitive in that regard, and offers unbeatable data density.
So the 12TB IronWolf looks good on paper and offers a pleasing capacity-to-penny ratio. But how does it perform? By the standards of a conventional magnetic drive, it's seriously swift. You're looking at sequential reads and writes in the 260-270MB/S region. The 4K random access performance is where magnetic tech really shows its age. compared to solid-state storage. 4K reads of around 1MB/s and writes just under 3MB/s would be utterly catastrophic for an SSD; yet for this type of drive, they're very much competitive.
The bottom line is that you're not going to get anywhere like the performance of even a budget SSD. But that was a given. If you want major storage density at a reasonable price, however, the IronWolf achieves that, and throws in excellent performance for this type of drive.
Small businesses on a budget will be interested in Seagate's IronWolf.
Seagate IronWolf 12TB Review: Specifications
Capacity: 12TB (models down to 1TB)
Interface: SATA 6Gb/s
Protocol: AHCI
Speed: 7,200rpm
Max Rate: 210MB/S
Cache: 256MB
Platters: 8x 1.5TB
MTBF: One million hours
Warranty: Three years
» HARD DRIVE SPEEDS COMPARED
| | | |
| --- | --- | --- |
| Hard drive model | Seagate IronWolf 12TB | HGST Ultrastar He10 10TB |
| 30GB internal copy (seconds) | 267 | 264 |
| Sequential read (MB/s) | 266 | 246 |
| Sequential write (MB/s) | 263 | 248 |
| 4K read (MB/s) | 1.16 | 0.71 |
| 4K write (MB/s) | 2.95 | 5.97 |
[/wpsm_colortable]
Seagate IronWolf 12TB Review: Verdict
MAN: Seagate
WEB: www.seagate.com/ironwolf/
| | |
| --- | --- |
| FEATURES 9/10 | EASE OF USE 9/10 |
| PERFORMANCE 6/10 | VALUE 10/10 |
[/wpsm_colortable]
Outstanding value for its capacity with performance as good as you can expect from spinning rust. A fine warranty, too.
» Rating 9/10