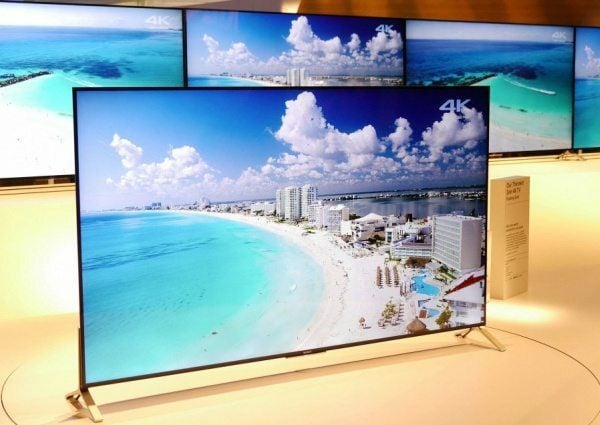 This is an eye-catching 4K screen from Sony, but Steve May would rather be dreaming of electric sheep
After eight mints and vinyl records. These are just two things thinner than a Sony X9005C 4K/Ultra HD TV. It's not much of a list, granted, but then this flagship thinitron is almost incomprehensibly svelte. Indeed, you could be forgiven for thinking it an OLED panel rather than edge-lit LCD.
The set's girth increases marginally at the bottom, but only to accommodate electronics and jack pack. It is, simply put, a dashing blade of a gogglebox, with most of its frame measuring a measly 4.9mm deep. Sony has been knocking it out of the park for the past couple of seasons when it comes to TV design, but this is out of the park and into the forest.
The KD-65X9005C is notable for more than its looks, though. It's the champion of a new line of connected TVs that use the Google Android platform. Unfortunately, that's when things start to get ugly.
Not to sugar coat it: the Android OS, as executed currently, provides a miserable user experience. While rival brands have strived to make their Smart TVs simpler, Android adds layers of complexity.
This is evident from the get go. The TV boots with the familiar swirling Android balls. You're then asked to sign in to your Google account, entering a code offered by the set into a setup page on any networked browser. The TV orchestrates this drama with a floaty graphic and soundtrack borrowed from the PS4.
The KD-65X9005C checks for any updates and prompts you to download. My first update took an age, and that's before it 'optimised' some 181 resident apps. As a user experience this sucks lemons. When the TV did return to life, the first message my Google-powered Android TV offered me was 'Can't reach Google at the moment.' At that point I knew what it must have felt like trying to contact the Philae comet lander.
The main Android display features tiered shelves, starting with Featured Apps (which by default comprises a cupboard of old streaming services, Amazon Instant Video, Netflix and DailyMotion). Below this is an input access bar which puts nonsense like 'CAM Service List' and 'Analogue tuner' in front of the HDMI inputs. To get rid of these you have to manually edit the input list via the External Inputs menu; this takes you through to a sub-screen with sub-sub menus for AV Preset, IR Blaster setup and BRAVIA Sync Settings. You and I may have a stab at navigating this breadcrumb trail but folks in the real world probably won't bother.
That AV Preset menu lists all input options in alphabetical order, beginning with Analogue (clearly useful). It's here that you get to hide or rename inputs, changing them to Blu-ray, Game or a custom tag.
But it's not just such clunky operability that grates. The language used throughout is willfully unintuitive and non-inclusive. Venture off the beaten path and the Android platform bamboozles and infuriates. Downloaded Apps eagerly exposes the user to a full carriage of system mechanics – Activity Stub, BivlService, BluetoothExService, CEB. What do they mean? I have no clue, and frankly I don't want to know. This is a telly for goodness sake.
To add additional services, you head to the Google Play store. You can install the likes of Plex and Vevo, but there are no catch-up TV apps beyond BBC iPlayer. Sony will rectify this with integrated YouView, which will be available as a firmware update in due course. YouView will bring with it a full complement of catch-up, and given how great the YouView environment is, this could be the making of this set. It's not available at launch, though.
There are some nice elements to the interface. The Android TV Guide uses an overlay, rather than a dedicated TV window, augmented with live audio. Select a show and you're taken to a more detailed synopsis with a breakdown of the cast and crew, and Related Content – similar themed shows and the like.
There's also integrated Twitter support. Tweets related to current programmers appear in this window; you can set keywords for the set to look out for. I report this merely as a courtesy. Twitter build into TVs is #lame. Sony's Discovery Bar is still going though, which is good news.
Connections comprise four HDMI inputs, all of which are v2.0 and HDCP 2.2 compliant. There are also three USBs, Scart, component video with phono audio, an optical output, Ethernet, dual satellite tuners and Freeview HD. Resident Wi-Fi is dual band, allowing you to connect via 5GHz or 2.4GHz. The set ships with two remotes: a standard IR doofer and a Bluetooth touchpad with integrated mic.
While Google Android TV is a mess (and presented at 2K resolution, rather than 4K), Sony at least does what it does well enough. And in terms of AV performance, this not-quite-flagship set generally impresses.
Sony's new 4K Reality Creation Pro technology does a wonderful job interpolating extra information from your sources. A new set of look-up tables are built-into the TV's chippery, and detail extraction from objects, be it background or foreground detail, is remarkable. When the domed arena disintegrates at the climax of Hunger Games: Catching Fire, there's a big profile close-up of Katniss Everdeen's face, as she lies on the ground battered and barely conscious. Sony's X1 processor adds photographic levels of pixel information. It's not native 2160p, but it could easily be mistaken for pukka UHD.
Black level performance is okay but not outstanding. While there's no doubting the brilliance of Sony's drive for thinness, it has its consequences. Edge lighting is far from uniform, with light leakage blooming around the bezel area. As such, it's not at its best during dark room viewing.
The onboard Netflix client is 4K-enabled, and native Ultra HD content looks great, with depth and detail aplenty drawing you in. The golds in Marco Polo have valuable lustre, skin tones are weathered and naturalistic. And thanks to the Triluminos display, the Sony doesn't shirk when it comes to beautiful blues and verdant greens.
The picture mode has various default settings, including Standard, Vivid, Cinema Pro, Cinema Home, Sports and Game. Standard is very well-judged, and will suit most tastes; there's a lot of tweaky control available should you feel the need.
Unlike Sony's other 4K heroes, the audio system on the X9005C is integrated into the back panel with four drivers down-firing. The result is perfectly acceptable, but lacks the presence or width of Sony's magneticfluid, front-facing speaker designs.
There's little doubt that the X9005C is a notable technical creation. Image quality, both Full HD and native UHD, is good, albeit with caveats regarding edge-lighting uniformity and black level that aren't a major surprise given the super-slim design. However, the Android Lollipop OS is a considerable albatross, which presents buyers with a real dilemma. The only sensible course of action is to wait until the YouView firmware update lands. Let's be hopeful it improves the TV's usability.
TUNER: Yes. Freeview HD, DVB-S2 satellite
CONNECTIONS: 4 x HDMI (v2.0); component video; Scart; Ethernet; 3 x USB (one USB 3.0); CI slot; built-in Wi-Fi
DIMENSIONS (OFF STAND): 1,451(w) x 835(h) x 39(d)mm
FEATURES: Dual-band Wi-Fi; USB and network multimedia playback; 4K Reality Creation Pro with X1 processor; Discovery Bar; integrated Twitter; Android OS; Netflix; Amazon Prime; will be firmware updated to off er YouView; Standard, Game, Sport, Animation, Vivid, Custom, Cinema preset modes; Flat Area Detection; Triluminos display.