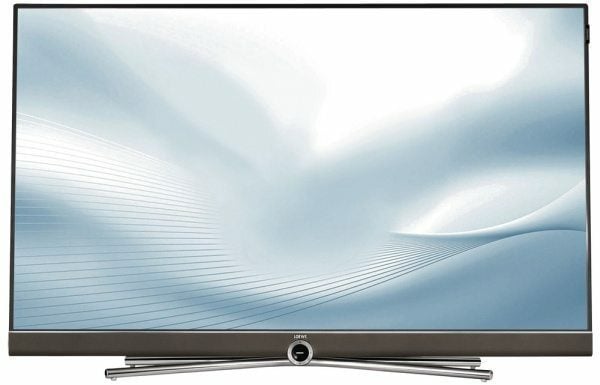 After a period stuck in buy-out hell, can the German brand's first ever 4K TV persuade
John Archer that it hasn't lost any of its premium edge?
There have been moments over the past couple of years where things have looked decidedly dodgy for German brand Loewe. It's always claimed, though, that it knew where it was going – it's just taken longer than expected to get there.Now, Loewe's finally ready to emerge – or rather, explode – back into the AV sunlight by becoming the first brand to only sell 4K/UHD TVs. Yep, every size of every TV in Loewe's new four-series-strong TV range features a 3,840 x 2,160 resolution screen. For a brand with a luxury ethos, it's a sensible step.
With the mid-range 55in Loewe Connect 55 on my test bench today, the 4K resolution is just one of its attractions.
For starters, while Loewe has slightly streamlined its customization options from past generations, the Connect 55 still comes in three different core color combinations, lets you change the colors of elements of its design, and can fit onto a variety of table-top, floor, wall and furniture mounts. It looks equally gorgeous no matter what design blend you choose, and it's also superbly built by modern standards.
One notable part of its design is the front-facing speaker bar running along the bottom edge, as this promises a more powerful, direct sound than the usual downfiring systems.
The Connect 55 further stands out from the TV crowd with its 1TB built-in hard disk recording system, which can store hundreds of hours of programming direct from the set's Freeview HD tuner. You can also remotely set recordings via the Loewe Smart Assist app.
One obvious chink in the Connect 55's feature armour is its Smart TV system, which doesn't support any of the key UK catch-up content services, nor Netflix or Amazon. The lack of support for the latter means there's no easy way to enjoy 4K video on a Loewe TV until compatible Blu-ray players or broadcast platforms (such as BT's Ultra HD Sport channel) arrive. At least the TV supports HDCP 2.2 and the HEVC codec, so is future proofed in that regard.
Inputs include four HDMIs, two USB ports and built-in Wi-Fi.
In most ways that matter, the Connect 55 is an excellent picture performer. Its color rendition, for instance, appears pretty much as good as it could be on a TV that doesn't support High Dynamic Range (HDR), with rich saturations and beautifully subtle blends and details. This is especially true with 4K content, helping my 4K World Cup footage look gloriously life-like and immersive. Only the best 4K TVs have enough color subtlety to match the eight million pixels in their screens, and by that measure the Connect 55 is clearly one of the best.
The precision of its Ultra HD pictures can be seen, too, in the wide shot across the futuristic cityscape from Quaid's balcony in the Total Recall remake (4K HDD material), letting you pick out incredible levels of detailing and delivering that sense of extreme image depth that's a trademark of the finest UHD experiences.
The Connect 55's sharpness is underlined by superlative motion handling. Everything from that 4K World Cup coverage through to the battlefield kinetics of Edge Of Tomorrow (Blu-ray) is rendered with a combination of judder-free smoothness and an absence of jarring resolution loss. And Loewe's processing never feels overbearing or distracting, either.
UHD upscaling is effective. The results aren't as sharp, perhaps, as those of Samsung and Sony's latest TVs, but again, despite the amounts of processing involved, ramped up Full HD sources look admirably natural.
Actually, the Connect 55's processing works brilliantly on almost every level. So much so that I'd argue getting the best from Loewe's new set is no more complicated than just making sure its Image+ processing is switched on. This handles a huge range of picture features, including panel backlighting, motion processing, noise reduction, colour handling and upscaling of HD and standard- def material. Despite the diversity of its duties, Image+ delivers mostly superb results.
In fact, it served up contrast results during dark room viewing (with its light sensor element active) that were better than anything I could achieve via my own tweaks – the first time that's ever happened!Accompanying the Connect's mostly great pictures is some unusually powerful, wellrounded audio. The speakers can snarl a bit under extreme duress, such as during the city destruction sequences in '90s sci-fi Independence Day, but aside from these rare moments you'll love the clarity and dynamic range on off er. And you can add one of Loewe's own subwoofers or use its integrated 5.
1 decoder to hook up an external surround sound system (of any brand) to outdo the built-in 80W stereo speakers.
The Connect 55 doesn't quite earn an unreserved recommendation, though. During dark scenes you can't help but notice that the glossy screen can be distractingly reflective unless your room is itself blacked out. Also, while the Connect 55's black levels are good, really dark areas reveal slightly more greyness than you get with star black level performers, as well as traces of backlight clouding that no amount of experimenting with the TV's settings completely removes. By the time you've taken enough light out of pictures to minimise the clouding, moreover, pictures have lost quite a lot of luminance and a little shadow detail.
Another point: it's a shame given its premium price that Loewe doesn't provide any free 3D glasses with its new 4K TV – a fact which prevented me from testing its 3D performance. It's also tempting to wish that Loewe had sneaked HDR capability into this screen considering its price, although this is perhaps unfair given the Connect 55's uniquely customisable, luxurious design, onboard digital recorder, and the fact that it probably would have cost substantially more under Loewe's previous regime.
Nonetheless, while its video processing is truly outstanding and its built-in video recorder is a boon, its slight dark scene foibles and lack of (especially 4K) video streaming support are hard for serious AV fans to ignore.
3D: Yes. Active (no glasses supplied)
TUNER: Yes. Freeview HD, satellite
CONNECTIONS: 4 x HDMI (v2.0); 2 x USB; Ethernet; RF input; satellite input (not Freesat); built-in Wi-Fi; CI slotSOUND: 80W stereo system, plus 5.1-decoding includedDIMENSIONS (OFF STAND): 1,229(w) x 751(h) x 68(d)mm
FEATURES: USB multimedia playback; DLNA networking; Image+ video processing engine; built-in 1TB hard disk recorder; twin tuners; can stream from one tuner to Smart device while watching another on the TV; remote recording via Smart Assist app