The premise of an entire distribution based on unstable software is seducing enough for Shashank Sharma. But is the project just a clever gimmick?
Siduction Cinnamon review: In brief…
» Based on Sid. Debian's unstable branch, the distro presents itself as fully usable, if its default collection of apps is any indication. The caveat of running unstable software is repeated throughout the release notes, on the project's website, as well as during installation. Much like rolling release distros like Arch, you can use dist-upgrade to bring your system up to date.
You know you're at the heart of the Linux ecosystem, when even your unstable branch spawns a Linux distribution; based on Debian Unstable. Siduction is a Linux distro designed for users who are eager to run the latest software and also don't want to repeatedly go through an entire installation every six months.
The project ships as a sub-2GB Live installable ISO for 64-bit machines and features a customized Calamares installer. Unlike many Debian derivative distros. which are driven by a single developer or a small team. Siduction has a comparatively vast team of developers and maintainers.
Debian. which is well known for its Debian Free Software Guidelines (DFSG) – a set of rules that describe what software and tools can be included in the Debian release based on the underlying software license – has taken an exception to Siduction's decision to ship with various proprietary codecs and drivers out of the box. What's more, users can't choose to opt out of these proprietary offerings. You can find a list of such tools in the release notes, or alternatively run the vrms command from a terminal. The distro used to offer a custom script named remove-nonfree to rid your installation of all non-DFSG-conforming software, but has since discontinued it. You must run the apt purge $(vrms -s) command instead.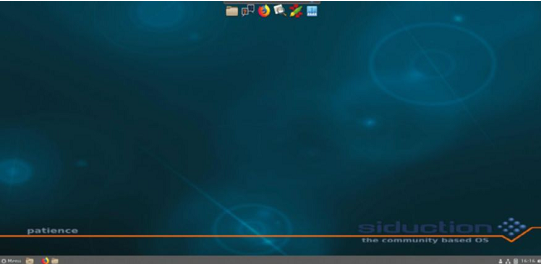 As with past releases, the distro ships with several variants featuring
Despite the inherent risk of running unstable software, the convenience and ease of use of Siduction cannot be overstated.
different desktop environments such as XFCE. Cinnamon, Mate, KDE and Gnome. For users who aren't keen on a GUI. there's a noX version that ships without X. However. Gnome. Mate and LXDE will likely be dropped for future releases of Siduction, unless the project finds maintainers for these editions.
Siduction Cinnamon review: Calm and composed
Siduction does well to offer a slick experience to its users. This is evident from the custom Calamares installer, which now uses Kpmcore as its partitioning tool. The distro also features several custom tools, such as the aptly named Activate SSH and Deactivate SSH scripts. Then there's the simple-paste script, which the developers have dubbed as the Swiss Army Knife of pasting. Also featured are useful and uncommon tools such as G Alternatives, which can be used by administrators to define the tools that provide specific services to users.
For a project that's made entirely of software taken from Debian's unstable branch, we didn't find Siduction's latest release to be buggy or unusable. The lone exception was not being able to use the mouse scroll to read through the Release Notes during the installation process. The mouse works flawlessly throughout the rest of the installation steps.
The boot screen when running the live disc is slightly confusing. You must select the option to boot 'From CD/ DVD/ISO', or the option to boot 'From Stick/HDD'. The distro defaults to en_ US language and keyboard, but you can also change this from the first screen.
The bottom panel on the Cinnamon desktop features the launcher on the left. There's also a dock at the top of the desktop, which by default has icons for Nemo file manager. Firefox and HexChat IRC client. Once you install Siduction, the dock also provides quick launch for Image Viewer.
We couldn't access the official forums as a Guest user, and couldn't register a new account either, but the comprehensive manual is a great resource for all users.
When trying Siduction we were prepared to run into frequent crashes, unresponsive tools, and other buggy behaviour. Instead, we found a fast distro that features an impressive array of default programs.
Siduction Cinnamon review: Features at a glance
Bundled software
Siduction is filled with several useful apps across different categories, such as internet and multimedia.
Custom tools
Along with a customised Calamares installer, the distro features custom tools such as simple-paste.
Siduction 2018.1.0 Cinnamon
Developer: Siduction Team
Web: www.siduction.org
Licence: Various
Siduction Cinnamon review: Verdict
»It's not intended to be run as a production machine, but on a VM it's ideal for testing new software.
Rating 8/10
Siduction Cinnamon review
It's not intended to be run as a production machine, but on a VM it's ideal for testing new software.
Add your review