Plex is a brilliant way to stream audio and video content, but it's recently made some unwelcome changes. Robert Irvine explains what they are and what to use instead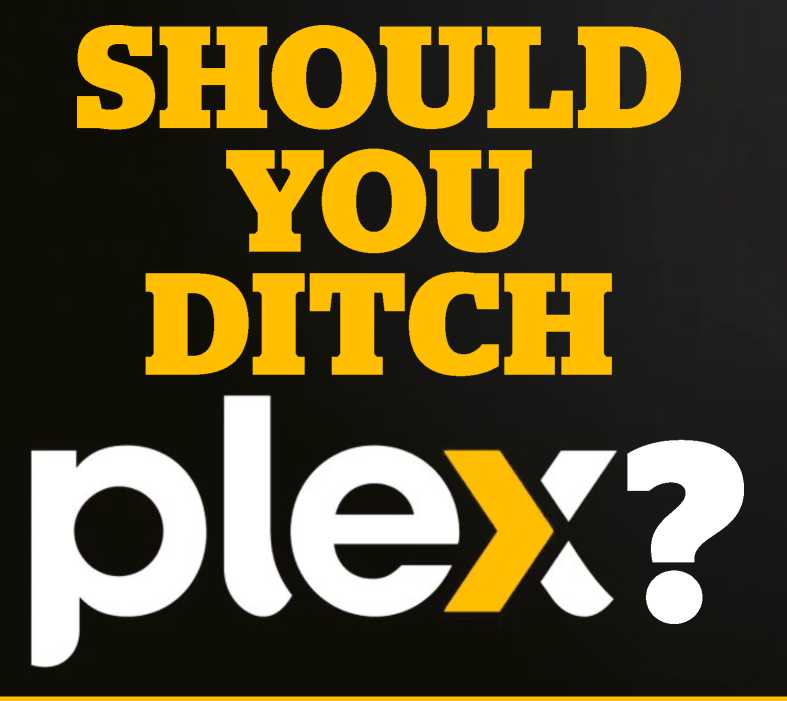 Plex (www.plex.tv) has long been one of our favourite ways to organise and enjoy our videos, music, photos and other media files on any device. But recently the company has made a few decisions that have disappointed many users, and led to us looking for an alternative streaming service that doesn't suffer the same problems. Here we explain why you might consider ditching Plex, and what you should use instead. Read our Should you ditch plex.
WHY YOU SHOULD ditch plex
Plex has dropped support for older PCs
After 10 April, Plex will no longer support computers that run Windows 7 and 8.1. The latest version of its Media Server software (1.32) will only work on Windows 10 and 11 PCs, and though you'll still be able to use previous versions on an old machine, they won't receive security and feature updates.
"While older versions of the Server may continue to run in these now-unsupported environments for the time being, we encourage everyone to upgrade their systems to at least Windows 10 (version 1607)," said Plex in a forum announcement (www.snipca.com/45526).
In fairness to Plex, it's not the only software company to abandon Windows 7 and 8.1 since Microsoft ended support for them in January. If you have Plex Media Server installed on an old PC, you'll still be able to use the software, but it won't be protected against the latest security threats and performance issues.
Plex has suffered serious data breaches
Last August, Plex confirmed that it had been affected by a security breach and warned its users to change their passwords (www.snipca.com/45527).
A hacker was able to access user data including email addresses, usernames and passwords – but not payment-card details. Plex said only a "limited subset" of accounts were compromised, and that the stolen data was "hashed and secured in accordance with best practices".
Plex was quick to react to the hack, issuing a software patch that fixed the problem, and notifying users within 24 hours, but it's not the first time its security issues have made the headlines.
In early 2021, it was discovered that hackers were exploiting security flaws in Plex Media Server to carry out DDoS attacks (www.snipca.com/45529).
Around 27,000 devices running Plex software were found to be exposed, and though it also fixed this flaw quickly, both instances may make you question Plex's "best" security practices.
Plex makes you pay for its best features
Although Plex gives you plenty of features for free, including the ability to set up a media server, stream music and video to PCs and smart TVs, and watch ad-supported TV shows, films and live channels, some of its best options require you to pay.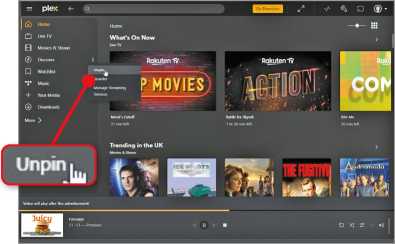 Plex's interface has become cluttered, but you can 'unpin' any unwanted sections
Most notably, if you want to watch or listen to media files you stream to your mobile device for more than one minute, you must either pay £ or subscribe to a Plex Pass. This costs £ a month or £ a year, and is also needed to record live TV, sync content across devices, download music and videos to play offline and more.
It's difficult to begrudge Plex for funding its business by limiting features to paying users, especially when it offers so much for free. But you may still find it frustrating that a Plex Pass is required for certain tasks, and that there isn't a free trial.
Plex's interface is becoming bloated
While Plex restricts certain features to paying users, its free software is becoming cluttered with content you may find unnecessary. The Home screen now includes several rows of recommended and recently added TV shows and films, while the Music section heavily promotes the Tidal music-streaming service.
Last year, Plex added a Discover option, which lets you find things to watch across different streaming platforms. Although this is potentially useful, it also wastes space – and your time – by recommending titles that aren't available on services you use.
Although you can customise Plex's interface to remove unwanted sections -click the three-dot icon and choose Unpin (see screenshot below left) – it's a shame the company has moved away from its original purpose of letting you curate a personal media library.
Jelly fin
www.snipca.com/45534
If your main reason for using Plex is to stream your own media files to different devices, Jellyfin is the ideal alternative. This open-source program is completely free to use, with no options restricted to a paid-for plan (because there isn't one), and has a streamlined interface that isn't cluttered with promotions for other services.
Jellyfin works in the same way as Plex – you install its media server on your Windows, Linux or macOS computer, then install 'client' apps on other devices so you can stream content to them, either over your home network or the internet. These include apps for Android and iOS; the smart-TV platforms Google/Android TV, Roku, Fire TV and WebOS; as well as the Jellyfin Media Player for desktop PCs. You can see how its interface looks by visiting the Jellyfin Demo (https://demo. jellyfin.org) and logging in with the username demo (you don't need to enter a password).
Download the Jellyfin server software from www.snipca.com/45537, and choose the Basic Install option. Select 'Jellyfin (View Console) ' in your Start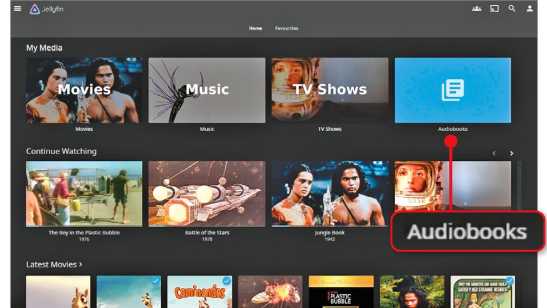 Jellyfin lets you add and stream media files, including movies, music, TV shows and audiobooks
menu to open a Command Prompt window and install the required services – you may need to allow Jellyfin to connect through your firewall. Right-click the icon in your system tray and choose Open Jellyfin to access the server in your browser and set up your media libraries.
You can import folders containing movies, TV shows, music, photos and audiobooks (see screenshot below left), and have Jellyfin detect when new items are added to them. The software can detect and download metadata and artwork, so content you've downloaded or copied from other sources has the correct information.
It also lets you install plug-ins (www. snipca.com/45535) to get extra features such as watching and recording live TV on supported hardware.
Although Jellyfin isn't quite as simple to use as Plex, it provides plenty of online documentation (www.snipca. com/45536) to get you started and help you make the most of the software. It can also be installed on a Synology NAS drive, though this requires a high degree of technical knowhow.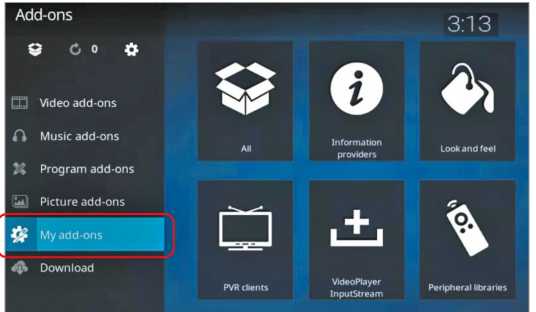 Add extra features to Kodi using add-ons, but make sure you stick to legal options
Kodi
Kodi has several advantages over Plex as a way to manage and enjoy all your media files in one place. It's open-source and entirely free; it's maintained by a passionate community, not a commercial business; and it offers a range of customisation options so you can tailor it to the device you use it on, be it your PC, Android phone or tablet (it only works on jailbroken iOS devices) or smart TV.
Adding music, videos and photos to Kodi is a breeze, whether they're stored on your device, an external hard drive connected to your computer or removable storage such as an SD card or USB stick. You can also stream media from any networked PC, though this isn't as easy to set up as with Plex and Jellyfin.
Kodi is famous – and infamous – for its support for add-ons (see screenshot below). Those you install from its own Add-ons store (www.snipca.com/45538) are perfectly legal, but beware of any dodgy add-ons you find online, which may illegally stream copyrighted content for free.
Stream TV and films for free
watch, offers more than 250 live channels (more than Plex), including 16 dedicated to films – and you don't need an account to tune in. You can either browse the TV guide for something good to stream now,
If you mostly use Plex to stream its films and TV shows, rather than your own content, there are a couple of good free alternatives.
Pluto TV (https:// pluto.tv) is free to or watch programmes on-demand. Pluto TV is available in your browser (pictured), and as an app for smart TVs, and Android and iOS devices.
We also like Rakuten TV (www.snipca.com/45545) which has loads of free and good-quality TV shows and films to watch on demand, as well as more than 100 live TV channels, spanning categories including news, sport, music and cooking.