Watch videos on YouTube and you'll be watched yourself. This is because Google tracks your viewing habits and targets you with adverts. FreeTube solves both these problems by providing an alternative front-end for YouTube that lets you stream videos privately on your desktop without having to sit through endless ads. Screen-Capture tool. Read our FreeTube 0-18 Review.
Windows 7, 8.1. 10 or 11, macOS or Linux | freetubeapp.io
This open-source program has a simple, streamlined design that lets you quickly find videos on YouTube or browse its 'trending' and most popular content. When you first run FreeTube, you'll see an empty Subscriptions page, but you can ignore this and start searching for something to watch. Your search results can be filtered by upload date, duration, view count and other criteria, and you can save videos to a playlist to watch them later and subscribe to channels without signing into an account.
FreeTube lets you watch YouTube videos within its own window, view them full screen or pop them out into a floating window by switching to Picture-in-picture mode. Best of all, you can download videos to your computer in MP4 format by clicking the Download Video button below the media player and choosing your preferred resolution.
"This program has a simple design that lets you quickly find videos on YouTube or browse 'trending' and most popular content."
The latest version of FreeTube, which is officially still in beta, displays a progress bar when you're watching a playlist so you can see how much time has elapsed and how much is remaining. It also splits long videos into chapters, as on the YouTube website, and lets you refresh the Subscriptions, Trending and Most Popular pages by pressing R on your keyboard. Additionally, if you have a touchscreen laptop, you can skip back and forth through videos by tapping the left or right-hand side of the player.
Click 'More info' then 'Run anyway' if you see a SmartScreen warning when installing – it's safe to use, with a clean bill of health from VirusTotal.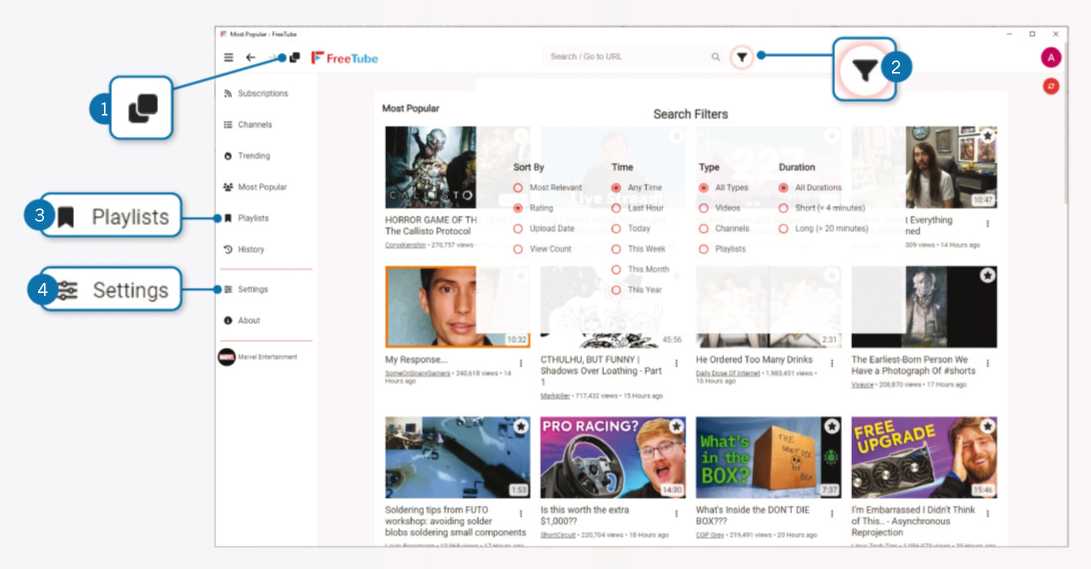 1 You can open a new FreeTube window by clicking the overlapping squares icon to the left of its logo. This lets you watch videos while continuing to search the site. Alternatively, switch to its Picture-in-picture player.

2 Click the funnel button next to the search box to filter your search results using several criteria. These include how recently the video was uploaded, its duration and the number of people who have viewed the clip.

3 Click the star icon in the top-right corner of a video to save the clip to watch later. It will then appear in the Playlists section of the program. YouTube channels you subscribe to are added to both Subscriptions and Channels.

4 Select 'Settings' to configure how FreeTube looks and works. You can change the colour of its theme (including to dark mode); hide recommendations and user comments; and block sponsored messages in videos.