Groupy is an ingenious way to manage multiple open programs in Windows. Rather than press Ctrl+Alt+Tab to switch between them, you can group them into a row of tabs – like in a web browser – and simply click a tab to access the relevant program. Read our SHOULD I PAY FOR Stardock Groupy 2.
| | |
| --- | --- |
| Link download: | https://www.stardock.com/products/groupy/ |
| Free trial period: | 30 days |
| What you need: | Windows 10 or 11 |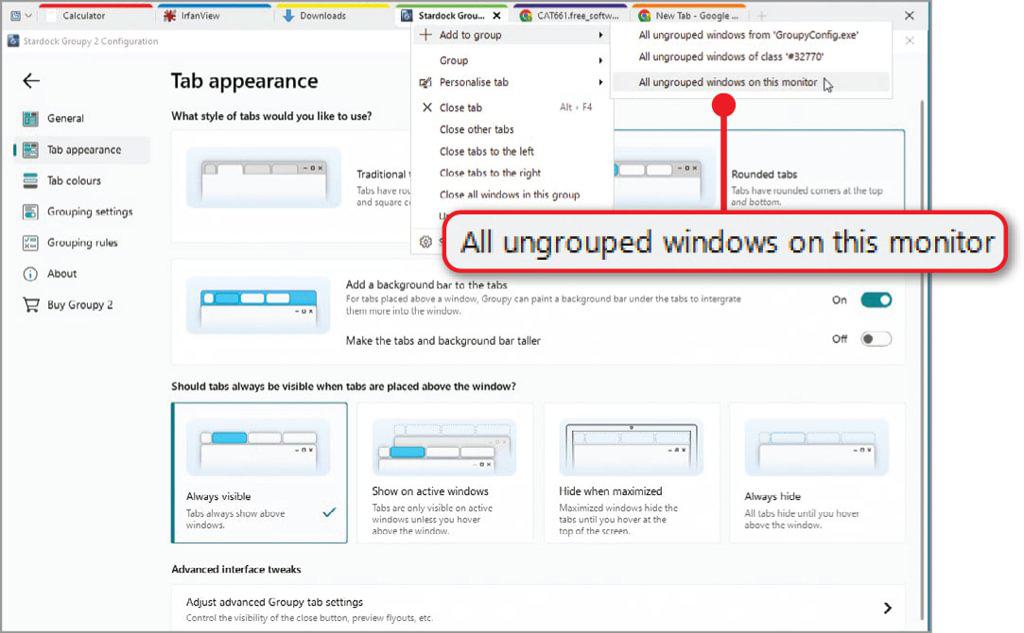 These tabs are added to all compatible software, including built-in Windows tools, either above a window's title bar or integrated with it. To add a program, right-click the tab bar, choose 'Add to group' and select the title of its window. Alternatively, just drag and drop its window on to the bar, or choose 'All ungrouped windows on this monitor' (see screenshot) to add tabs for every open program.
Besides being easy to use, Groupy offers several customisation options. You can choose between traditional and rounded tabs, make them always visible or only reveal them when you move your cursor to the top of a window, and colour-code them so they're instantly distinguishable. The latest version, Groupy 2, introduces full support for Windows 11 to let you decide how its tabs are displayed in the newly tabbed File Explorer and Notepad.
For the one-off price of a tenner, you can install Groupy on up to five PCs, and keep your desktop better organised on each one. You need to enter an email address to start the 30-day free trial, but you don't need to verify it.
OUR VERDICT Pay for it
We think Groupy is great value for money and makes switching between multiple programs a seamless and speedy experience. Why wait for Microsoft to add tabs to more tools when you can get them now?