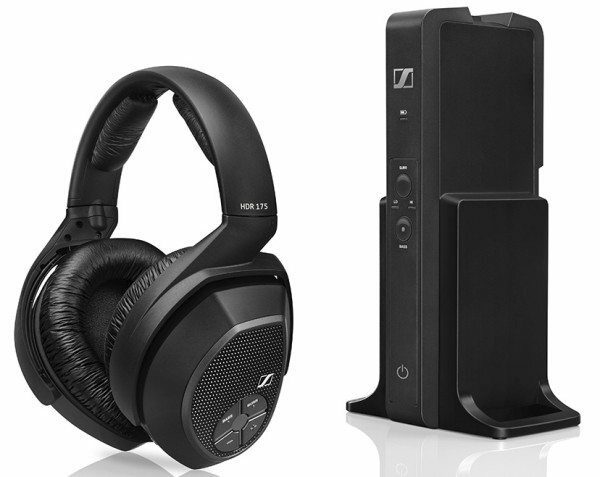 If you were to ask us about gaming headsets, we wouldn't be able to give you a definitive answer as to what they really are. Essentially, they're just headphones with a mic attached, and usually, it's a pretty bad mic at that. Instead, what we tend to do is focus on getting a really good set of headphones. When it comes down to it, the auditory part of a game is just as crucial as what you see on the screen. In some cases, it could be even more important.
Gaming aside, we want headphones to perform exceptionally well with a variety of other content, too, such as music and movies. For these purposes, we've yet to find any gaming headsets that are fully up to the task. Which is why we are more likely to go with something like Sennheiser's RS 175 wireless headphones.
Sennheiser's name has been synonymous with high-quality audio since the company's beginnings, and that still holds true today. The RS 175 is a middlerange unit in the company's line of wireless headphones, but it performs like it's at the top tier. At $280 at the time of publication, you wouldn't expect anything less.
The first thing we noticed is that the unit is big and well made. Construction feels thoughtful and solid, and the same is true of the base, though we found ourselves wishing it was weightier. The headphones themselves are over-ears and fit comfortably for long hours of use. There are replaceable, rechargeable batteries in each ear compartment, and the headphones charge when on the station.
The RS 175 headphones have exceptionally long range. In a 2,000–square-feet home, they can easily go from end to end, provided you have line of sight. Sennheiser claims a range of up to 100 meters, and we can believe that, but in a real-world scenario, it's much less unless you live in an entirely open space. Another drawback was that we experienced disrupted audio when the station was placed in the vicinity of a wireless router. With a dual-band AC router in the same room, the RS 175 dropped signals depending on the direction our head was facing in relation to the station. And for the record, we were only five feet away from the station in this setup. If your RS 175 transmission station is in the same room as your wireless router, you may have to play around with your router's settings. It was annoying enough that we moved ours into a different room altogether.
So, how does the RS 175 sound? In a word: fantastic. These headphones are of the closed circumaural variety, which means the sound stage is not as expansive as open headphones. Those who game a lot might want to consider open headphones instead—and, of course, don't forget a decent mic too. But the RS 175 set does the job well in almost every situation. In a variety of music, bass is not overbearing and boomy. Low frequencies are tight and never overpower vocals either. If you need extra thump, there's a bass mode that can be triggered.
For most people, the RS 175 is a big step up in terms of sound quality, especially if you're a gamer and want to upgrade beyond puny "gaming headsets." There's the issue of signal interruption in some situations but it's not a show-stopper. Besides, the RS 175 base enables you to share the love with another person. We'll take two head units, please. – TUAN NGUYEN.