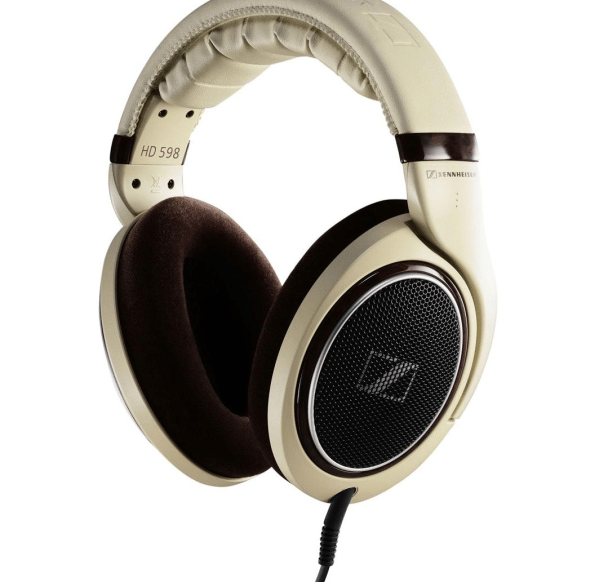 The Motley Crew that lives in my headphone drawer was getting long in the tooth when I decided to add a widely acknowledged classic to the collection. The new acquisition was the Sennheiser HD 600, now more than 20 years and umpteen generations old, and he's become my go-to guy when I want to spend an evening kicking back with headphones that guarantee total physical and listening comfort. Lately I've had a chance to try the HD 600's little brother, the HD 598. Though as of mid-November it was widely available at major online e-tailers.
Blindfolded, you wouldn't notice any difference in physical comfort between the two models. The HD 598's velour ear cushions are rust brown versus the HD 600's black, but they're just as super-comfortable. They don't stick to the skin, so they're less likely to make you sweat. They don't pinch. And these over-ear cans are quite light for their size, so the tan leatherette headband doesn't weigh heavily on the noggin. In lieu of the HD 600's basic black skeleton and blue granite pattern finish, the HD 598 offers mellow tans and browns, including the real burled wood accent ring that surrounds the exterior metal mesh grille. The product is made in China, not Germany or Ireland like certain other Sennheiser products, presumably lowering manufacturing cost. It comes with a two-year warranty. The HD 598's cabling does not ape its older sibling. The cable plugs into the left earcup, as opposed to both earcups, and its "bayonet mount" must be twisted as it is inserted. That prevents it from popping out, an occasional problem with the HD 600. The cable is super-long, at 3 meters, and is terminated in a quarter-inch plug, as opposed to a mini-plug. A mini-plug adapter is supplied—but its plug housing was too fat to fit into the recess created by my iPad case. An adapter solved the problem. Between the long cable, the fullsize plug, the open-back design's lack of exterior sound isolation, the unfoldability, and the lack of a supplied carry case, this product says, in effect: I'll be happy to plug into your main system while you sit in an armchair across the room. Though I'm light enough to travel with, I'm basically a homebody. There's also a Special Edition variation of this model. It weighs slightly more, though the specs are otherwise identical. It comes in basic black, is packaged with an additional shorter cable terminated in a mini-plug, and is not as heavily discounted online. Another option would be a compatible carry case from, among others, Sentey. The HD 598 has an earcup of 4.5 inches high by 4 inches wide, same as the HD 600, though the interior space is marginally larger at 1.75 by 2.75 inches. The HD 598's 32mm round diaphragm is made of a robust plastic material called Duoful and oriented at an angle to fire directly into the ear canal. Sennheiser says this "eargonomic acoustic refinement" (someone has a sense of humor) improves efficient delivery to the ear canal and minimizes resonant frequencies from the headphone's structural elements. Despite their design differences, the sound of the HD 598 bears a strong family resemblance to that of the HD 600. The HD 598 may be a hair brighter, though the difference is so tiny that it might have been sample-to-sample variation. The biggest difference is efficiency. The HD 598 gets along fine with portable signal sources, whereas the HD 600 tends to challenge them. That might make the HD 600 sound sluggish by comparison when driven by a flea amp. Both, however, offer improved resolution when mated with a good DAC-headphone amp. I used the AudioQuest DragonFly 1.2 for most of the computer-file demos. Buy them together, and you'll have a sweet headphone rig for about at street pricing. Bass extension is limited compared to megabucks models, but apart from that, the lows are admirably well articulated and free of bloat. Extreme high frequencies are attenuated, according to measurements by our sister Website innerfidelity.com. But where Sennheiser traditionally excels is in the midrange, which is easy on the ears yet musters extremely well-focused imaging. Vocal timbres are natural and unforced. Those who find the HD 600 "veiled" might make the same complaint about the HD 598—if only because they sound so similar—but I never felt I was missing any essential information. If you'd like to compare the frequency responses of the HD 598 and HD 600, you can find both charts on innerfidelity. For extra credit, compare to Harman's "target response curve," based on research by Sean Olive. The HD 598 is versatile enough to take on the character of whatever you feed it. I put on Donald Fagen's "Weather in My Head" (Sunken Condos, FLAC 96/24)—because there was a lot of weather in my head at the time—and found it polite and rounded. But when I switched to Robyn Hitchcock's "Trouble in Your Blood" (The Man Upstairs, ALAC ripped from CD), the voice and acoustic instruments were upfront and loaded with tone color. Prog-rock fans in a rambunctious mood will find plenty to love in this Sennheiser's proficient dynamism. King Crimson's "Fallen Angel" (Red, 2013 mix, ALAC from CD) exploded from its subdued verses to its wailing, thundering chorus. I dipped into The Nice Live at the Fillmore East (ALAC from CD) intending to sample just a few tracks but ended up blasting the entire album, including the testosterone-fueled distortion bombardment of "Karelia Suite" and "America," with Sibelius and Bernstein both rocking and rolling in their graves. A traversal of Dr. Chesky's Ultimate Headphone Demonstration Disc (FLAC 96/24) became intriguing when I got to the "Walk Around the Mic" tracks, which feature various percussion instruments orbiting a single stereo microphone. All headphones I've tried up till now have provided barely a semblance of directionality when the instruments reach the left side of the mic and move toward the back. But these Sennheisers provided a realistic sensation of the drum and bell moving behind me and around to the right side. No, this wasn't exactly surround sound, but I did get more directional sensation than I've ever expected to get in stereo. The Sennheiser HD 598 is the best choice I've found for a home headphone user looking to maximize bang for the buck. This music-maker has a knack for telling the truth and making you like it for hours and hours of fatigue-free listening. I don't intend to stop using the review sample when I hand in this review. I love this thing!
VERDICT
The affordable Sennheiser HD 598 is styled differently from its famous and more costly sibling, the HD 600, but is just as beautifully voiced and just as insanely comfortable.
SPECS
Type: Over-the-ear, open back • Driver: 40mm • Impedance: 50 ohms • Sensitivity: 102 dB SPL • Weight (Ounces): 9.5Author