Beyerdynamic DT 1770 Pro Review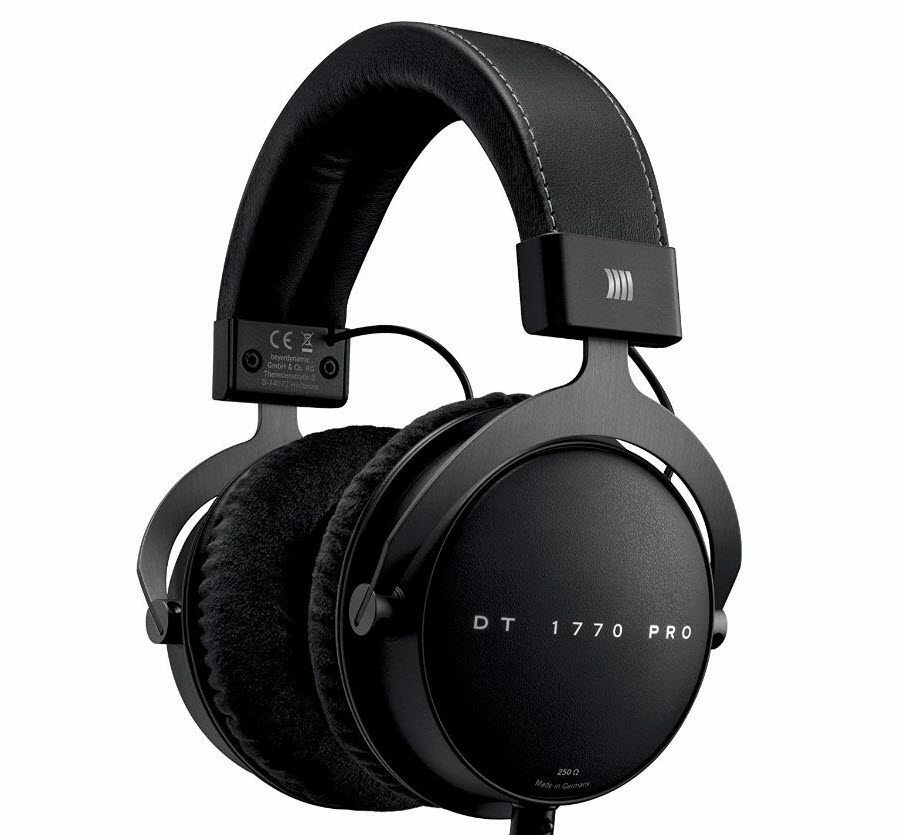 When it comes to excellence in audio, few brands stand out like Beyerdynamic. The German company has been in the business of making great audio devices for close to a hundred years, and is the brand of choice for many famous artists.
Generally, pro headphones – meant for sound engineers and musicians – are bulky and heavy devices. But, with the DT 1770 Pro, Beyerdynamic has released a device that is light, well designed, and capable of recreating the entire frequency range – which is no small feat. Based on the older DT 770 reference cans, it comes with the company's Tesla 2.0 technology which uses powerful neodymium magnets to produce clean sounds with minimal distortion.
If you are on the lookout for a closed-back pair of circumaural headphones which reproduce accurate sound – there is no bass boosting here – the Beyerdynamic DT 1770 Pro may be what you are looking for. But, priced from $580-$600, it definitely doesn't come cheap.
These closed-back earphones have large matte-black circumaural ear cups. Combined with the leather headband, and silver detailing, this gives the DT 1770 Pro a dignified look. The ear pads are plush and swappable – the bundle comes with a pair of velour and leatherette cups.
Like other headphones in the Pro line, the DT 1770 has a tight and comfortable fit. Since the Tesla 2.0 drivers are lighter than its earlier iteration – the Tesla 1.0 driver used in the Beyerdynamic T90 – the headphones have managed to shed some weight as well. The velour ear pads are designed to control sweating so that you will be more comfortable during long audio sessions. But, for people with bigger heads, it could feel like the headband is applying a bit too much pressure on the scalp after a while. Adjusting the headphones every once in a while will help alleviate this.
As you would expect from a Beyerdynamic product, the build quality is top-notch. There is absolutely no creaking when stretching the headband and the materials feel premium as well. The reverse of the ear cups are closed with plastic which, on first glance, looks like metal.
The DT 1770 Pro ships with two cables and both have a gold-plated 3.5mm jack. One cable is just less than 10 feet long and straight while the other has a coiled midsection and stretches to over 16 feet. The cables connect to the headphone using a mini XLR plug.
Like almost all other professional-grade headphones , the DT 1770 Pro tries to balance between a flat response and a slight boosting of certain frequencies to improve clarity and depth. Tracks with a powerful sub-bass sound balanced and full-bodied, without giving the impression that the bass has been boosted. Moreover, even with a powered-up bass, none of the other frequency ranges are drowned out, and you can easily make out subtle variations.
This effect holds true for all sorts of audio. Portions which often end up sounding thunderous and heavily-boosted in other headphones are delivered with subtle power by the DT 1770 Pro, which is a rare feat. The lows sound neither weak nor boosted, and it's the same with the mids and the highs as well. Vocals are perfectly clear in songs with heavy instrumental music and don't get overshadowed.
The soundstage is wide, which is clear in orchestral tracks. High-note vocals and instruments take the limelight with the lows taking a lower profile. Even though the mids and highs take the spotlight, the DT 1770 Pro delivers a deep low with aplomb as well.
As mentioned earlier, the DT 1770 Pro ships with two sets of ear pads – one velour and the other leatherette – which you can use according to your preference. Two cables are provided as well – one is straight and 10ft long and the other coiled-up and 16ft long. The box also includes two gold-plated ¼-inch adapters for use with professional equipment.
In addition to all these, the DT 1770 Pro also ships with a massive protective case which is about the size of a lunchbox. This zip-up case has a hard-shell cover and a black cloth exterior. The interior is molded to provide a perfect fit for the headphones and all included accessories. There is also a special pouch for the two cables.
Top-of-the-line audio performanceSecure and comfortable fitSwappable ear pads
Even though it is a bit expensive, the Beyerdynamic DT 1770 Pro is an excellent option for musicians and engineers who prefer to listen to sounds through their own pair of headphones, and want excellent frequency response. The accurate sound reproduction makes it a worthy piece of reference gear. If you are looking for a pair which adds a bit more to the bass, the Sony MDR-1A could be a solid option.

The Beyer dynamic DT 1770 PRO is ideal for musicians, sound engineers and producers for professional studio or monitoring applications.
beyerdynamic DT 1770 PRO Studio Headphones
$444.99
Too low to display
in stock
20 new from $499.00
3 used from $ 413.86
Free shipping
Check lowest price

Amazon
Features
Tesla 2.0 represents the next evolutionary stage in our pioneering generation of systems
Exquisite velour and high-quality leatherette ear cushions are just as impressive as the anodized aluminum yokes with its unique irregular surface structure. A fine seam on the headband and elegant imprints emphasize the timeless design
Cool-max textiles, which are also used in professional sports, and fine adjustments for the optimal contact pressure ensure a comfortable fit
The Mini-XLR connector is lockable and guarantees quick changing of the headphone cable. The high quality coiled cable and the flat cable were subject to long-term, intensive testing and meet the expectations of professional users
Made in Germany
Product Description
The Beyer dynamic DT 1770 PRO is ideal for musicians, sound engineers and producers for professional studio or monitoring applications. It has a closed design with a high ambient noise attenuation, and an enormous maximum sound pressure level. The efficient Tesla 2.0 drivers ensure a perfect sound with an excellent resolution, spaciousness, and high output level. It is perfect for mixing and mastering in the studio. The extremely high level of efficiency is useful in loud environments, especially for sound engineers listening to PA systems or musicians. The DT 1770 PRO features a modern design with a discrete elegance for all components including end pieces, yokes, ear cups and headband. All components are replaceable, ensuring a long lifetime for the headphone. The comfortable, replaceable ear pads, as well as the adjustable headband with replaceable pad, ensure superior comfort for a long period of time. The single-sided cable is detachable and lockable. The hard case ensures...