SEAGATE'S NEW 2.5-INCH DRIVES DELIVER  FAST SPEEDS AND HUGE CAPACITIES
Seagate's new range of 2.5-inch hard drives  provide for all your mobile computing needs  and bring you industry-leading excellence in  personal computing. The BarraCuda family of drives  has delivered ultra-reliable storage for the hard drive  industry for over 20 years. The FireCuda solid state hard drives blend SSD technology with a HDD platform for  the instant-on performance and capacity you need.
FIRECUDA'S FEROCIOUS PERFORMANCE
By combining 8GB of fast MLC flash storage with large multi-terabyte HDD capacities, the FireCuda boots in seconds, not minutes. Compared to a regular 7200RPM HDD without the assistance of flash on-board, games load up to 50% faster, apps up to 300% faster and Windows 7 star ts up to 25% faster – meaning less time waiting, more time getting stuff done.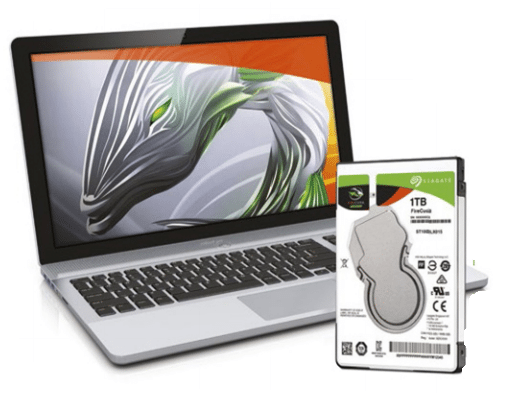 Performance is further increased compared to a conventional HDD by utilizing adaptive memory technology and multi-tier caching (MTC) that identifies frequently accessed data and stores it on the flash memory for fast access, whilst consuming less power and extending drive life. Your favorite games will load quicker than those not played as of ten and programs accessed regularly will be ready to go in an instant.
The FireCuda requires no setup or drivers to make full use of its SSHD features.
It uses the commonly found SATA 6Gb/s NCQ inter face and simply appears as a single, normal hard drive to any operating system. With a R AID setup, there's always setup or drivers required that can sometimes cause issues. The FireCuda's SSD boost is automatically configured and arranged by the drive's on-board hardware controller. It 's literally a plug and play setup experience with the FireCuda and is totally hassle free.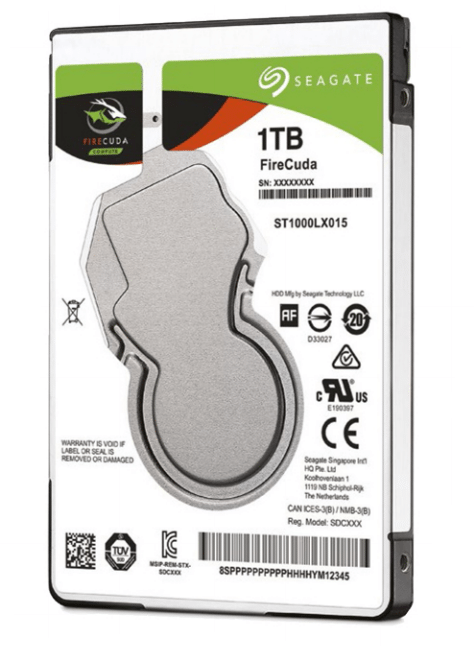 A five-year warranty across the FireCuda range is best-in-class for hard drives, providing complete peace of mind and demonstrates how durable of a drive it is.
BARRACUDA'S ENOURMOUS CAPACITY
With up to a whopping 5TB available in a 2.5-inch for m factor, the BarraCuda shatters your expectations of what is possible in such a small package. Now you can have all your content – movies, music, photos, any thing you want, on your laptop, ready to go. 5TB drives can store more than 1.25 million songs and 600 hours of HD video! It 's not just laptop users that will find the large 2.5-inch capacities useful.
With mini-ITX and other small for m factor computers becoming more popular, the ability to store up to 5TB in a 2.5-inch for m factor will be appreciated by those who would have other wise needed to connect an external drive or invest in a NAS.
For those with thin storage requirements, the Bar raCuda has skinny 7mm z-height models up to 2TB in capacity available – the highest areal density in 7mm for m factor, providing seamless upgrades of thin and light laptops and smaller for m factor systems.
All hard drives in the BarraCuda family come equipped with Multi-Tier Caching Technology (MTC). MTC takes your PC to new performance levels, so you can load applications and files faster than ever before. By applying intelligent layers of NAND Flash, DR AM and media cache technologies, BarraCuda delivers improved read and write performance by optimizing data flow.
The inclusion of the MTC technology allows the 2.5-inch BarraCuda to achieve fast data rates of up to 140MB/s and enables superior PC end-user experience with snappier file transfers.
Games load up to 50%  faster, apps up to 300%  faster and Windows 7  starts up to 25% faster.
GAMER'S DELIGHT
One of the reasons gamers love the Seagate FireCuda so much, is the ability to store all their games on a single dr ive whilst also enjoying the speed benefits of flash storage. With traditional SSDs you can pay a high pr ice for the larger capacities necessary to store a big game library. But with up to 2TB of storage on the FireCuda, there's plenty of space to keep all your favour ite games installed and still enjoy game loading times much faster than a traditional HDD.
With such large amounts of storage available with both the FireCuda and BarraCuda, there's no more waiting around to re-download a game off Steam or Origin because your SSD is too tiny to store your games. Either the FireCuda or BarraCuda are ideal for the gamer stuck on a slow Inter net connection and wants all their games store locally on their laptop, so they can play their favorite game anytime, anywhere.
For more information about the FireCuda range of flash accelerated hard drives that provide a richer gaming experience, boot times in seconds instead of minutes and loading of games and applications five times faster than regular hard drives, visit http://www.seagate.com/au/en/internal-hard-drives/firecuda/.
For details on the BarraCuda's huge capacities available in such a small form-factor, visit: http://www.seagate.com/au/en/internal-hard-drives/barracuda