When a 6TB drive just isn't big enough for your NAS
Hard drive makers are in something of a quandary these days, as the old methods of revamping their product line are becoming increasingly difficult to achieve.
That's because there is a realistic limit to how much data you can cram on a spinning disk before it either becomes exorbitantly expensive to make or completely unreliable.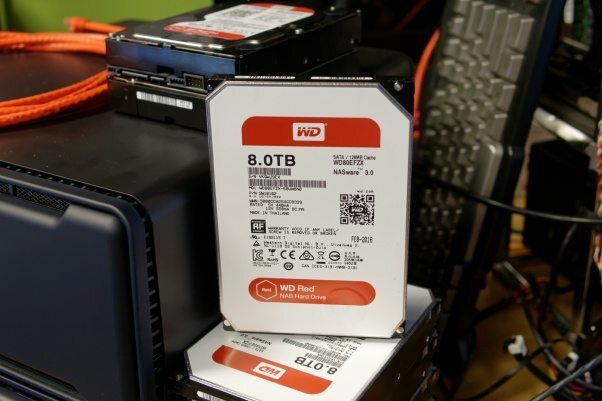 The performance battle with the SSD was lost enough before it began, so what we're seeing now is increasingly niche products, like the WD Red 8TB.
Western Digital introduced the Red series a few years ago. They're built specifically for NAS boxes and servers, where speed isn't the critical factor, but reliability is of utmost important.
Therefore, these were specifically designed with RAID error recovery control to help reduce failures and aid in recovery, and they were also built to consume relatively small amounts of power and keep themselves cool over prolonged operational periods.
WD has branded this configuration NASware 3.0, first introduced on the Red 6TB, and it takes these devices from a recommendation of five-bay NAS use up to eight bays, for those with enclosures that big.
WD was forced to suck the air out of them and replace it with helium.
They were also made to contain a truly huge about of data, cached by 128MMB of on-board RAM and mounted in a familiar 3.5″ SATA drive form factor.
The drive spins at just 5400rpm, though the claimed speed is a very respectable 178MB/S.
Normally for drives I usually do a benchmark, but here it's largely irrelevant, because no NAS box will be torturing this drive to achieve maximum speed, because that is entirely contrary to the Red's power efficiency strategy.
To get 8TB on these platters. Western Digital was forced to suck the air out of them and replace it with helium. This technology is called 'HelioSeal' and hints at what might be needed to get 10TB or 12TB on spinning platter. In case you wondered.
MTBF is a cool one million hours, but you still only get a three-year warranty.
Power management, as you might expect, is very good for a physical disk, with a quoted 6.4 watts while reading/writing and just 5.4 watts when idle. Those with large arrays could see a significant reduction in overall consumption, along with reduced heat generation and, obviously, massive capacity.
With high-end products like this, the price, as they say, is the price. But it's worth noting that if your NAS box isn't full. And for about the same price, you can have three Red 3TB drives and get an extra terabyte for your troubles.
The thing is with a dual drive NAS, there isn't any other way to get 8TB mirrored, and on a four-drive NAS you can have 24TB with redundancy or 32TB without.
If those numbers are what you'd like, then you'll be investing in these, even if they are a bit pricey, mm Mark Pickavance
An early Christmas present for any NAS box
Western Digital Red 8TB
An early Christmas present for any NAS box
Add your review
Best Western Digital Red 8TB prices ?

$

249.99
3 used from $199.99
5 new from $249.99
in stock


£

601.79
1 new from £601.79
in stock


£

1,081.10
1 new from £1,081.10
in stock

MORE DEALS