Scan's new LG17 Carbon Extreme is one of the most monstrous mobiles we've seen. It sports Nvidia's latest mobile GPU alongside a desktop CPU, and it's topped off by a 4K screen. The mobile GeForce GTX 1080 isn't the usual cut-down affair either. The efficiency improvements in Nvidia's Pascal architecture mean that Nvidia's flagship mobile chip has 2,560 stream processors, just like the desktop eguivalent.
The mobile GTX 1080 has base and boost clocks of 1556MHz and 1733MHz by default, but in this laptop, those figures are dynamically improved to 1582MHz and 1771MHz. This mobile graphics card also retains the 8GB of 10GHz GDDR5X memory found on the desktop card.
This huge graphics ability connects to a 17.3in 4K screen, which supports Nvidia's G-Sync tech. It isn't the first laptop with a 3,840 x 2,160 screen, but it may well be the first one with the power to make use of all those pixels in games.
Meanwhile, the Core i7-6700K is another muscular component. It's a desktop part, so it has the full 4GHz clock speed. The other components fall into familiar laptop territory. There's 16GB of DDR4 RAM, which is plenty, although the 2133MHz speed is a little slow. There's also a super-quick 256GB Samsung 950 Pro SSD, which is paired with a 2TB hard disk.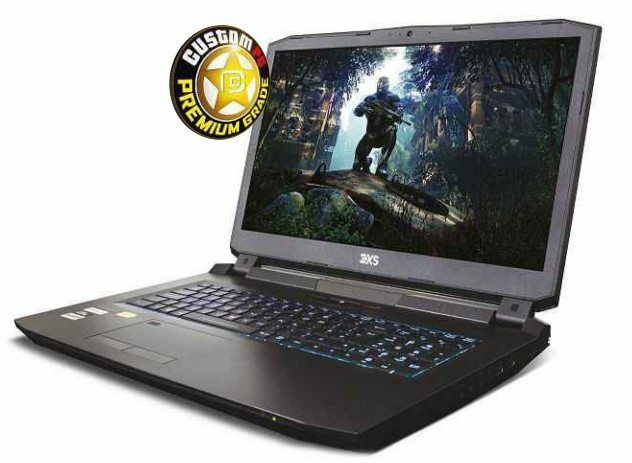 Its all packed into a chassis made by Taiwanese manufacturer Clevo, which sports a smart Scan 3XS logo on the lid. There's an attractive brushed-metal section nearthe hinge, and more brushed metal is revealed once the lid is eased open. The smart metal sits alongside two speaker grilles, the power button and a row of status lights.
The back edge also has aggressive-looking vents, but that s it in terms of ostentatious 'gamer' design – it's otherwise a smart, low-key laptop.
The keyboard has a blue backlight too, along with a full-sized numeric keypad, and no shrunken buttons. Its a high-quality typing unit – the action strikes a good balance between a soft, comfortable press and the firmer click you get from mechanical keyboards. The touchpad is decent as well. There's no friction, and the buttons have good travel and a fast clicking motion, although you'll want a USB mouse for most games.
The location on the left is a concern, though, making it possible to knock the pad while gaming with the WASD keys.
There's no give in the wrist-rest, though, and the sturdy screen barely moves when flexed, keeping the 4K panel protected. The underside is also strong, and its panels pull away to give access to the cooling system, components, and spare SATA and M.2 connectors. The whole unit feels very solid, which bodes well for LAN parties, but it comes with the usual desktop replacement caveat – size and weight. This machine weighs 4.3kg, and it measures 39mm thick, making it thicker and heavier than most other gaming laptops.
Elsewhere, Scan has crammed Killer Ethernet, dual-band 802.11ac Wi-Fi and the sound system is controlled by Creative's Sound Blaster X-Fi MB5 software. There are two speakers and a subwoofer, and the sound is good – loads of bass underpins a meaty mid-range, with slightly distorted high-end sounds being the only obvious weakness.
As ever, most of the components can be changed too. Core i5 options are available, more SSDs can be added and memory capacity can be doubled or halved. The screen can be replaced with a cheaper 1080p panel too. Its well covered as well – every Scan laptop comes with a two-year warranty covering both parts and labour, and that deal includes collect and return service for the first year.
Performance
The GTX 1080 delivers desktop-level performance. It romped through our Witcher 3 4K benchmark without dropping below 41fps, and it stayed above the borderline playable 25fps barrier in Fallout 4 and Crysis 3 – you'll only need to drop the settings a little in these games to make them smoothly playable at the native resolution. G-Sync also makes these games looks great, removing any stuttering and tearing.
The Core i7 CPU is a great performertoo. It isn't overclocked, but it still produced benchmark score of 127,423, showing that it's fast enough to handle demanding software and games. The SSD is rapid too, with sequential read and write speeds of2,098MB/sec and 1,534MB/sec.
Heat and noise is always a concern in laptops, even with efficient Pascal and Skylake components, and Scan's machine operates near the edge during stress tests. The CPU and CPU delta Ts of 74'C and 63*C are high, and the CTX1080 couldn't reach its top boost speed, peaking at 1683MHz. Those temperatures are high, but not dangerous – and the exterior didn't heat up, with the majority of hot air vented through the system's rear. It isn't too loud either; the fans produce a low-pitched, consistent hum.
Meanwhile, the 4K screen is a good-guality unit beyond its pixel count. Its 354cd/m2 brightness is huge, and its black level of 0.32cd/m2 makes darker tones punchy. The 1,106:1 contrast ratio is plenty, and the colourtemperature and delta E of 7.134K and 4.46 are reasonable. The real star, though, is the sRCB coverage of 100 per cent, which means every shade in this gamut can be reproduced.
We toned down the panel to a more realistic 150cd/m2 brightness, and the color temperature improved to 6.876K and the delta Ejumped to 1.28 – a stunning figure. Contrast remained consistent, and the screen's uniformity test saw a sub-10 percent brightness deviation in most segments -an above average result.
Battery tests saw the Scan clatter back to earth though.
It couldn't manage a full hour when gaming, and lasted around 90 minutes during application tests.
Conclusion
Nobody buys gaming laptops for battery life, though, and the Scan 3XS LG17 Carbon Extreme delivers its promise of all-out performance, managing playable frame rates in our test games at its native 3,840 x 2,160 resolution, and it will only reguire minor tweaking to get these games running even smoother.

It also has a good keyboard, exceptional build quality, smart design and a decent screen. It's big, heavy and expensive, of course, but it delivers the goods if you want the absolute best kit for gaming on the go.
MIKE JENNINGS
VERDICT
Exceptional gaming power and excellent components combined with a great screen and solid build – just don't expect this machine to be light or cheap.
Scan 3XS LG17 Carbon Extreme
Exceptional gaming power and excellent components combined with a great screen and solid build - just don't expect this machine to be light or cheap.
Add your review
MORE DEALS

See also THE COMPLETE GUIDE TO…OLED laptops
Specifications
CPU 4 GHz Intel Core I7-6700K
Memory 16CB 2133MHz DDR4
Graphics Nvidia GeForce GTX 10808GB
Screen 17.3in 3,840 X2,160 Nvidia G-Sync IPS
Storage 256GB Samsung 950 Pro M2 SSD, 2TB hard disk
Networking Gigabit Ethernet dual-band 80211ac Wi-Fi
Weight 4,3 kg
Ports 4 X USB 3'2 X USB 3.1 Type-C, Gigabit Ethernet, 4 X audio, SD card slot, HDMI.2 X mini-DisplayPort Dimensions (mm) 418 X 282 X 39(WxDxH)
Operating system Windows 10 Pro 64-bit
Warranty Two years parts and labour, with first year collect and return and second year return to base