Recommended – SAMSUNG T5 500GB – 4/5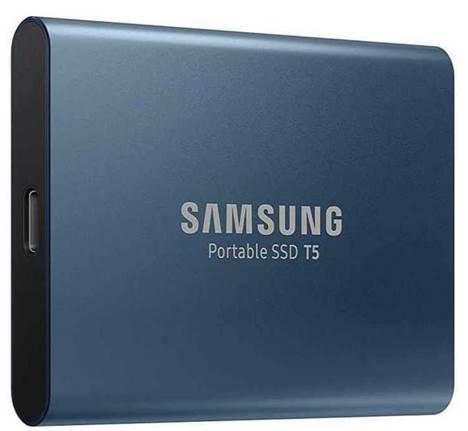 portable ssd
VERDICT
A hugely fast portable SSD, but it's also one of the most expensive
WE'VE BEEN HUGELY impressed with Samsung's internal SSDs, as they've pushed the boundaries of what's possible, both in terms of speed and capacity. Now the company is turning its attention to the portable market with the T5 SSD.
Traditionally, the downside of having a USB-connected SSD has been that the interface isn't fast enough to really make the most of it. Not so with the T5, as it uses the latest USB3.1 Gen2, which has a maximum throughput of 10Gbit/s. Samsung's drive has a USB Type-C connector on it, but the company thoughtfully provides both a Type-C cable and a Type-C-to-Type-A cable, so that you can plug this drive into any computer.
As SSDs require less room than a mechanical hard disk, Samsung has made the most of this, and the T5 measures just 74x57x11mm. At just 51g, this portable drive is exceptionally easy to slip into a bag and carry around with you everywhere. It's finished neatly in a metal case: blue for 250GB and 500GB capacities, and black for 1TB and 2TB. With no moving parts inside, the T5 is fairly rugged and can certainly take more punishment than an old mechanical drive.
BIG THINKER
Inside is one of Samsung's 1.8in SSDs, using the company's 64-bit TLC NAND. This gives three bits per cell, which makes the drive slightly cheaper to manufacture than if MLC (two bits per cell) or SLC (one bit) were used.
As with Samsung's internal SSDs, the big news here is that capacities stretch up to a massive 2TB. In terms of cost, the 250GB version is the worst value, coming in at 50p per gigabyte. Moving up the range, the 500GB, 1TB and 2TB drives have similar costs per gigabyte of around 38p. That puts this drive firmly into premium territory and means that the 2TB drive costs a whopping . Most people will find the 500GB drive hits the sweet spot for price and capacity.
As flash memory has a finite write limit, manufacturers usually quote the number of writes for each cell before the drive fails. Samsung hasn't done this, but based on its previous products we're confident that the drive will last longer than you'll want to use it.
Admittedly, mechanical portable hard disks are a fair bit cheaper, so you need to decide on what you need: if it's pure capacity you're after, then choose a mechanical disk; if you want better performance and a smaller drive, go for an SSD.
At just 51g, this portable drive is exceptionally easy to slip into a bag and carry around with you everywhere. With no moving parts inside, the T5 is fairly rugged
This drive has built-in 256-bit AES hardware encryption, activated using the on-disk software. With encryption turned on, you can't access any files until you've entered the correct password, making the T5 a secure SSD for transporting important files.
SPEEDING AHEAD
Samsung claims 540MB/s read speeds and 515MB/s write speeds for the T5. Write speeds are helped with a fast NAND cache to speed up writes; once this has been filled, write speeds slow down. To get the best speeds out of this drive, Samsung recommends a USB3.1 Gen2 port; older USB3.1 Gen1 ports are slightly slower. Given how few Gen2 ports there are, we decided to test the drive on both, to give a better idea of the performance you'll get on most computers.
Starting with USB3.1 Gen1, we saw our huge files test complete with 453.02MB/s read and 371.43MB/s write speeds. Large files saw similar performance, with 451.84MB/s read and 367.51MB/s write. The small files test, which requires lots of operations, slowed to 333.56MB/s read and 288.45MB/s write.
Switching to the CrystalDiskMark benchmark, we saw the sequential test deliver speeds of 551.1MB/s read and 518.5MB/s write. The more intensive 4K random file test saw performance drop to a still impressive 296.9MB/s read and 203.2MB/s write. That's the best performance we've seen from any USB SSD.
Switching to USB 3.1 Gen2, we were surprised to see little difference in speed.
We recorded 456.66MB/s read and 365.64MB/s write speeds in the huge files test; 455.58MB/s read and 359.47MB/s write speeds in the large files test; and 333.1MB/s read and 288.45MB/s write speeds in the small files test. CrystalDiskMark confirmed similar performance.
While the USB 3.1 Gen2 port didn't make much difference, the Samsung T5 is still the fastest portable SSD we have ever reviewed. It's also expensive; shop around and you can find slower (but still quick) USB SSDs for around less for 500GB. This is the sole issue that might make you think twice about picking up the T5, but at least if you do drop the cash, you can be sure of receiving the best performance on the market.
David Ludlow
SPECIFICATIONS
CAPACITY 250GB/500GB/1TB/2TB • COST PER GIGABYTE .50 (250GB), .38 (500GB, 1TB), .39 (2TB) • INTERFACE USB3.1 Gen2 • CLAIMED READ 540MB/s • CLAIMED WRITE 515MB/s • WARRANTY Three years RTB • PART CODE MU-PA250B(250GB)/ MU-PA500B (500GB)/MU-PA1T0B (1TB)/MU-PA2T0B (2TB)