Peak performance in your pocket.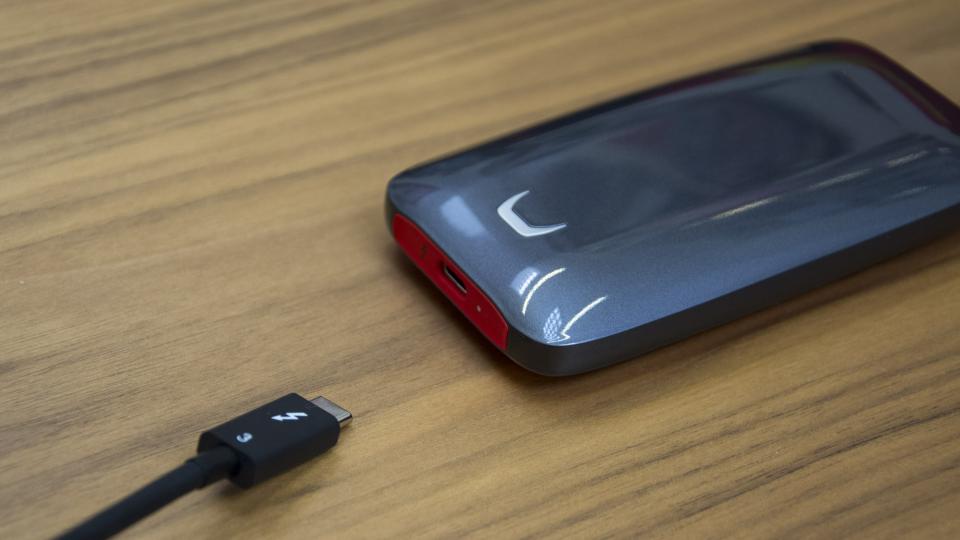 EXTERNAL STORAGE
With portable SATA SSDs now almost at commodity level, the next step up to dramatically increase speed is to move to the NVMe protocol. In essence this is a Samsung 970 Evo feeding through one of Intel's Alpine Ridge Thunderbolt 3 controllers to connect directly to the PCIe bus.
It comes pre-formatted using exFAT to maintain compatibility between Mac and Windows machines.
It is not waterproof or resistant, it does, however use magnesium for its case which is strong yet light. Inside, most of the weight is taken up by the SSD's heatsink, which, along with adaptive throttling Samsung call Dynamic Thermal Guard, keep the case temperature below 45. In our testing the drive maintained sequential write speeds of around l,700MB/s for around 25 seconds before thermal throttling kicked in and performance dropped to around l,200MB/s. Peak sequential write speeds were just above 2.480MB/s in testing, with peak read speeds of 1.440MB/S.
Samsung has introduced a super-premium product, with prices and performance at the top of the field. The Thunderbolt 3 interface that makes such high performance possible is also potentially its limiting factor due to its relative rarity in devices today. This is not storage you carry around confident in the knowledge you can plug it into anything, but if you regularly transport data from one Thunderbolt 3-equipped computer to another this is an extremely appealing way to do that.
Ben Mansill
Verdict
Best Samsung Portable SSD X5 prices ?
MORE DEALS