A SINGLE DEVICE for all your computing and media consumption needs? That could be the Samsung M8 Smart Monitor. It not only integrates Samsung's full SmartTV platform, it even supports basic web browsing without the need to hook up a PC. More realistically, most users will be plugging a laptop in via the M8's slick, single-cable USB-C interface to get any serious computing done. But the M8's SmartTV functionality and funky design, available in either white or a choice of pink, blue, or green-tinted pastel shades, certainly add a whole new dimension. Read our Samsung M8 Smart Monitor Review.
–JEREMY LAIRD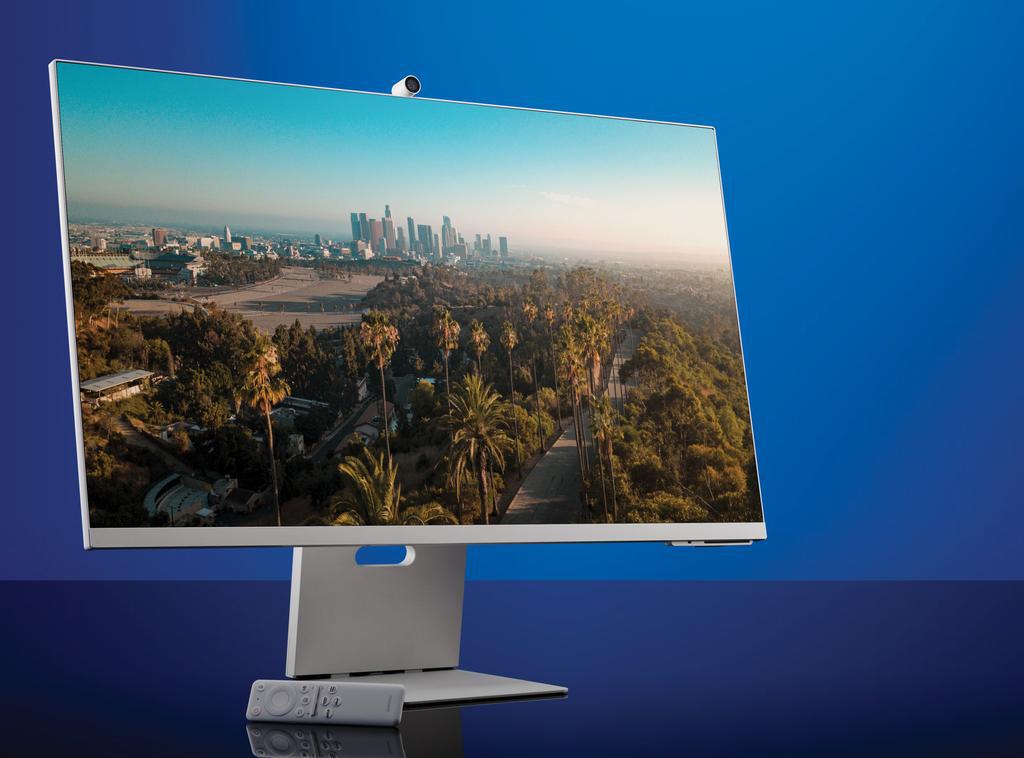 Hold that thought while we give the specs a quick scan. This is a 32-inch monitor with a VA rather than an IPS panel. That's not a huge surprise, given VA is Samsung's go-to panel tech. It helps boost static contrast, which is rated at 3,000:1, far better than any IPS monitor. But while basic HDR10 decoding is supported, this isn't a true HDR monitor. There's no local dimming of any kind and the brightness tops out at 400 nits.
That's pretty punchy for an SDR monitor. Just don't confuse it with a miniLED monitor capable of socking it to you with 1,000 nits of brightness. Resolution-wise, we're talking full 4K or 3,840×2,160 pixels running at 60Hz. This is not one of the new breed of high-refresh 4K monitors. Pixel response is rated at an adequate but not outstanding 4ms and Samsung doesn't make any exotic claims when it comes to color coverage.
In other words, this monitor isn't aimed at content creation pros or hardcore gamers. It's more of an all-round computing and media consumption device. This brings us to the M8's stand-out feature, the SmartTV integration. It comes with an IR remote control and the usual shortcut buttons to the most popular streaming apps, including Amazon Prime, Netflix, and Disney+.
There's also the web browser plus wireless connectivity with screen mirroring. It even has productivity apps like Microsoft 365 installed and supports a keyboard and mouse. At a stretch, you could get quite a bit of computing done on the M8 without actually plugging in a computer. Question is, would you want to?
We'd say no, primarily because the SmartTV interface doesn't run at the screen's native 4K. Likely it runs at 1080p, but whatever the resolution the image quality is quite soft and the desktop screen space is relatively cramped given the 32-inch panel size. The M8 streams media at the full 4K, it's just the interface and apps that aren't rendered at 4K. It's also worth noting that the built-in speakers are pretty pathetic. So if you're serious about watching TV and movies, you'll want a separate set of speakers.
What you won't need is a webcam. Samsung bundles one of those and it clips cleverly onto the top of the screen via a magnetic connector that also provides power and data. The camera adjusts for tilt, but only upwards, which isn't much use. It supports digital face-tracking but for now that only works with Google's Duo video calling app.
If you're wondering about image quality, the usual 4K upsides including crisp fonts and lots of desktop real estate are present. But the viewing angles aren't great and neither is the backlighting. It's an OK 4K VA panel, but certainly nothing special. The same goes for the build quality. The slim bezels and herringbone-style texture on the rear we like. But the flimsy plastics and the way the whole thing wobbles when you jab it lightly isn't going to have the likes of Apple rushing out to re-engineer its latest Studio Display, that's for sure.
VERDICT
Samsung M8 Smart Monitor
+ HOORAY FOR 4K Funky styling; huge feature set includes SmartTV.
– SUCKS TO BE SAMSUNG Merely OK image quality; feels a bit flimsy.
7/10
Best Samsung M8 Smart Monitor prices ?
$

729.99
2 new from $729.99
in stock

MORE DEALS

$ www.samsung.com
SPECIFICATIONS
Screen size 32-inch
Panel type VA
Resolution 3,840 x 2,160
Brightness 400 nits
Contrast 3,000:1
Response time 4ms
Refresh rate 60Hz
Colour coverage 99% sRGB
HDR support HDR10
Connectivity USB-C x2, MicroHDMI