ASK A GAMER to describe their ideal gaming monitor, and they're likely to say "4K". The problem, of course, is that driving a 4K monitor requires a high-end graphics card that can add a significant amount to your budget. For most, a realistic sweet spot is a 1440p monitor that can be driven by a more modest GPU. Read our HP X34 Review.
–GUY COCKER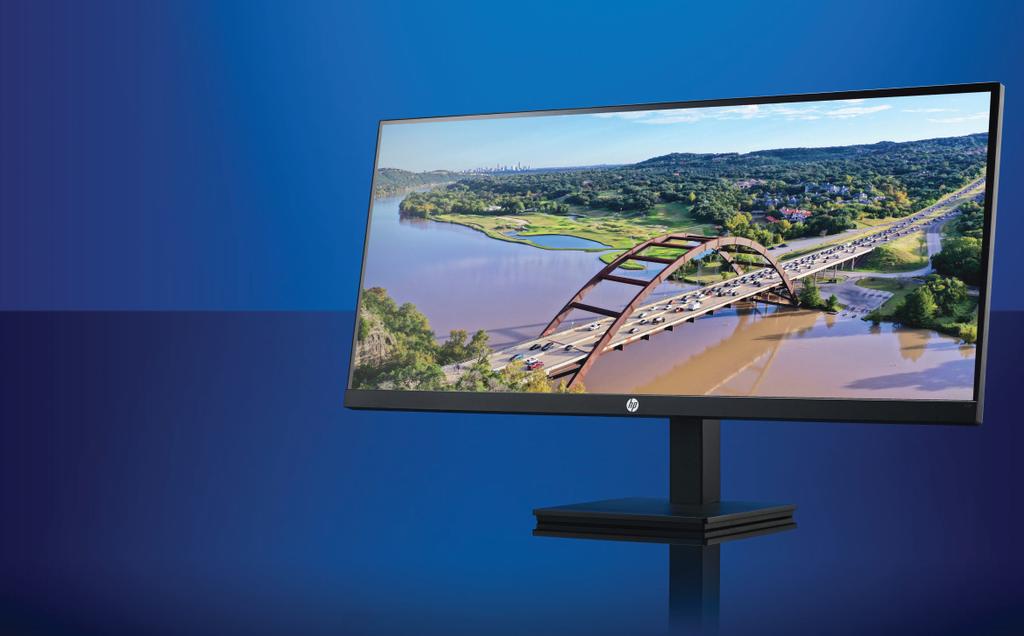 HP's X34 appears to hit this sweet spot while offering lots of additional features for a reasonable price. The headline feature is its 34-inch ultrawide display with a large amount of screen real estate. It also has a high 165Hz refresh rate, supports AMD's FreeSync Premium (and unofficially Nvidia G-SYNC), and has a 1ms response time. All great things to have on a monitor under $
The X34 makes a good first impression, with thin bezels along the side and top, and a small centralized base. Mounted on the included stand, the monitor is height adjustable and tiltable. It can't be rotated 90 degrees, but can be mounted on a standard VESA 100mm x 100mm bracket.
Connectivity is where things fall down slightly, with just one DisplayPort 1.4 and one HDMI 2.0 connection. That's not much if you want to hook up multiple PCs and game consoles. And while it's all good on the PC side, console gamers may have preferred the newer HDMI 2.1 standard. While the PlayStation 5's new variable refresh rate mode is supposed to require it, we found it worked fine at 1080p on this monitor, so it's not a major issue. There's also a 3.5mm headphone jack for those using wired headphones. The other big omission is there are no USB ports on this monitor, but that's probably something gamers can live without.
In terms of performance, this is a dependable monitor that delivers everything gamers need. The IPS panel offers excellent viewing angles, superb color accuracy, and great contrast, and combined with the ultrawide format, offers an immersive experience. The use of IPS also helps response times, which go as low as 1ms if you enable it in the monitor's settings. That's low, and we can report a highly responsive experience from the X34 when engaged.
HP's Eye Ease feature, which can be turned on or off, reduces high energy blue light emissions while retaining color accuracy, which helps reduce eye strain during those late-night gaming sessions. Like nearly all gaming monitors aside from the latest OLEDs, HDR performance is nothing special, but it's there if you want to enable it in more cinematic titles.
Like the 1440p resolution, the 165Hz refresh rate sits in the sweet spot for gamers—more than fast enough for anyone except eSports players. There's support for AMD FreeSync Premium, the middle tier of AMD's variable refresh rate standards, and we also found the monitor supports G-SYNC, though it's not officially listed as such. That means this is a great option for gamers no matter what GPU they're rocking, and we enjoyed a smooth tear-free gaming experience from our RTX 3070Ti.
While the X34 is marketed primarily as a gaming monitor, content creators may also appreciate the 99 percent sRGB color space rating. Working on the X34 also feels efficient due to the ultrawide format, making this an excellent allround desktop monitor.
There's something reassuring about a monitor that nails the basics as well as the HP X34 does. It offers all the features that most gamers need and delivers an excellent picture at a compelling price point. If you're in the market for a 1440p ultrawide, the X34 absolutely deserves a place on your shortlist.
VERDICT
HP X34
PROS
Large 34-inch display
165Hz FreeSync and G-SYNC
thin bezels
CONS
Limited video inputs
no USB ports
HDMI 2.0 rather than 2.1
Add your review
Best HP X34 prices ?
MORE DEALS

$ www.hp.com
SPECIFICATIONS
Native resolution WQHD (3440×1440)
Panel technology IPS
Response time 1ms
Aspect ratio 21:9
Inputs HDMI 2.0, DisplayPort 1.4
Display features AMD Freesync Premium, G-SYNC Compatible
Contrast ratio 1000:1
Dimensions 81.65 x 5.36 x 36.81cm
Weight 8kg