YOU WILL LEARN About the features and tech used in the Apple Studio Display
IT'S USING THE SAME TYPE OF DISPLAY PANEL AS THE NOW–DISCONTINUED 27–INCH iMAC
THE NEW MAC Studio, with its M1 Max and Ultra chips, has attracted mostly rave reviews ever since it was unveiled at Apple's special launch event in March. And, of course, the new Apple Studio Display was launched at the same time, in order to provide an external display for the Mac Studio — which, like the Mac mini, is sold without a monitor, keyboard or mouse. However, the Studio Display hasn't been welcomed with quite the same enthusiasm.
CLIFF JOSEPH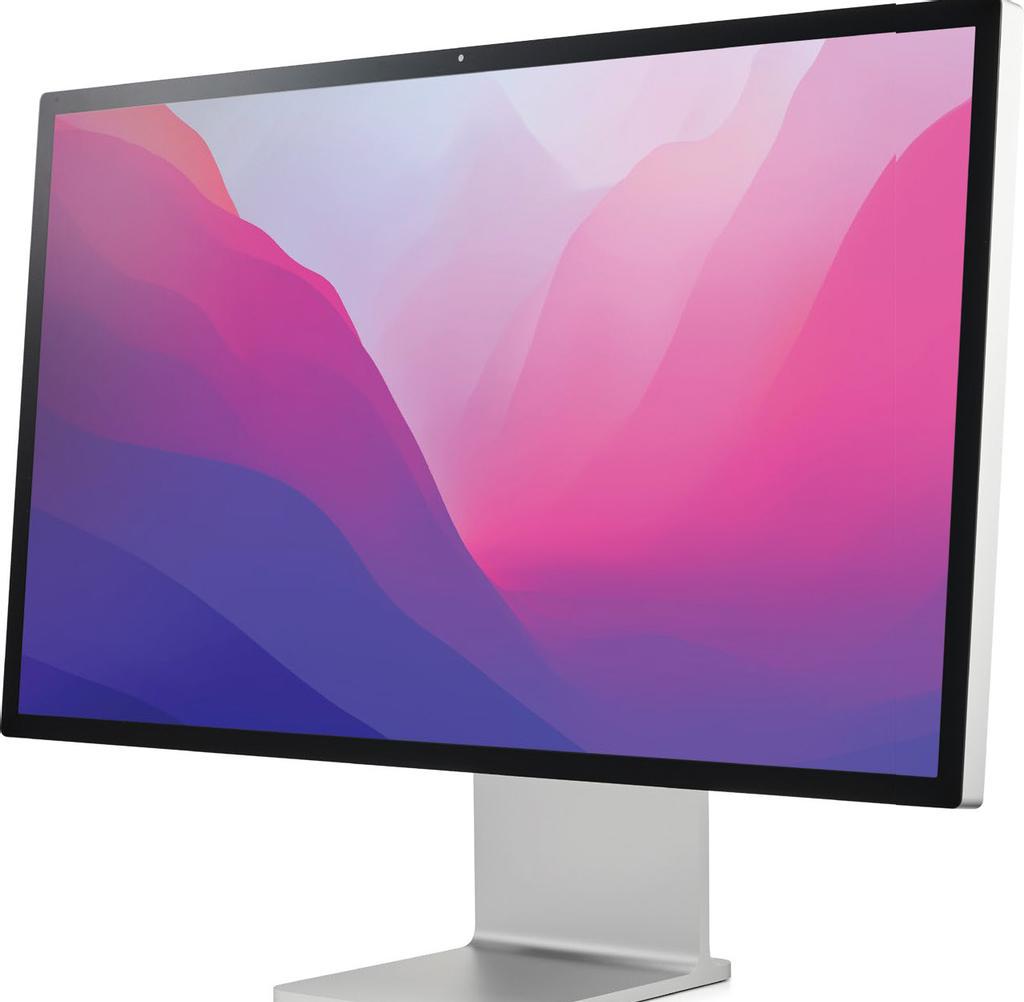 All the reviews of the Studio Display point to its high $ price. In effect, it's using the same type of display panel as the now–discontinued 27–inch iMac — but it's being sold almost at the same price as the iMac itself, without the powerful processor, graphics card, memory and storage included in the iMac (and a recent tear–down of the Studio Display conducted by the brave souls at iFixit.com has confirmed the similarity in the designs).
Clearly, that's not a good deal in terms of value for money, and it didn't help that the Studio Display also ran into technical issues soon after it launched. Apple boasted about the "highly advanced" webcam that is built into the Studio Display — only for many users to report the webcam seems to provide pretty poor image quality… Apple stated this is due to a 'software issue' and already released an update to fix the problem, although it doesn't yet appear to have solved the issue completely.
Fortunately, there is a little more to the Studio Display than just its ineffective webcam. There's certainly nothing wrong with using the same type of high–quality, 5K display panel that was used in the iMac. The Studio Display provides a bright, colorful image, which is well suited to graphics and design work, and although it lacks support for the latest HDR technology, it does support a number of important color standards, such as sRGB for web design and graphics, and DCI–P3 for high–end video–editing.
It may not be state–of–the–art but it's still a very good display. The problem is the fact Apple is charging a state–of–the–art price for the Studio Display. Apple's defense actually rests on the additional features included with the Studio Display, rather than just on the quality of the display itself.
SOUND AND VISION
There are four key features that we can focus on — the Studio Display's custom–designed speaker system, a built–in USB hub that provides extra connectivity and, of course, that pesky webcam, which is also controlled by one of Apple's A13 Bionic processors (the same processor used in the entry–level iPad and the iPhone 11).
From a technical point of view, the speaker system built into the Studio Display is perhaps its most impressive feature. The display panel measures just 0.7-inches thick, but Apple has managed to squeeze in no less than six separate speaker drivers — four "woofers" for the lower frequencies, and two "tweeters" for the higher frequencies. The sound quality from this compact speaker system is impressive — it even manages to produce a nice, firm bass sound, which is always a problem for slimline speakers and soundbars. And, with the aid of that A13 Bionic chip, the speaker system also supports Dolby Atmos, to provide Spatial Audio effects for music and video. It's no replacement for a true surround–sound speaker system, but it's surprisingly effective if you want to sit at your desk and listen to music as you work.
Another useful feature of the Studio Display is its USB hub. The Studio Display connects to your Mac via a Thunderbolt 3 port, which handles the video signal, and can be used to charge a MacBook laptop as well. It also includes three USB–C ports that enables you to connect an external drive or other devices to the monitor.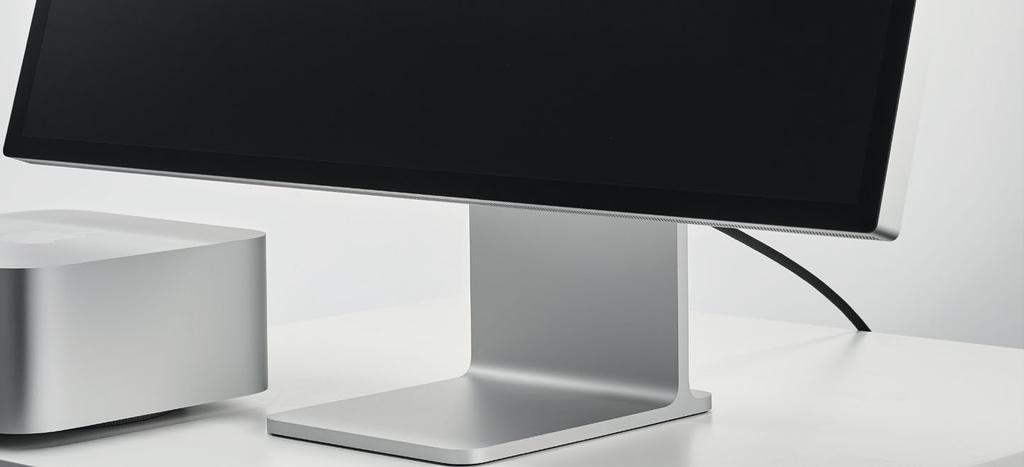 This means, if you're a MacBook user, that you can simply leave any peripherals connected to the display for those times when you need to grab your laptop and go.
And then there's the webcam. Sigh… This appears to be the same type of 12MP, Ultra Wide front camera already used in a number of iPhone and iPad models, so there's no obvious reason why it should suffer from poor image quality. So let's give Apple the benefit of the doubt, and accept that it'll find a way to fix it.
The problem remains, though, that despite Apple's claims, the Studio Display is really just a bunch of old components bundled into a nicely designed package. Yes, it's an attractive 5K display, with a great speaker system, and useful USB ports. But there are lots of 4K displays from other manufacturers that are barely half the price. And that means Apple's Studio Display is ultimately too expensive for what it has to offer.
THE HEIGHT OF FOLLY
One major criticism of the Studio Display is that it only includes a basic 'tilt' stand to adjust the angle of the screen but not the height. This is a fundamental feature for any display, as a poorly adjusted screen can cause eye–strain, backache, and neck and shoulder injuries.
Apple does allow you to replace the 'tilt' stand with a VESA wall–mount adaptor, which means you can mount the Studio Display on a VESA–compatible wall–mount, or adjustable arm. This option doesn't cost any extra, but you will still need to pay for the VESA equipment as well. Alternatively, you can buy Apple's optional 'tilt and height' stand for an extra $ bringing the total price of the Studio Display to a somewhat absurd $.
There is a less expensive option, of course, as you can simply balance the monitor on top of a pile of books. Also, companies such as Twelve South make neatly designed 'riser' stands for iMacs and monitors, with prices starting at $.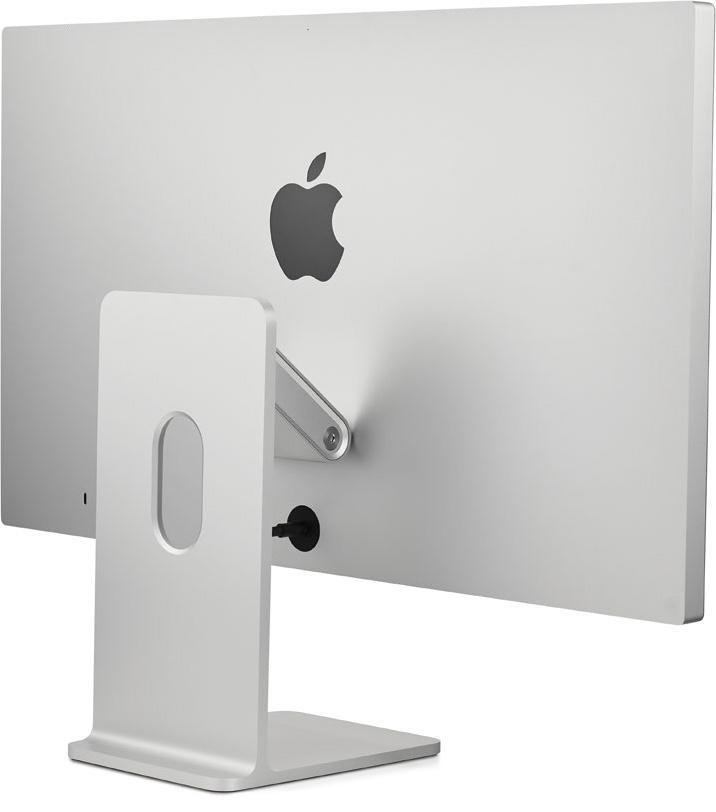 KEY FACT
The Studio Display isn't a complete all–in–one computer like the iMac, but its A13 Bionic processor does offer some useful processing power. The A13 supports Dolby Atmos and Spatial Audio for the built–in speaker system. It also enables the webcam to use Apple's Center Stage to follow you around during video calls, and you can use Siri voice commands too.
KEY FACT
VESA stands for Video Electronics Standards Association — the organization that sets technical standards for computer displays and TV screens. A VESA mount is a standard kit for fixing screens to a wall, or to an adjustable arm attached to a desk. And, as well as adjusting height, a VESA mount will let you rotate the screen into an upright (portrait) position too.