Honey, I bent the screen
Once upon a time, TV sets bulged like fishbowls around the cathode ray tubes that fired electrons at the glass screen. Later, Sony's Trinitron all but eliminated the curve from top to bottom, but not side to side. Only with the switch to LCD did we get completely flat screens. And finally, the electronic display was perfected.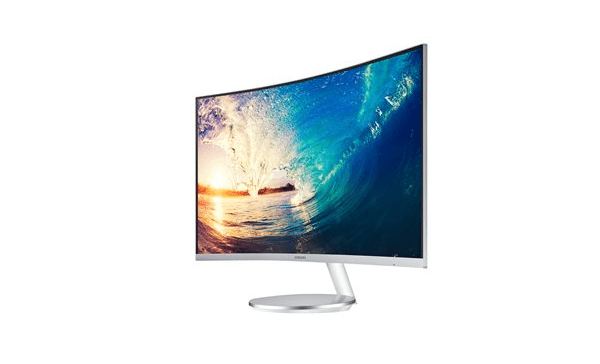 Or was it? Some manufacturers are convinced we haven't gone far enough, and want to carry on right through from convex to concave. New curved screens sweep forward at the sides, enveloping you in the picture. Or they would, if you were a Borrower. For normal-sized folk watching telly across a living room, it just means the person on the edge of the sofa ends up looking at the picture from an even more oblique angle than necessary. We don't think this will catch on until HDTVs get even bigger or people become smaller.
In a PC monitor, though, it actually makes sense. Choose a wide enough model, like this 27in, and sit close to it, as you would normally, and the wraparound effect works rather nicely. The curve is a segment of a cylinder, and it really pays off if you have the space to sit two or three screens side by side. The latest 3D graphics cards specialist in warping computer-generated scenes to look realistic when shown this way.
Meanwhile, back in the real world, a single unit is reasonably affordable, and could be used for any computing purpose. Avoiding a multi-monitor setup not only preserves your bank balance, but lets you take advantage of Samsung's attractive adjustable stand to tilt the panel to your preferred angle. There's no height adjustment, but it sits a fair distance off the desktop anyway. The narrow silver bezel around the screen and the sleek white back panel, mercifully uncluttered except for a tidy set of ports, make a futuristic impression that's further enhanced by the console-style thumb stick that's used instead of buttons to operate the setup menus.
Full HD (1920×1080 pixels) is not a particularly high resolution for this size of display. In fact, it's the lowest you can get. But with high contrast and covering 99.2 per cent of the sRGB color range, the picture looks great. Out of the box, it looked a bit bluer than we'd have liked, and we had to resort to our calibration equipment to fix this, although you could do the same by eye with some twiddling. Because it uses the VA type of LCD, the screen stays clearly visible even if you're not looking at it straight on.
In short, as long as you're not looking for an extra-sharp 4K screen, this is fine for almost any purpose. FreeSync is supported for newer AMD graphics cards, and the maximum refresh rate of 72Hz will impress gamers. We also eliminated ghosting by setting the response time to Faster (but not Fastest) in the menus. Non-gamers needn't worry about any of this. There's no USB hub built in, so PC accessories will have to plug into your system unit rather than the monitor, but there is pair of 5-watt speakers, which we found a lot better than we expected.
This is a very good monitor, but when you can get a sharper 2560×1440-pixel screen such as the 25in AOC Q2577PWQ for less, or a 4K Iiyama G-Master Gold Phoenix for only a little more, the price can't quite be justified. Curves will have to get cheaper to win our vote.

VERDICT of Samsung LC27F591FDUXEN Review
We're not averse to curved monitors, but it's hard to see why you'd sacrifice other qualities for it at this kind of price.

Best Samsung LC27F591FDUXEN prices ?
MORE DEALS

SPECIFICATIONS of Samsung LC27F591FDUXEN Review
27in VA LCD • 1920×1080-pixel resolution • 1x DisplayPort • 1x HDMI port • x VGA port • 5W stereo speakers • 457x614x270mm (HxWxD) • Two-year warranty.