Motorola has released three new phones in its affordable E5 range. Our favourite is the E5 Plus with its large screen, superb camera and epic battery life
Affordable phones usually come in small packages but Motorola is bucking the trend with the Moto E5 Plus. There's a more compact E5 in the range, with a 5.7in screen, or the even smaller and cheaper E5 Play with its 5.3in screen, but we were particularly impressed with the largest model.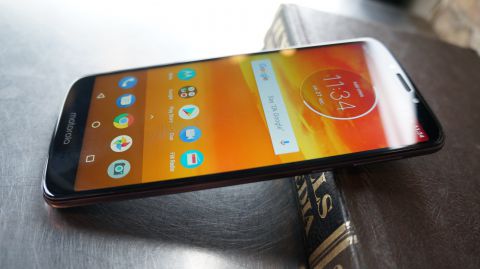 Build and hardware
The Moto E5 Plus has a 6in 18:9 1,440 x 720-pixels resolution display and a 12-megapixel rear camera. Inside, there's a 1.4GHz Snapdragon 425 processor, alongside 2GB of memory and 16GB of storage. What really wowed us, though, is its huge 5,000mAh battery.
Given the generous suite of core specifications. You could buy almost ten Moto E5 Pluses for the price of a single 512GB iPhone Xs Max. That's astounding value for money.
At such a knock-down price, you might expect the E5 Plus to look and feel
You could buy almost 10 Moto E5 Pluses for the price of a single 512GB iPhone Xs Max. That's astounding value for money
cheap, but that's not the case at all. The phone's glossy plastic chassis looks great and feels solid in your hand. We particularly like the rear-mounted fingerprint reader sporting the Motorola logo – it's in exactly the right position to rest comfortably under the tip of your index finger. The camera housing is flush with the back, too.
Flip the phone over and the 6in screen is protected by a layer of Corning Gorilla Glass, for added resilience against drops and scrapes. The powerful 5,000mAh battery doesn't add much to the weight – just 197g – although at 9.4mm thick, the phone feels quite chunky.
One corner that's been cut is the charging port, which sticks to bog-standard micro-USB rather than USB Type-C, limiting the speed at which its meaty battery is replenished. It's also worth pointing out that this model doesn't have the p2i water repellent treatment that some pricier Motorola models include.
Moto E5 compared
| | | | |
| --- | --- | --- | --- |
| | Motorola  Moto E5 Play | Moto E5 |  Moto E5 Plus |
| SCREEN SIZE | 5.3in, 960 x 480 pixels | 5.7in, 1,440 x 720 pixels | 6in, 1,440 x 720 pixels |
| REAR CAMERA | 8 megapixels | 13 megapixels | 12 megapixels |
| BATTERY CAPACITY | Not stated |   4,000 mAh | 5,000 mAh |
| DIMENSIONS | 148 x 71 x 9.2mm | 154 x 72 x 9mm | 161 x 75 x 9.4mm |
| WEIGHT | 150g | 174g | 197g |
Screen and performance
The screen looks great.
The pixel density of 268 ppi (pixels per inch) is just about sharp enough to satisfy the most exacting eyes, and its good contrast ratio provides eye-popping images. Peak brightness hits a sunlight- friendly 511 cd/m2 (candles per square metre).
Even under the scrutiny of our colorimeter, it's clear the screen has no problems with colour accuracy on the phone's default 'standard' display profile.
The internal specifications won't blow your mind but they're generous for the price. The 16GB of storage provided with the phone is low but that's easily remedied with a microSD memory card of up to 256GB.
Processor performance is also good for the price. We saw some frames drop when playing very demanding 3D games but you can't expect miracles. Day-to-day use may feel sluggish if you're downgrading from a more expensive phone but it's not so bad you'll be tearing your hair out.
Battery and camera
The jewel in the crown of the E5 Plus is its remarkable battery power. Even more expensive phones struggle to compete. Running our continuous video-playback test, which loops a film clip with the phone's brightness set to 170cd/m2 and flight mode engaged, the 5,000mAh capacity battery reached a staggering 23 hours and 2 minutes before the battery indicator dropped to zero. The only phone currently available that does better is the Huawei Mate 10, which is older and more expensive.
The camera is a single-lens 12-megapixel model, which looks underspecified next to the multiple-lense models you find on more expensive phones, but the quality of the photographs it captures is nothing short of stunning.
In low light, it achieves the perfect balance of grain and noise suppression, with the camera capturing a fine level of detail and accurate colours.
The quality continues with outdoor photography, with our test shots of London's bustling skyline bursting with crisp detail and well-balanced exposures. There are a few niggles, of course, but nothing that we wouldn't be prepared to live with: the camera's shutter delay may catch you off guard if you're not prepared; and you're limited to 1080p video recording at 30fps. In other words, you're not getting a state-of-the-art video camera but, as with so much about this phone, the remarkable price allows you to overlook its shortcomings.
OUR VERDICT
Motorola Moto E5 Plus Review
A short battery life is one of the biggest annoyances in a smartphone, but the Moto E5 Plus tackles this head-on. The phone has a large chassis to accommodate the generous screen, and Motorola has sensibly filled the extra space with battery power. It's paid off, too: the E5 Plus outlasts almost every other currently available phone we've tested, except for one that's significantly more expensive. With a decent screen and a good camera to boot, the larger-sized Moto E5 Plus is a bargain and well worth considering if you're looking for an affordable smartphone with features that rival the big names.
PROS
Exceptional battery life
Wallet-friendly price
Cracking camera
CONS
Performance could be improved
Add your review
|
Read reviews and comments
Best Motorola Moto E5 Plus prices ?
MORE DEALS

SPECIFICATIONS
■  1.4GHz quad-core Qualcomm Snapdragon 425
■  Adreno 308 GPU
■  6in 1,440 x 720 pixels display
■  2GB RAM
■  16GB storage
■  microSD card slot (supports up to 256GB)
■  12-megapixels camera
■  Fingerprint reader
■  5,000 mAh non-removable battery – 2.4GHz 802.11 b/g/n Wi-Fi
■  Android 8.0 (Oreo)
■  161 x 75 x 9.4mm
■  197g
BETTER PERFORMANCE
EVEN CHEAPER