SAMSUNG C27HG70 Review – IN MANY COMPETITIONS, the difference between winning and losing comes down to fractions of a second, and the PC gamer's equivalent of a perfect pair of running shoes has been monitor response rates. Samsung's C27HG70 has more than split-second reaction times on its mind: in addition to a claimed response time of just one millisecond, this is also the world's first HDR gaming monitor.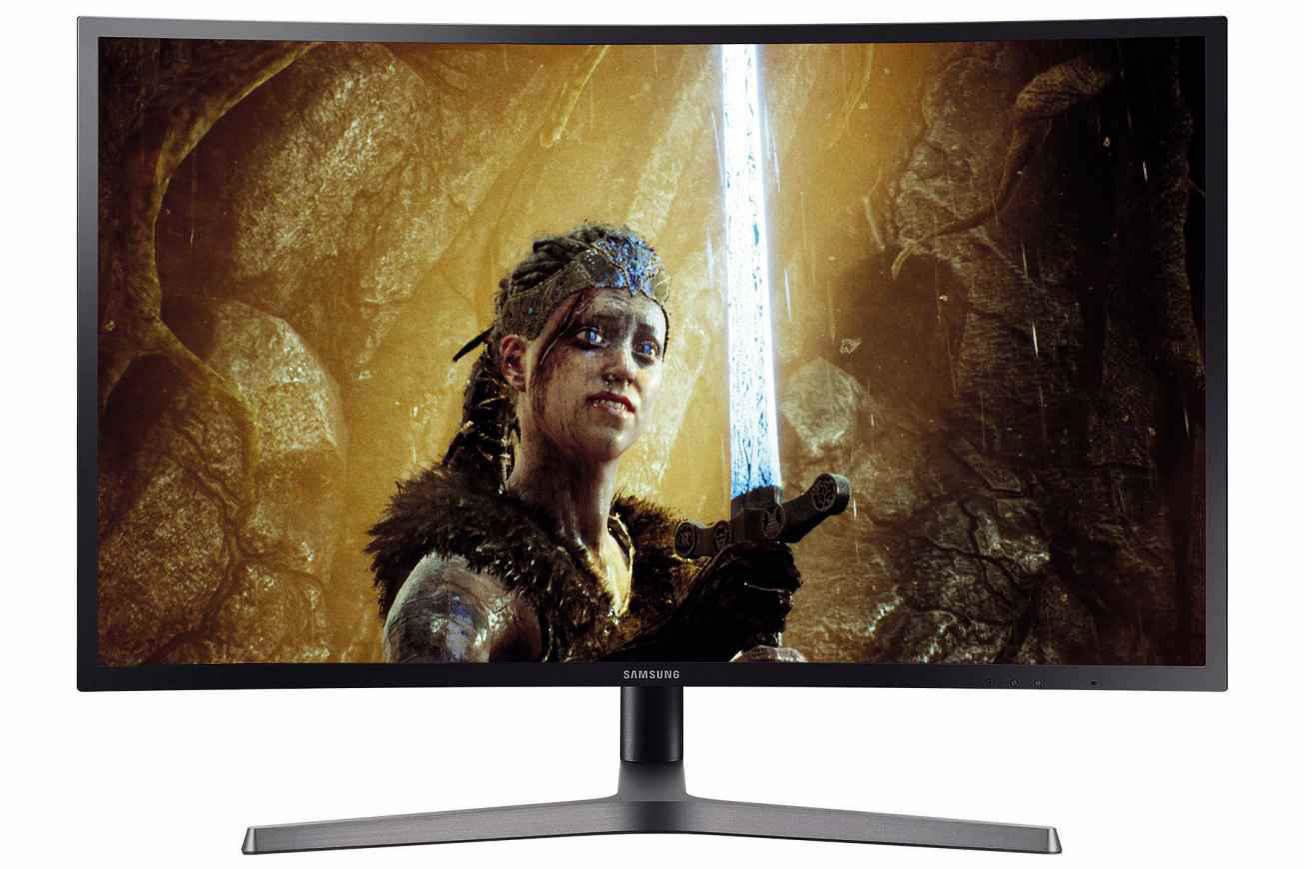 The C27HG70's specifications read like a gamer's monitor-buying wishlist. It's a 27in, 144Hz monitor with HDR, a Quad HD, 1800R curved panel and AMD FreeSync 2 (which is backwards compatible with GPUs running the original FreeSync), and the VA quantum-dot panel promises more than just quick response times – it's also capable of displaying a wider range of colour than standard VA panels.
SAMSUNG C27HG70 Review: TILT SHIFT
Tiny bezels surround the curved panel, and the wide, almost claw-like stand holds the monitor with the same double-jointed arm design seen on last year's C24FG70FQU. This isn't just fancy-looking for the sake of it: it provides full height, tilt, pivot and swivel adjustments for getting the monitor in the perfect position. In the unlikely scenario that it doesn't provide enough adjustability, you can mount the C27HG70 to any compatible VESA 100x100mm stand.
Connectivity hits the spot, too. There's a single DisplayPort 1.4 input alongside two HDMI 2.0 ports, a 3.5mm audio output jack and two USB3 ports, which are capable of delivering up to 1.5A per port when the fast charging mode is enabled through the onscreen display (OSD). This is supremely easy to use: the joystick on the bottom right-hand corner makes it quick and easy to dive in and change settings, and the menu system is clear and straightforward.
One of the more unusual features of Samsung's gaming monitors is Arena Lighting. A strip of LED lights provides a gentle blue glow behind the monitor, similar to the bias lighting technique employed by Philips' Ambilight TVs. This is great for reducing eye strain when viewing the monitor in darkened conditions, but there's an issue here in that Samsung has moved the LED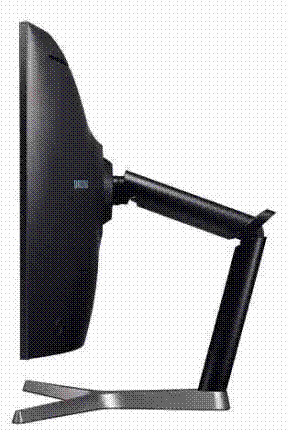 array from the underside of the monitor to the rear: we had to unscrew the plastic mould to get a decent amount of light to come through.
back to menu ↑
SAMSUNG C27HG70 Review: DOT ON
The 2,560×1,440 VA panel uses quantum dot technology to reproduce a wider range of colour. In our tests, it reproduced 99.5% of the sRGB colour gamut, and it also covers a respectable 88% of the DCI P3 gamut. Colour accuracy is good, too: an average delta-E of 1.75 is good for a non-professional screen.
If you want a gaming monitor that can also turn its hand to photo or video editing, the C27HG70 won't be too far out of its depth.
A maximum brightness of 400cd/m2 in the monitor's standard response time mode will be bright enough for pretty much any lighting conditions, but this figure drops substantially when the other settings are used. Set the C27HG70 to the Fast or Fastest modes and the brightness dips to 250cd/m2, which is still more than bright enough.
Thankfully, though, there are no such complaints about the quality of the backlighting, and the Samsung passed our brightness-uniformity tests with flying colours.
High contrast ratios are par for the course with VA panels, but the C27HG70 acquits itself well with both SDR and HDR sources. With an SDR source, the combination of high brightness and a 0.16cd/m2 black level produced a high 2,524:1 contrast ratio.
We used the Klein K10-A Colorimeter to conduct tests on an HDR test pattern, and the C27HG70 delivered a peak brightness of 667cd/m2 with a 13,340:1 dynamic contrast ratio and 0.05cd/m2 black level.
back to menu ↑
SAMSUNG C27HG70 Review: SPEEDING FINE
We'd expect a 144Hz monitor with a quoted 1ms response time to keep up with the fastest games, and the C27HG70 doesn't disappoint. Enabling the Fast or Fastest settings and the Low Input Lag mode provides an almost perfect recipe for competitive gaming. We were consistently impressed by the monitor's ability to control unwanted visual artefacts.
We say almost perfect, as these faster response-time settings have that unfortunate side effect of limiting brightness to 250cd/m2. If the lowest response time is an absolute priority, you'll have to turn down the lights.
AMD FreeSync 2 has a quoted 48-144Hz FreeSync range. Hook up a Radeon RX series card with the latest Polaris architecture, and you can enjoy crystal-clear, tear-free HDR gaming at high frame rates. Nvidia users can still take advantage of the monitor's 144Hz refresh rate, but sadly are limited to using standard VSync, which adds unwanted lag.
High dynamic range (HDR) is the key selling point here, and this is the first time that the technology has made its way from Samsung's TVs to its range of gaming monitors.
A display's ability to produce a high maximum brightness is key to great HDR performance, but unlike TVs – which can achieve a peak brightness of above 1,000cd/m2 – the C27HG70 achieves a more modest 600cd/m2. However, this isn't as bad as it sounds; given how close you sit to a monitor compared a TV, that should be enough to provide pleasingly intense highlight details.
back to menu ↑
SAMSUNG C27HG70 Review: CONSOLE YOURSELF
Using the C27HG70 with HDR-enabled consoles, such as the Xbox One S, is easy. Simply plug in the HDMI cable, pop a 4K HDR Blu-ray in the drive, and you're good to go. The console detects the monitor as an HDR-enabled panel, and passes all of Microsoft's checks in the Xbox settings menu. If you're looking to play back HDR content through a Blu-ray player or a compatible console, the Samsung C27HG70 will be able to display the content without any hitches – albeit not at the content's native 4K resolution.
HDR and Windows 10 don't play so nicely together, however. First, you'll need to make sure you have a compatible graphics card. Samsung lists the AMD Radeon RX 480, RX 470 and RX 460, and Nvidia Titan X, GTX1080 Ti, GTX1080, GTX1070, GTX 1060, and GTX 1050 as compatible. AMD's latest RX 500-series will also work as it's based on updated versions of the RX 400-series' Polaris architecture.
If your PC has a graphics card that isn't listed, HDR support is a little more hit and miss. In the case of our MSI GeForce GTX 960, HDR works via an HDMI connection, but not DisplayPort; you'll have similar problems with any card that doesn't support the DisplayPort 1.4 standard required for HDR compatibility. Upgrade to one of the supported cards, however – we tried Sapphire's 8GB Pulse Radeon RX 580 – and you can use either connection type.
The first time you enable HDR through the Windows display settings, you might wonder if something's gone wrong. As the Windows desktop doesn't support HDR natively, you'll be presented with a dim, washed-out image. Don't panic, though: it's not until you fire up an HDR-enabled game that you'll notice the benefits.
Currently, only a handful of titles support HDR, though this includes big names such as Deus Ex: Mankind Divided, Hitman, Resident Evil 7, Shadow Warrior 2 and Mass Effect: Andromeda. Shadow Warrior 2 provided a perfect demonstration of the benefits of HDR: colors are more lifelike thanks to the more natural transition from dark shadows to intensely bright highlights, and reflections or sunlight glinting off objects such as swords or guns look more realistic. Look up to the sky and you'll see an intensely bright sun alongside the clear outline of delicate, wispy clouds – the kind of detail that becomes bleached out almost entirely in SDR mode.
HDR still isn't a plug-and-play experience on PC, however. In Shadow Warrior 2, we had to reduce the in-game gamma level from 1 to 0.8 to stop images looking washed out, so you'll need to experiment with different games' settings to achieve the best results.
back to menu ↑
SAMSUNG C27HG70 Review: FALLING IN CURVE
Despite the HDR niggles, the Samsung C27HG70 is a superb gaming monitor. Class-leading color accuracy, response time and input lag would be enough to win many gamers' hearts, but combined with the C27HG70's gorgeous design, HDR and curved panel, the price looks a lot more reasonable than it would for a QHD monitor.
Be in no doubt, though, that you're paying a premium for HDR. And, while the C27HG70 works with the current crop of HDR-enabled consoles, Windows 10's implementation is still a long way from the plug-and-play experience it should be. Clearly this isn't Samsung's fault but, as ever, being an early adopter has its downsides.
If you're happy to spend time tweaking in-game settings to get HDR just so, however – and you don't mind paying extra for top-notch performance – then there's no question about it: the Samsung C27HG70 delivers the kind of visual fireworks that no other monitor can.
Christopher Minasians
back to menu ↑
SAMSUNG C27HG70 Review: SPECIFICATIONS
SCREENSIZE 27in • RESOLUTION 2,560×1,440 • SCREENTECHNOLOGY VA • REFRESHRATE 144Hz • VIDEO INPUTS 2x HDMI, 1x DisplayPort • WARRANTY Two years RTB

back to menu ↑
SAMSUNG C27HG70 Review: VERDICT
A fantastic HDR gaming monitor, but it's a shame Windows 10 and HDR don't get along better
Quantum dot
1 billion color support
QHD resolution
Refresh rate 144Hz
Response time 1M/s
Free shipping
Last update was in: 2018-06-20 3:11 pm
27inch Full HD gaming monitor with an ultra-fast 1ms response time and GameFast Input Technology for smooth gameplay
Dual HDMI ports and one DisplayPort allow you to connect your game console, other HDMI device or PC at the same time
Last update was in: 2018-06-20 3:11 pm
Quantum dot colour vibrations Leveraging Quantum Dot technology, Samsung's radical curved gaming monitor with approximately 125% sRGB colour coverage.
WQHD Resolution With up to 1.7 times the pixel density of Full HD, WQHD not only delivers incredibly detailed, pin-sharp images
Last update was in: 2018-06-20 3:11 pm