You can reduce the perceived response time by enabling backlight strobing
Samsung hasn't really been known for its gaming monitors in the past, but it's aiming to change that perception with its latest line-up.
With a slew of new displays that feature high dynamic range (HDR) support, 144Hz refresh rates, FreeSync support and backlight strobing, the company is throwing everything at its new CHG70 displays. They're available in two versions: one with a 27in diagonal, and one 32in model – we're looking at the former here.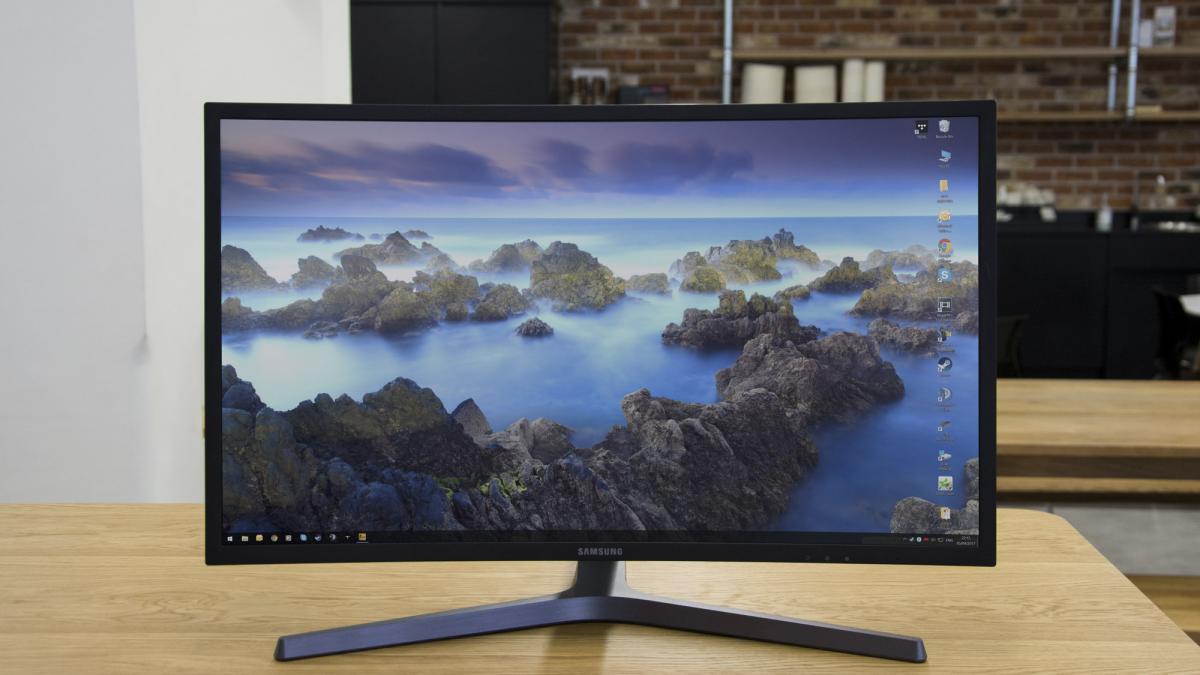 As well as the above features, the other striking aspect you notice about this display is its panel's curve. This curve makes for a better experience than a flat monitor when viewed head on, better matching the curvature of your eye to suit the human field of view, although it can also draw in more reflections. Either way,
the curve and overall design of this display work really well together. There are no premium materials, but the elegant stand, and use of simple black and dark metallic plastic gives the screen a muted but not staid quality. The subtle blue ring of light on the back is an attractive touch too.
The stand also offers full adjustability, though the height adjustment feature is odd.
It uses a pivoting motion that causes the display to shift backwards and forwards as it moves up and down. This system also means the arm extends back beyond the rear of the stand's base, which in turn makes the overall footprint of the display very deep.
Most 27in display stands have a depth below 30 cm, but the C27HG70's stand is 41 cm deep. As such, it isn't ideal if your desk is narrow and there's a wall behind it.
If this is a problem, though, you can remove the stand and use an alternative VESA- compatible mount instead.
There's a good range of connections though. A DisplayPort 1.4 socket and two HDMI 2 ports mean you have a trio of HDR-compatible connections, plus there's a 2-port USB 3 hub and headphone pass-through, although there are no speakers.
The display itself uses a vertical alignment (VA) LCD panel with a quantum dot backlight filter system and a resolution of 2,560 x 1,440, the latter of which is typical for a 27in monitor.
In the past, VA has generally been the worst LCD tech to use for gaming displays due to their comparatively slow response times. However, Samsung has got around this issue in two ways.
For starters, the panel is simply just better than previous ones; secondly, you can also reduce the perceived response time by enabling backlight strobing.
Doing the latter momentarily turns off the backlight so that it masks the artefacts from slow pixel transitions and reduces eye-tracking motion blur, making for a sharper, more responsive image.
The result is impressively responsive gaming performance, although sadly, you can't use FreeSync and backlight strobing at the same time.
As for HDR, the biggest factor in displaying HDR content is providing a good enough contrast ratio, although colour reproduction and brightness also play their part. OLED displays natively have a decent contrast ratio, but LCDs generally need to employ localised backlight control to make different portions of the image dark and light enough.
However, Samsung has gone for a compromise approach by using a VA panel. The claimed native 3,000:1 contrast ratio of the panel is still some way off what the HDR10 standard requires, but it's also three times the 1,000:1 contrast ratio of typical TN and IPS panels.
The display also has localised dimming zones, but there are just eight of them, which is all but pointless – the top-end HDR displays that Acer and Asus are releasing next year are set to include 384 independently controlled backlight zones.
Overall, though, you can still get a sense of what an HDR display can achieve, thanks to the Samsung conforming to the extended colour gamut also required of HDR.
However, with Windows and game support for HDR still being in its early stages, HDR is more of a token extra on a gaming monitor than a key feature anyway.
Thankfully, the Samsung's image quality is very good. Viewing angles, colour fidelity and accuracy – and that contrast – are all vastly superior to any TN gaming display, and it's near perfectly calibrated right out the box. However, there's a slightly coarse quality to the pixel structure that makes text slightly less readable. Also, there's a degree of oversaturation that means IPS gaming displays still have some slight advantages.
Conclusion
The Samsung C27HG70 might not quite meet the HDR10 standard, but it's a fantastic all-rounder, and its contrast ratio and colour reproduction are excellent.
It delivers right across the board, with an attractive, solid design, loads of features, good gaming performance and decent image quality, all for a reasonable price.
If you have an AMD GPU, then you can also take advantage of its FreeSync support. The Samsung C27HG70 isn't the very best monitor for either pure gaming performance or image quality, but it's a fantastic all-round monitor that also handles gaming well.
EDWARD CHESTER
VERDICT
Editor choice
SAMSUNG C27HG70 review
A mass of features, good image quality and decent gaming performance, plus a competitive price, make the Samsung a great all-rounder.
Add your review
|
Read reviews and comments
Best SAMSUNG C27HG70 prices ?
$

999.39
1 used from $495.00
1 new from $999.39
in stock

MORE DEALS