Asus Designo MX34VQ
The latest Asus screen ups the slickness ante remember when Asus more or less just made motherboards, or at least that's how it seemed? No, us neither. Today, the Taiwanese megacorp has its fingers in so many pies, it's hard to keep up. More to the point, just when you thought Asus's product offerings couldn't become more polished and consumer-friendly, along comes the Designo MX34VQ. It's an awfully long way from those frills-free circuit boards of old.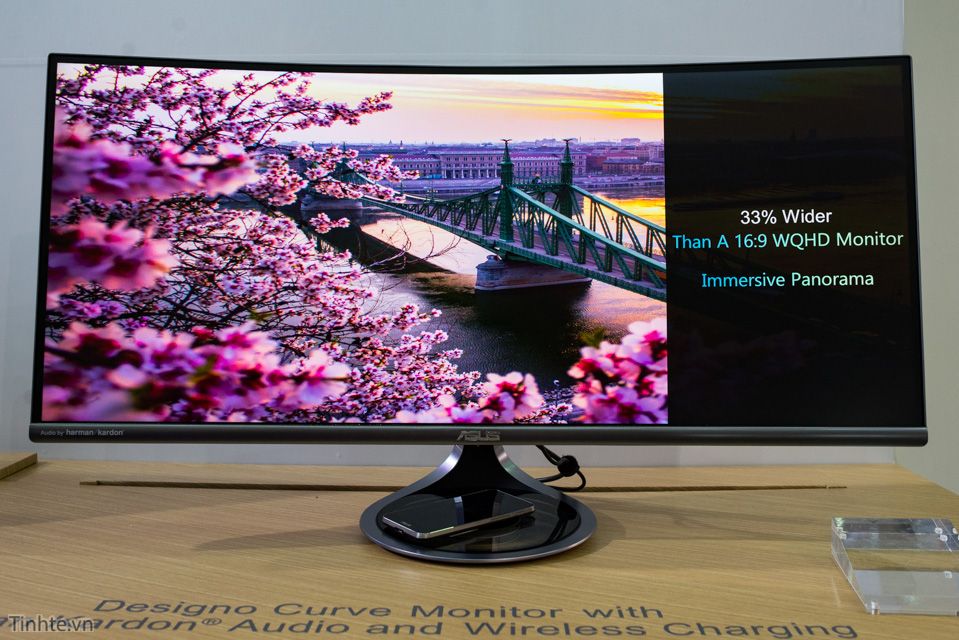 It's also far more grown-up than Asus's existing ROG Swift premium monitors, they of the projected logos and gamer-centric shtick. Instead, this Designo model feels like a carefully aimed headshot at the likes of Samsung's CF791. As it happens, the MX34VQ shares several key specs with that Sammy screen. For starters, both are 34- inch super-wide monitors with 3440×1440 native resolutions. They're both curved and both support 100Hz refresh and AMD's FreeSync tech. Then there's a very similar high-end consumer electronics feel to the design of both. But what really marks them out as peas from a similar pod is the use of VA as opposed to IPS panel technology.
Indeed, with Asus reportedly sourcing its VA panel from none other than Samsung, you might suspect that they actually share the same panel. However, the Samsung screen sports a tighter 1500R radius to its curve versus the Asus's slightly less extreme 1800R bend. The other major differentiator is the Samsung's quantum dot technology to boost the fidelity of its backlight. Whatever, VA is always an intriguing choice due to the pros and cons it offers versus the ubiquity of IPS.
For starters, with VA, you get better outright contrast performance. In this case, a static contrast ratio of 3,000:1. Current IPS monitors tend to top out at 1,000:1. The reality isn't as simple as the VA solution being three times better than IPS, but the advantage is real enough. On the downside, VA panels don't offer the same super-wide viewing angles as IPS, and pixel response tends to be a little slower.
In practice, that's pretty much how it plays out. The MX34VQ has lovely, inky blacks, with very little evidence of light bleed. However, in its standard factory calibrated form, the MX34VQ also exhibits signs of crushing shadow details, which is a common trait in VA panels, and the flip side of that awesome contrast performance. In test animations, that characteristic VA inverse ghosting can also be seen, though it's much less of a problem in practical use. Likewise, there's no getting round the fact that the viewing angles aren't as broad as an IPS panel. Most of the time, that's fine. Just occasionally, however, you'll view images that are particularly sensitive to color shifts, and it will bug you just a bit.
That said, the 100Hz refresh makes for a lovely gaming experience. The high contrast and the rich if not quite quantum- dot-competitive colors make for a real spectacle in games such as Witcher III. OK, you don't quite get the same fluidity and sharpness of input response as a 144Hz or 240Hz monitor, but you do get most of the benefit of such screens versus a standard 60Hz monitor. Once you go high refresh, you won't want to go back, even for just shuffling windows around on the desktop—60Hz suddenly looks so very old.
Elsewhere, Asus has added a few nice extras, including Qi wireless charging in the base of the stand. That's very cool if you happen to have a phone that supports wireless charging. All, therefore, is largely well? Not quite. The MX34VQ's stand only supports tilt adjustment, it sits very low, and there's no VESA support to fall back on. Apart from that, it's a very appealing panel, albeit at a price. -jeremy laird
Verdict Asus Designo MX34VQ
+ AHEAD of THE curve Lots of lovely contrast; fab 100Hz refresh; awesome industrial design.
– mind bender VA panel has drawbacks; no stand adjustability or VESA support.
SPECIFICATIONS
Panel Size
34-inch
Native Resolution
3440×1440
Pixel Density
110 ppi
Panel Type
VA
Maximum refresh
100Hz
response
4ms
contrast
3,000:1
display inputs
HDMI x3, DisplayPort
connectivity
USB
VESA Mount
No
Warranty
Three years