That first strikes you about Roccat's latest wireless gaming headset is its appearance. The Syn Pro Air follows the company's recent trend of including RGB lighting with its peripherals but only in one section. On its Kone Pro mouse, the lighting is only under the buttons, while here it's found in the bottom rear quarter of each earcup.

Read our ROCCAT SYN PRO AIR Review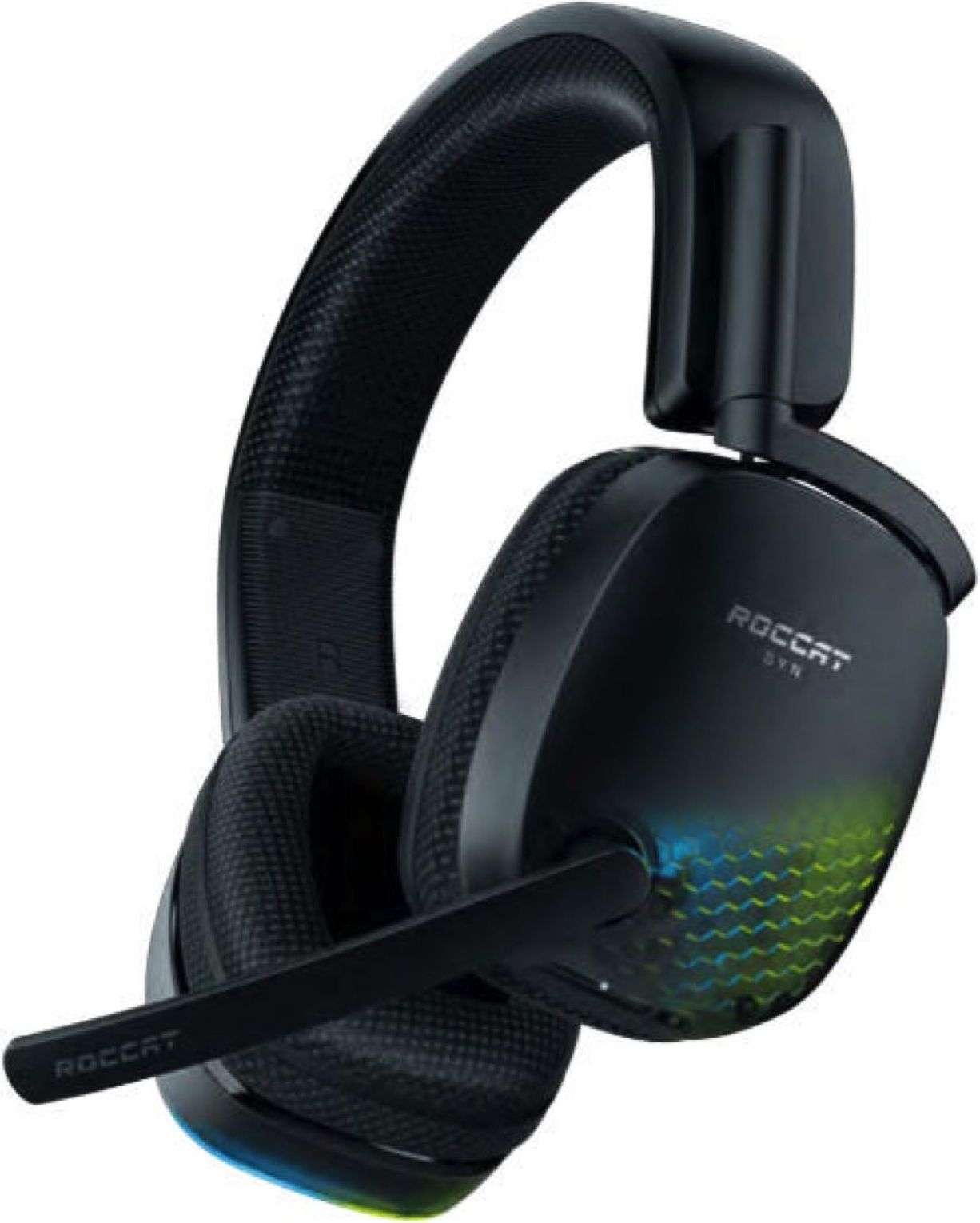 Specification
Audio config Stereo and virtual surround
Headphone frequency range 20-20,000Hz
Sensitivity/sound pressure Not stated
Mic frequency response Not stated
Mic sensitivity Not stated
Weight 295g without mic, 310g with mic
Battery life 24 hours gaming
Extras USB Type-C cable, wireless dongle, USB Type-A to Type-C adaptor, removable mic
The lighting is diffused through a semi-translucent grey outer plastic, with a honeycomb structure visible beneath the surface. The default colouring is an ever-changing, pulsing rainbow of colours that's reminiscent of the iridescence you'll find on the surface of many insects. Indeed, the overall feeling is of an organic light source such as a firefly. Whether you like it or not is largely down to personal taste.
When it comes to build quality, this is a resolutely plastic headset, which at first can make it feel less premium than some options. However, it's actually a very practical choice that keeps this headset light yet robust, weighing in at just 310g with its mic (295g without).
Combined with the reasonably deep headband and earcup padding, this makes for a comfortable headset to use for long periods. The fit is adjusted via free-sliding (rather than indented) arms, which don't offer much width adjustment but do have plenty of height adjustment. As a result, the fit can be a touch loose, but we didn't find it bad enough to slide off. The earcups interfered with my glasses more than some designs, though, catching on the ends and pushing the glasses forwards, but your mileage may vary.
The microphone is removable, but unlike most removable models, it doesn'tjust use a jack socket input but instead has a rotating mounting system that means the microphone can rotate up and away and auto mute, bleeping at you to denote when the mic is active or stowed. More beeps then sound to signify the headset is on, and they're rather obnoxiously loud and shrill.
There's a digital volume wheel on the back of each earcup, with the left one used to control system volume and the right to control microphone monitoring/side tone volume. Also on the left earcup is the power button and USB Type-C charging port. In the box there's a Type-A to Type-C charging cable, a Type-A transceiver and a Type-C to Type-A adaptor, so you should be set for all connection options.
The Syn Pro Air doesn't offer on-headset sound profile control, but Roccat's software lets you switch between impressive virtual surround and stereo, as well as adjust the lighting. The software also includes controls for EQ, various other game-specific audio effects, a mic noise gate and battery status.
When it comes to sound quality, the mic is basic but adequate, while the headphones sound generally rather good. There's boosted bass and slightly boosted treble but not enough to suck the life out of music, and general detail and clarity is excellent. However, we did find the amped bass and treble a touch tiring, and ended up using Roccat's software EQ to tone it down a bit. Meanwhile, battery life is excellent. Quoted as 24 hours of playtime, we comfortably used the headset for a week without the need to charge it.
Conclusion
The Syn Pro Air is an accomplished, good-sounding headset that's comfortable, light and long-lasting. The Corsair Virtuoso Wireless RGB SE outclasses it in terms of looks and sound quality, but the Syn Pro Air is lighter and more comfortable to wear, making it worth considering if that's a bigger priority for you.
EDWARD CHESTER
VERDICT
ROCCAT SYN PRO AIR Review
A capable wireless gaming headset for a decent price, especially if you prioritise lightness and comfort.
PROS
Lightweight, practical design
Decent feature set
Solid sound quality
CONS
Strange lighting choice
Annoying status beeps
Add your review
Best ROCCAT SYN PRO AIR prices ?
$

238.22

$339.97
1 new from $238.22
in stock


ROCCAT - Syn Pro Air Lightweight RGB Wireless 3D Audio Surround Sound Gaming ...

MORE DEALS