Newcomer Cleer Audio makes an impressive UK debut with its 'ironless' headphone design. Read our Cleer Flow Review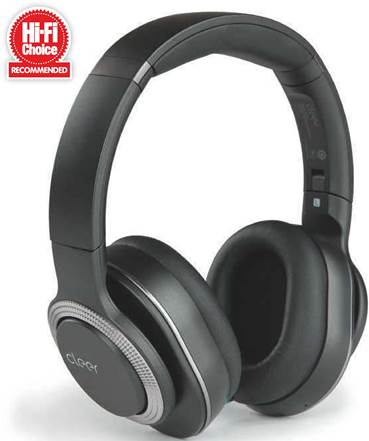 Founded in San Diego in 2012, Cleer Audio only recently branched out to the UK. The company has a good pedigree and is made up of former engineers from Sony and Harman Kardon who developed the Flow's 'ironless' magnetic drivers, aimed at reducing distortion.
Other aspects of its design are more conventional. The earpieces and headband are thickly padded, and fold flat to fit into the compact carrying case. The headband grips quite firmly to create a noise-isolating seal for the earpieces, although some people might find them a little tight for longer listening sessions.
Touch controls on the earpieces allow adjustment of volume and to skip forward or backwards, while two buttons on the left earpiece turn on the power and noise cancelling. There's also an 'Ambient' button to vary the level of noise cancellation for different situations. 'Normal' allows a low level of background noise – such as traffic on a busy street – while 'Voice' mode enables you to hear when someone is talking to you. Finally 'Conversation' temporarily fades the music so that you can chat with those in the outside world.
Sound quality
Unsurprisingly, the Flow is at its best when used with a wired connection and noise cancelling turned off – although aptX and AAC ensure it displays only a slight loss of clarity when switching to Bluetooth. In wired mode it captures the haunting sadness of Kate Bush's a capella vocal on My Lagan Love, and I'm impressed by the expansive soundstage filling the air around me. There's a similar delicacy in the opening of Flight From The City as the firm, urgent timbre of
DETAILS
PRODUCT Cleer Flow
ORIGIN USA/China
TYPE Closed-back, over-ear, noise-cancelling headphone
WEIGHT 330g
FEATURES
• Quoted battery life: 20 hours
• Folding design
• 1.5m cable
• Bluetooth with aptX; AAC
DISTRIBUTOR Cleer Audio
TELEPHONE 01282 227086
WEBSITE cleeraudio.com
IN SIGHT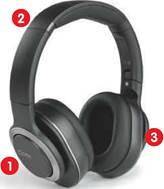 1 Touch-sensitive controls
2 Padded, folding design
3 40mm ironless driver
the piano contrasts with the melody played by the strings.
The Flow doesn't flinch as I switch to the multi-layered bombast of The Millionaire Waltz. The guitar and drums of the song's middle section charge along, but then the Cleer changes pace with ease as the piano shifts everything into a waltz and it catches every whisper of Mercury's Marlene Dietrich impersonation.
Impressively, there's hardly any loss of quality as I activate noise cancelling – I have to take the Flow off to double check the cabin noise file is actually playing properly. Some of the higher frequency voices creep in from the airport hubbub of our second test file, but that's the case with most of the headphone's rivals too. I'm genuinely impressed by the clarity of the guitars, drums and vocals on The Millionaire Waltz and the way that the Flow manages to effortlessly preserve the haunting stillness of My Lagan Love, despite the rumbling noise in the background
OUR VERDICT
Cleer Flow Review
A great debut, offering attractive sound quality and noise cancellation at a competitive price
PROS
Delicate yet expansive sound
very effective noise cancelling
CONS
Tight fit
no app
poor manual
Add your review
|
Read reviews and comments
---
TODAY'S BEST DEALS

$

249.99

$279.99
7 new from $246.50
out of stock