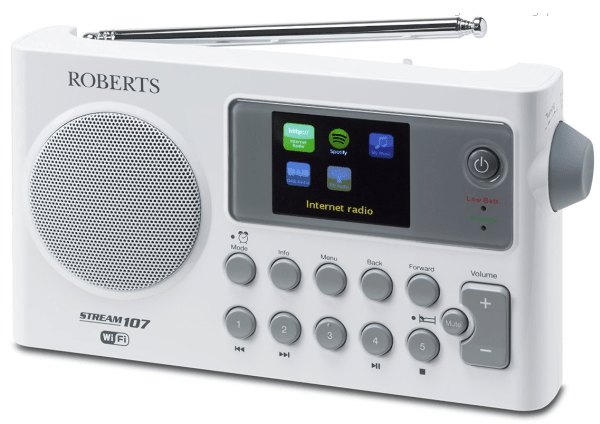 Spotify Connect, internet radio and wi-fi streaming? Roberts, you're spoiling us. Packing streaming features into affordable radios has earned Roberts our Awards for three consecutive years. It is now offering the same features for an even more affordable price in the Roberts Stream 107.
It's a small radio, so we're not expecting bags of dynamism, bass or volume. True to form, the Stream 107 can't really muster much low-end heft, nor does it fill up a room with big, sweeping dynamics. But it does do voices well, placing them dead centre with enough character and punch so that personality and humour come through. It's good news if you to listen to news, breakfast radio or podcasts.
Out of thin air
Stream the LSO's Cantina Band song over Spotify and JohnWilliams's funky jazz tune is every bit as playful as it should be. Turn up the volume and you'll even find yourself tapping along to the jaunty tune. The bass hardly goes deep, but it's taut and charges along merrily. The sound's overall character is similar to the Award-winning Stream 93i – just a little thinner. Despite that, there are no sharp or bright edges to the Stream 107.
Of all the features on the Roberts Stream 107 radio, Spotify Connect is its headliner. Just connect the radio to the same wi-fi network your smartphone or tablet is on, fire up Spotify on your device, press play and away you go.
The built-in wi-fi is stable and quick to latch on to a network. You'll have to spin the tuning knob quite a bit to input the wi-fi password, but once done the 107 can then pick up internet radio stations, as well as music stored on a NAS device or laptop.
While the UPnP steaming function is an excellent feature, it's a bit wasted on the 107 because the radio's sound quality doesn't do justice to your music library. It's fine for radio stations and Spotify playlists, but the bigger Stream 93i delivers a more rounded performance for just £30 more.
The DAB and FM tuners prove stable, too. You can store up to 15 presets, with five each for DAB, FM and internet radio. Just long-press one of the preset buttons when you pick a station, and it will be saved.
Whereas the 93i has a second dial for volume, the Stream 107's dial is for tuning and selecting stations, and for scrolling through the menu options. You adjust volume using oddly shaped buttons on the radio's front panel, but it feels unintuitive and the radio is light enough to move when you press down. There's no remote control included, but the unit is easy and responsive to use anyway.
A large, legible display
The display is identical to the Stream 93i, which is an excellent decision by Roberts. It is large, legible and packed with information. The main sources are laid out in large icons, while station logos also show up in colour.
When it's playing, you can press the 'Info' button to show various display features: song and artist name, programme blurb, time and date, signal strength (which is handy) and even the sampling rate of the track playing.
The radio itself is a standard-looking rectangle, with a light, compact build that makes it easy to place anywhere. It is also portable, though you'll have to insert AA batteries in the back. It should last for a reported 15 hours, and there are LEDs on the front panel to show battery status.
The Stream 107 has more features than we'd expect for a radio of its kind. It's an excellent deal – but for just a little more, the Stream 93i sounds bigger, more rounded and more satisfying. And those streaming features make a lot more sense when coming out of the punchy 93i. But if you're after a compact radio that's great with voices, the Stream 107 is worth a listen.
VERDICT
A good compact radio that has an excellent range of streaming features for a sensible price.