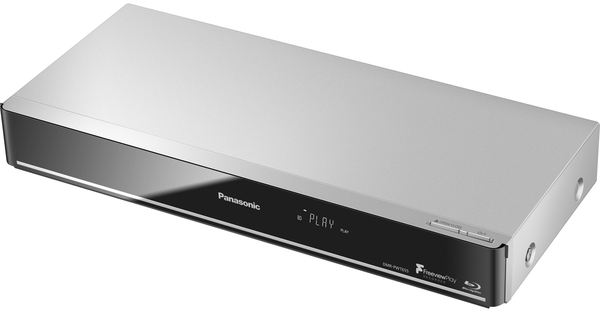 Blu-ray player, PVR functionality and media streaming in a single box
The very first Blu-ray player, Samsung's BDP-1000, lacked Ethernet. It was one of the few without such connectivity, and therefore unable to let early adopters sample  the delights of BD-Live. Of course, BD-Live turned out to be pointless, but an ability to connect to your home network, and the 'net, wasn't; BD players were soon offering networked playback and a range of TV-like smart features, including, ironically, access to the on-demand services that are threatening physical media.
Panasonic's DMR-PWT655 can do all of this and more. The network player of this slim-line and distinctly house-styled machine is DLNA-compatible; the handset totes a shortcut key to a Netflix portal; playback of 4K (not BD) content (and upscaling) is proffered.
And it's a recorder, too. Inside this combi deck sits a twin-tuner HD PVR with 1GB of capacity. That's a lot of recorded telly; the best part of 2,000 hours with appropriate configuration (under 300, if your viewing is entirely best-quality HD). The PWT655 is also one of the first PVRs to implement the new Freeview Play standard, which – like rival YouView – allows you to go 'back in time' through the EPG by up to a week. At first this feature wasn't available, but the firmware update landed during my review period (if you've bought one of these decks, check its system is up-to-date).
The basic functionality is similar to that of YouView, although the implementation is rather different. Pressing the handset's Freeview Play button displays a list of the catch-up services currently available – BBC iPlayer, ITV Player and 4oD (Demand5 is 'coming soon' according to Panasonic), in addition to BBC News and BBC Sport content. As for retroactive schedule browsing, go back with the EPG and the left-hand section of the screen is filled by a grid containing the currently selected channel's previous shows. Each past day's programmes occupies a column. As with YouView, selecting one of its programmes shortcuts to the relevant catch-up service. Freeview Play definitely works, but personally speaking I prefer YouView's neater 'scroll-back' EPG.
Another neat 'net-enabled feature is Panasonic's TV Anywhere, through which recorded programmes can be streamed to Panasonic's Media Center app. Not BBC content, though – Panasonic explained the Beeb has opted out of the service. With accessible recordings (in this case from Channel 4) streamed to my Samsung Galaxy S4 'phone, pictures – although not HD quality – were perfectly watchable. It's neat to be out and about watching transcoded recordings that have been fed from the PWT655 in your living room.
Not enough? You can schedule recordings via the app, so if you've gone out in a hurry or are late home, and forgot to set the timer for MasterChef USA, you need not miss it.
The PWT655's readiness for all things digital doesn't always work in our favour, though. There's a complete absence of any analogue connectivity. So, for instance, feeding music or soundtracks to a non-digital stereo system is impossible without extra equipment. This also means that programmes won't break free of Panasonic's walled garden. You cannot connect your PVR to a DVD recorder via Scart, and dump the programme onto a disc in real time. When I pointed this out to Panasonic, I was politely reminded that Scarts have also been dropped from the brand's TVs. There's evidently no longer any demand…
What you do get is a facility whereby recordings can be transferred to an external USB HDD. The catch is that the disk is unreadable by a PC and it's locked to a specific PWT655. In the unlikely event that your unit develops a fault, if you want to access a drive containing a 'once-in-a-lifetime' recording (your turn on Britain's Got Talent, for instance) then you're out of luck. Plug that USB drive into any replacement unit and it will be spurned.
Still, up to eight HDDs (up to 2TB in size) can be registered by each PWT655. And to be fair, Panasonic draws attention to its own DVD/Blu-ray recorders (which, speaking from experience, are very good) as alternatives for those who feel the need to backup their favourite TV. A new top-range model – the DMR-BWT850 (£600) – offers BD archiving.
The PWT655's recording modes are identical to those of the more upmarket Panasonic disc-burners. There's a DR (direct) mode that preserves subtitles, additional soundtracks and so on. There are also eight other modes (four of them HD) that trade quality for space, so you can cram more in. If you've selected one of these modes, the PWT655 will record your programme in DR, and then quietly convert it to the specified setting when in standby. Basic editing will trim away superfluous material, thereby reclaiming HDD space. Recordings are selected from a straightforward list that also recalls basic programme details. Other key PVR features include pausing live TV, digital teletext, Guide Link, 32-timer events, the ability to select any HD simulcast and automatic series recording.
The playback section is 3D-compatible, will accept SD cards/USB devices and supports a lengthy list of file formats. Some can be copied to the HDD and, from there, made accessible to other devices courtesy of an onboard DLNA server. Yet the PWT655's own recordings aren't on the menu, unless the client is Panasonic and compatible.
On the whole, the PWT655 is pleasurable to use. Integration could be better in some respects, though. The handset's subtitles button, for example, is only active for digital TV – engaging them for disc playback involves wading through menus. And the UI is a bit dour.
Hi-def TV images, especially live studio material, are clean, detailed and accurate in colour. Blu-ray, of course, is even better – artefacting was all but absent, and dynamic range wider; the murkier scenes of Terminator: Genisys fared well even when harsh lighting suddenly invaded the scene. Standard-def TV and DVDs can be excellent, thanks to some potent upscaling. Steve Coogan's Saxondale (DVD), for example, took on a near-HD sheen. Edges were, however, slightly exaggerated; manual tweaks are available in the picture settings menu.
Blu-ray soundtracks were simply sublime. The sheer atmosphere of the alien structure's interior (Prometheus) is done justice, its dripping water approaching uncanny realism. And when the crew get caught in a storm en route to the ship, complex detail is not swamped by sheer volume.
So there's certainly little to fault in performance terms here. I was also impressed by the broad range of features – especially in the networked domain, although it must be said that attempts to play some DLNA content were rejected outright (USB proved to be more accommodating). Freeview Play lives up to its promise. However, the lack of analogue connectivity – and all its implications for archiving – is a worrying trend. But overall, the DMR-PWT655 has plenty of interest.
Specifications
HDD: Yes. 1TBTUNER: Yes. 2 x Freeview HDCONNECTIONS: Aerial in/out; HDMI output; Ethernet; USB (rear and front); coaxial digital audio output; SD card slot; built-in Wi-Fi DIMENSIONS: 430(w) x 59(h) x 210(d)mmWEIGHT (OFF STAND): 2.4kgFEATURES: Freeview Play with retroactive EPG; Media Center app with TV Anywhere; 4K networking/upscaling; Panasonic Diga portal (including support for BBC iPlayer, internet radio, web browser, Amazon Instant and Netflix); DLNA client/player and server; smart device 'media renderer' mode; 3D support; direct recording (DR) and eight conversion modes (4 HD, 4 SD); series recording; pause live TV; 32-event timer; copy to/from SD/USB (with some restrictions); format support including DSD/FLAC/MP3/AAC/DivX/MPEG/MP4/MKV/AVCHD/JPEG/MPO