Raspberry Pi 2 v1.2 review – Les Pounder gets his hands on a new Pi. This time it's not a new all-powerful upgrade to the series-so is it worth buying or not?
Raspberry Pi 2 v1.2 review: In brief…
» A re-release of the Raspberry Pi 2 which sees the BCM2836 SoC replaced with the latest BCM2387 and an ARMv8 Cortex-A53 based CPU. Pitched between the Raspberry Pi 2 and 3, this new Pi 2 offers the same stable platform for industrial/embedded use who don't need Wifi or want increased power consumption.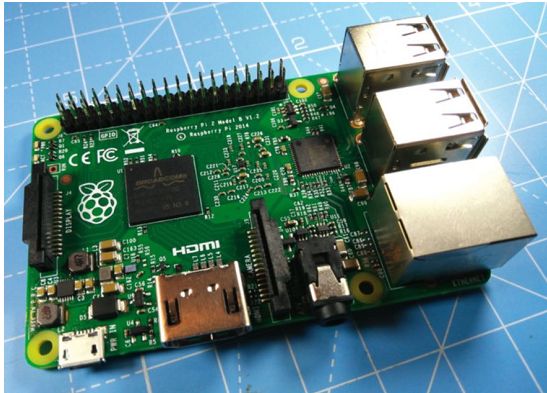 No dear reader, your eyes don't deceive you. we are looking at a new Raspberry PI 2. Originally released in early 2015 and heralding the introduction of quad-core processors, the Raspberry Pi 2 saw a welcome bump in both speed and memory. The original Pi 2 came with the BCM2836 SoC (System on a Chip) and the ARMv7 quad core 900MHz processor. But recently, stock of this SoC has dwindled and in order to maintain supply for industrial users who want to base their products on the Pi 2 and who don't want wireless connectivity, the new Pi 2 is based on the BCM2837 SoC found in the Raspberry Pi 3.
In this SoC, the ARMv8 Cortex-A53 has been underclocked to 900MHz versus the Pi 3's 1.2GHz. With the BCM2837. we see a measured improvement in computational power and speed. This puts the new Pi 2 neatly between the original Pi 2 and the Pi 3. largely thanks to the ARMv8 offering a 64-bit processor versus the 32-bit ARMv7 of the original Pi 2.
We tested the boot time of the new Pi 2 and from power-up to a usable desktop we recorded 29.41 seconds, vs the original Pi 2's 40.61 seconds. We also tested a Pi 3 and that booted in 30.41 seconds, so surprisingly the new Pi 2 was fractionally quicker to boot. We ran a slew of tests. Google Octane. Mozilla Kraken and good ol' SysBench prime numbers on all three machines.
In all tests, the new Pi 2 ranked between the original Pi 2 and the Pi 3. We even
The new Raspberry Pi 2 shares an identical form factor to the original, enabling use of existing Pi 2 cases and peripherals.
braved overclocking the processor to 1.2GHz and found that it remained stable and relatively warm, but not hot throughout our tests. Once overclocked, the new Pi 2 reported similar performance to a Pi 3. But for the cost difference between the Pi 2 and Pi 3. there's very little point in buying a Pi 2 just to overclock it.
Raspberry Pi 2 v1.2 review: Industrial Pi
We found the day-to-day use of the Pi 2 pleasant. The new Raspbian Pixel OS release provides a slick and responsive interface, something that the quad-core processor is able to capitalise on. Using the new Chromium web browser, we tested Flash video playback and found that it was acceptable with only a slight amount of lag present. The same can be said for using Scratch 2. which also uses Flash.
So who is the target market for this new Pi 2? It's not the hobbyist hacker, but rather industrial users embedding Pi into automated production lines or perhaps schools who wish to limit wireless access in class. The price of this Pi is only a fraction below that of a Pi 3. so if you are looking to buy your first Pi. the Pi 3 is the one for you.
The new Raspberry Pi 2 with BCM2837 provides the same dependable hardware that has powered 10 million devices before it. It's not anything new but then again it was never meant to be. The goal of this board is to provide stability for industrial customers who need the power of a Raspberry Pi without the security overheads of wireless communications. They could buy a Pi 3 and turn off Wi-Fi and Bluetooth, but they can be easily switched on again. If you need the Pi 2 package for your project, then pick one of these up. If not then pick up a Pi 3 for just a little more money and benefit from the same great BCM2837 package as well as Wi-Fi and Bluetooth. 23
Raspberry Pi 2 v1.2 review: Raspberry Pi 2 v1.2
Developer: Raspberry Pi
» This board for powering embedded devices and automating processes in an industrial setting. Solid and reliable.
Rating 8/10
Raspberry Pi 2 v1.2 review: Features at a glance
BCM2837
Sharing the same System on a Chip as the Pi 3, the new Pi 2 is more powerful than the original.
SD card slot
The new Pi 2 sees the return of the spring-loaded SD card slot, removed from future versions of Pi.