NuTyx is a nifty little independent rolling-release distro that's taken some of the best ideas from the CRUX distro to create a functional and lightweight desktop for the experienced Linux campaigners.
Like most rolling-release distros, NuTyx occasionally issues snapshots that can be used to install the distro, such as the 21.10 release that ships with updated versions of critical components like the kernel, and the desktop environments.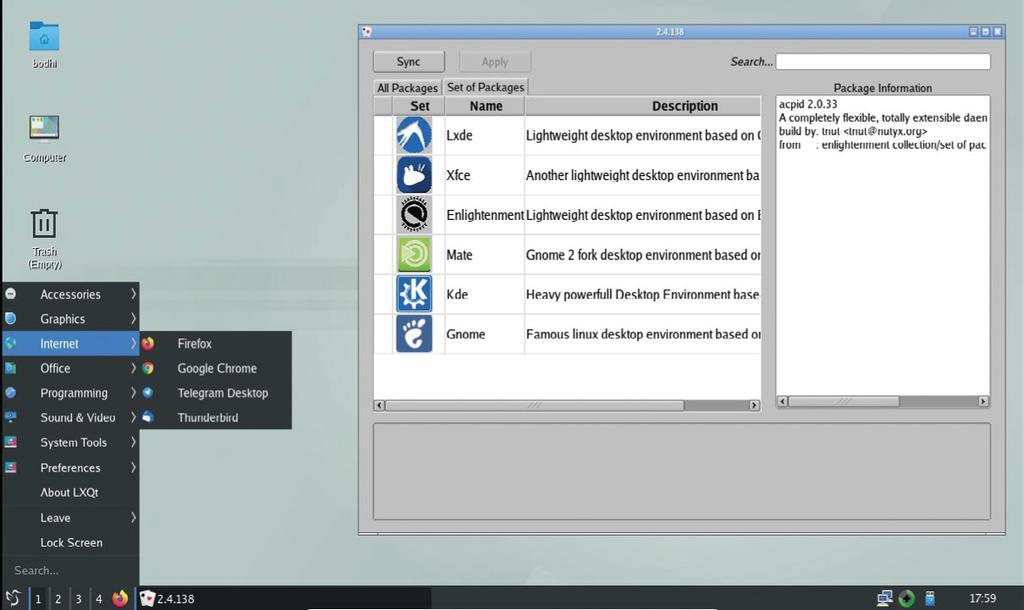 Despite being a one-man show, the distro supports a large number of desktop environments, from lightweight ones like Mate and LXQt to heavyweights like KDE and Gnome, and publishes different ISOs for them, including 32-bit ones for the lightweight desktops.
For the past couple of years all NuTyx releases have sported a Live environment, which you can use to explore the distro and assess how well it plays with your hardware. Once you're satisfied you can install NuTyX to your disk using its rudimentary ncurses-based installer. Both the Live environment and the installer option also give you the choice of loading NuTyx into RAM as well.
The CLI installer is fairly straightforward and the only inconvenience is the lack of a graphical partition manager. NuTyX asks you to use either cfdisk or fdisk to prepare partitions for installation. Once it's done, it boots straight into your new NuTyX installation, which will either drop you to a shell, or a graphical desktop depending on the ISO you've used for installation.
New tricks
When you boot your NuTyx installation, the boot menu first asks you to choose between three init systems, SysV, systemd, and experimental support for its homebrewed runit-based RuNyX init system, followed by two kernel choices, the latest release, or an LTS kernel.
In addition to the desktop sporting releases, the project also has a couple of barebones CLI-only releases, which can be fleshed out with a graphical desktop without much effort thanks to its dependency resolving custom package management system known as cards. Inside the desktop you can use the FlCards tool, which is the graphical front-end to the cards package manager.
Both package managers are fairly intuitive to use. The graphical tool lists individual packages as well as collections; the latter helps install complete desktop environments with a single-click. On the other hand, the packages list virtually all the popular open source desktop applications, as well as some proprietary ones, such as the Chrome browser.
If we were to nitpick we can find faults with both package managers. For instance, the graphical package manager doesn't appear to have a method for upgrading existing packages, which is best done on the command-line. Also, while the package manager can resolve dependencies, it doesn't list them or even estimate the size of the total download, and instead jumps straight to downloading the packages, which can be a little unnerving if you're installing something like a desktop environment, over a metered connection.
But these are minor quibbles that fade in front of the advantages of the distro. A pristine NuTyx installation has all the everyday productivity tools that you'd need from a desktop distro. It's one of the fastest off the blocks, even on older hardware and inside VMs.
Another strong point of the project is its documentation. From a NuTyx-specific lexicon to step-by-step user guides, the project does a wonderful job of acclimatising new users to the distro's peculiarities.
IN BRIEF
NuTyx is one of the rare breed of distros that have been built on the venerable Linux From Scratch manual. Even rarer still is the fact that the distro is actively maintained despite being managed by a sole developer. NuTyx is essentially designed for power users who want control over their streamlined installation, pretty much like Arch and Gentoo.
VERDICT
DEVELOPER: Thierry Nuttens
WEB: www.nutyx.org
LICENCE: Various
FEATURES 8/10
PERFORMANCE 9/10
EASE OF USE 8/10
DOCUMENTATION 8/10
An approachable power-user distro that's bloat-free, and fast, but can still be fleshed out with minimal effort.
Rating 8/10