SPECS
Ubuntu 21.10
CPU: 2GHz
Memory: 2GB
HDD: 25GB
Build: x86-64, arm64, armhf, ppc64le, s390x
SPECS
Fedora 35
CPU: 2GHz
Memory: 2GB
HDD: 20GB
Build: amd64 and aarch64

Truth be told, Ubuntu and Fedora, arguably the two leading distros, have very little in common. We apply the fact that both use the Gnome desktop to pit the projects against each other, which only helps accentuate the differences between the two projects and their wares.
In terms of similarities, besides their headline Gnome-based editions, both distros have spins based on various popular desktop environments. Furthermore, both projects support multiple architectures and produce a lot more editions than the ones for the desktop users.
Even though they go about it differently – and we've just spent the last eight pages going over their individual efforts – you can use both Fedora and Ubuntu on all kinds of servers, containers, IoT and public clouds.
In terms of releases, while Ubuntu does put out Long Term Releases every two years, Fedora treats all its releases the same. Ubuntu 21.10 is a standard short-term release that will be supported for nine month, while Fedora 35, like all Fedora releases, will continue to receive updates for about 13 months.
In terms of the usability of the installation and update process, there's little to choose between them. Fedora's Anaconda, and Ubuntu's Ubiquity are two of the best Linux installers. While we can nitpick their different approaches, the fact of the matter is they are comfortable to operate and will get the job done for a vast majority of users.
Known Gnome
Perhaps the most apparent difference between the approach of the two projects is their treatment of their biggest similarity: the Gnome desktop.
Ubuntu 21.10 ships with the Gnome 40 desktop, while Fedora 35 defaults to the latest Gnome 41. While Fedora has already clocked some mileage with the visually uplifted Gnome 40 with its new horizontal workspace switcher and application launcher, in its previous release this is Ubuntu's first time out with the redesigned Gnome.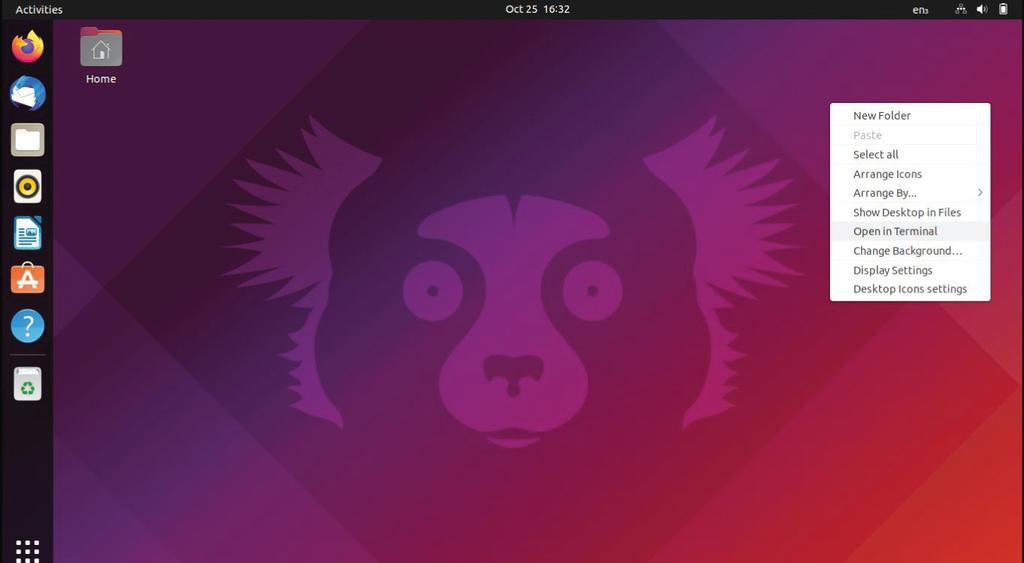 That said though, the Ubuntu developers have spent some time and effort tweaking Gnome to mimic several aspects of Ubuntu's discontinued Unity desktop.
For starters, Ubuntu 21.10 takes users straight to the desktop, overriding the upstream Gnome behaviour of bringing up the Activities screen on log in. Another prominent Ubuntuness is the placement of the dock on the left-hand side of the screen, thanks to the efforts of Ubuntu developers upstreaming the plumbing required to get the Ubuntu Dock to work with Gnome 40. Then there's the matter of the minimise button, which has been eradicated from upstream Gnome, but continue to be present in windows under Ubuntu.
Talking of the Ubuntu Dock, in the latest release, it now features a persistent trash can icon, instead of a shortcut. Also, very helpfully, the dock now places a noticeable divider between pinned and running applications.
Two of the most prominent Gnome 40 changes that have made it to Ubuntu 21.10 are the overhauled Activities view with its horizontally panning workspaces, and the new multitouch gestures.
On the other hand, Fedora has long been considered the premier Gnome distro since it virtually always bundles the latest release of the desktop environment. While the launch/dock plays a prominent role in Ubuntu's Gnome, under Fedora 35 Gnome 41 doesn't show one until you bring up the Activities Overview.
Playing with the plumbing
Ubuntu 21.10 ships with the latest version of PipeWire, which has caught the fancy of the multimedia world because it can capture and playback for both audio and video with minimal latency. However, the release still defaults to PulseAudio 15, which boasts of improved Bluetooth audio codecs.
Meanwhile, Fedora 35, having already given users a taste for PipeWire, has now replaced its default session manager with the more feature-rich WirePlumber session manager, which allows for more customisations.
One noteworthy settings change under Fedora 35 is the Power settings, which now features a new profile option that enables users to switch between performance, balanced and power-save modes. And while Ubuntu 21.10 doesn't include Gnome 41, it does roll in quite a few programs from its stable, including the Calendar tool, GNOME Disk Utility, Eye of Gnome, Gnome System Monitor and more.
In terms of applications, the only notable change in Ubuntu 21.10 is that Firefox is now powered by a snap tool, apparently to give Firefox developers more control over the update process, though the regular Firefox package is still available in the repos.
Fedora 35 gets a redesigned Software store with improved support for Flatpaks, in that enabling third-party repositories will also list selected Flathub applications in the Software store, including Zoom, Microsoft Teams, Skype, Bitwarden, Minecraft and more.
Breaking cover
Peeking under the hood, it's more of the same. While Ubuntu 21.10 is built around Linux kernel v5.13, Fedora 35 outscores it by wrapping itself around v5.14. The v5.13 became the first kernel to officially include some initial support for Apple's homebrewed Arm-based M1 SoC (system on a chip). It's also the first kernel to introduce support for the Kernel Electric Fence (KFENCE) memory error detector. The feature is enabled by default on Ubuntu 21.10 and will randomise the memory location of the kernel stack at each system-call entry on both the amd64 and arm64 architectures.
One background change that's been due for quite some is enabling the Zstd compression, which will supposedly lead to faster installations. Of course, as you would have probably guessed, Fedora's been using Zstd compressed packages for more than a couple of years.
Oh, and both distributions boast of improved graphics support for users of the proprietary Nvidia graphics drivers, which can now finally run Wayland sessions on top of both distros.
As you can see, the different packaging formats are just one of the many distinguishing elements between the two leading distros. While Fedora35givesyouan unadulterated Gnome experience, Ubuntu 21.10 strives for continuity by tweaking the desktop according to its sensibilities.
In virtually every aspect Fedora will always be closer to upstream than Ubuntu, and promises a longer support cycle than the standard Ubuntu releases. We can again spend reams breaking down the two distros at a project-level, but from a wares perspective, both distros have equally riveting offerings, making them a compelling upgrade for their respective camps.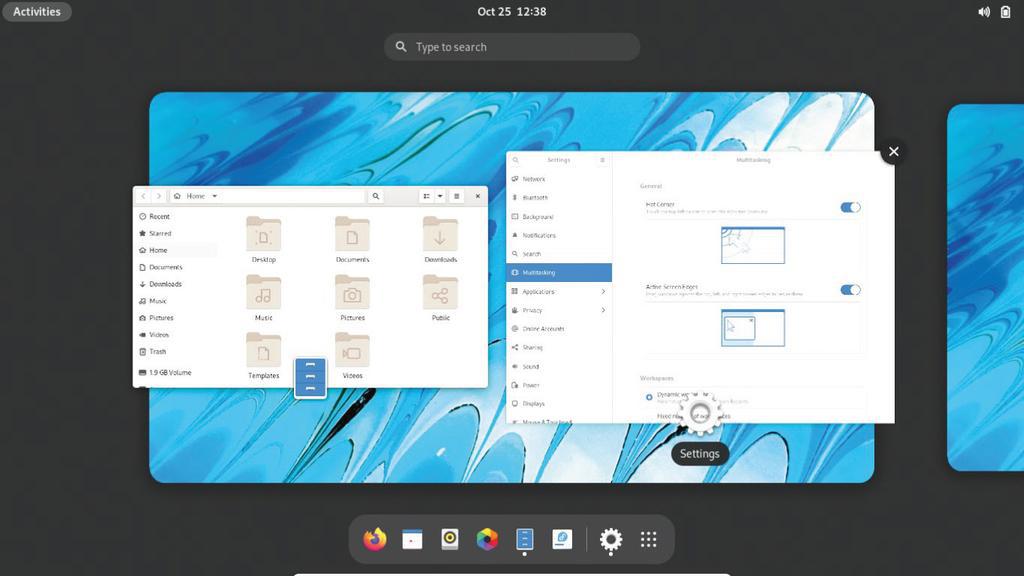 VERDICT: UBUNTU 21.10
DEVELOPER: Canonical
WEB: www.ubuntu.com
LICENCE: Various
FEATURES 8/10
PERFORMANCE 8/10
EASE OF USE 8/10
DOCUMENTATION 8/10
Ubuntu 21.10 finally makes the redesigned Gnome experience usable, making it a must-have upgrade for non-LTS users.
Rating 8/10

VERDICT: FEDORA 35
DEVELOPER: Red Hat
LICENCE: Various
FEATURES 8/10
PERFORMANCE 8/10
EASE OF USE 8/10
DOCUMENTATION 8/10
Does enough to maintain its position as the leading Gnome distro that doesn't sacrifice stability in the name of innovation.
Rating 8/10
CALLING ALL CODERS
Canonical hails Ubuntu 21.10 as the most productive environment for cloud-native developers. Arguing that modern development practices rely on containerised images that are consistent and trustworthy, Canonical reveals that with the release it's also published Ubuntu 21.10 images in the Open Container Initiative (OCI) format on the Docker Hub and the Amazon ECR Public Registry.
Other developer-centric highlights of Ubuntu 21.10 include the availability of Apache Cassandra now packaged as a snap, as well as PHP 8 and GCC 11 including full support for static analysis.
Meanwhile, the biggest developer-centric change in Fedora 35 is the distro defaulting to Python 3.10, while retiring the long-unsupported Python 3.5. Elsewhere, the Node.js interpreter has been bumped up to the next 30-month LTS release v16.x, along with PHP 8.