Philips 276E7QDAB Review – Color science is hard. Every time we test a monitor, we analyse its picture quality using a gadget called a spectro photometer, which measures the light coming out of the screen so that we can compare it to the data that went in.
What we're really looking at is how wide a range of colors it can display, and how accurately it translates the colors we input.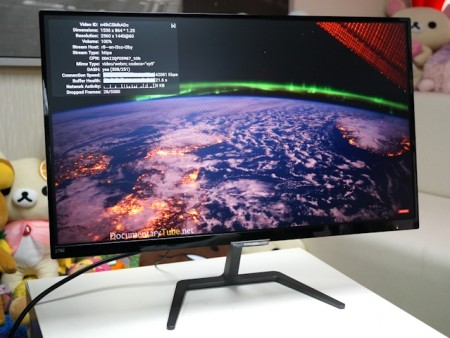 The latter can often be improved by tweaking settings. Ideally you'd do this using a spectrophotometer of your own (such as the Spyder5Express), but you can do it fairly well with the naked eye. In Windows 10, click the Windows button, type color calibration, then click 'Calibrate display color'. Ultimately, though, the color range of the screen is limited by the hardware. The 276E7QDAB, a 27in monitor from Philips' E-line range, is at the other end of the spectrum (no pun intended). Yet Philips claims its 'Ultra Wide-Color' technology covers 122 per cent of the standard sRGB range. That's getting into territory professionals demand. Budget screens usually manage around 85 per cent. Our kit's verdict? 90.3 per cent.
This doesn't mean Philips is lying. There are lots of variables, and we often get different results from what manufacturers claim. But as you won't be editing a Hollywood movie on it, this discrepancy doesn't matter too much.
This monitor is more than adequate for almost anyone's purposes.
Its IPS LCD panel looks great from all angles. It goes nice and bright, and its slim bezels and minimalist case look stylish. If you do need to fiddle with the options, a little joystick on the back makes this easier once you get the hang of it.
However, the metal stand isn't the sturdiest and, apart from a bit of tilt, it's not adjustable. So you might find you need to stick it on top of something to get the screen to a comfortable height. The Full HD resolution is ideal for films, but a little coarse by today's standards for Windows programs. More and more 27in monitors have the higher 2560×1440 spec, and even 4K (four times Full HD) is becoming affordable.
Basic speakers are built in, but there's no hub to give you extra USB ports, and with only HDMI, DVI-D and VGA sockets you'd need an adapter (around a tenner) for DisplayPort. MHL support means Android devices can connect via HDMI.
Philips 276E7QDAB Review: SPECIFICATIONS
27in IPS LCD • 1920×1080-pixel resolution • 2W stereo speakers • HDMI port • DVI port • VGA port • 468x616x179mm (HxWxD) • Two-year warranty
Philips 276E7QDAB Review: VERDICT
The specifications aren't the most impressive we've seen, but this is an excellent general-purpose 27in screen at a very reasonable price

Editor choice
Philips 276E7QDAB Review
The specifications aren't the most impressive we've seen, but this is an excellent general-purpose 27in screen at a very reasonable price
Add your review
|
Read reviews and comments
Best Philips 276E7QDAB prices ?
MORE DEALS

Philips 276E7QDAB Review: ALTERNATIVE
AOC Q2778VQE
It's not as slim, but this 27in screen offers 2560×1440 resolution and good picture quality for the same price