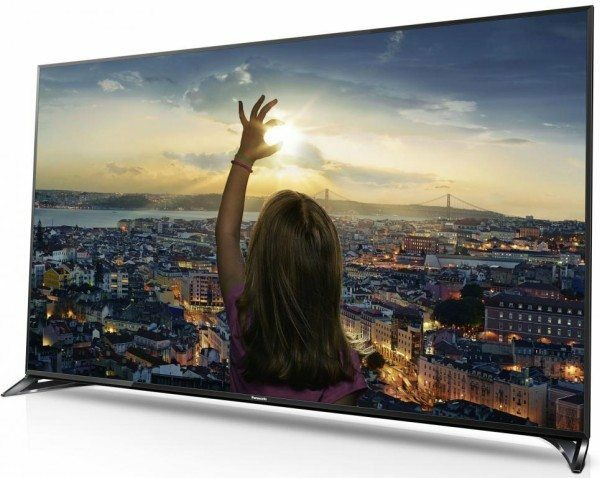 Panasonic has put to bed the ghost of plasma with this 4K TV champion
It may have taken time for Panasonic to refocus its engineering team from plasma to LCD, but with the CX802 (also known as the CX800 in some territories) the Japanese giant finally seems to have cracked the transition.
Not only is this the most accomplished LED screen it's ever made, it's one of the finest all-round 4K TVs available right now.
The CX802 comes in four sizes. The iteration reviewed here is the tantalizingly affordable 50in TX-50CX802, but it's also available in 40in, 55in and 65in versions. Panasonic deserves applause for this strategy – some other brands make their top-tier tech off limits at sizes below 55in.
Build quality seems excellent. Yes, the set is thicker than many of its rivals, but that does it a disservice given that it's only 46mm deep. At 18kg it's reassuringly heavy, too.
The panel is framed by a metallic bezel with chamfered edge. The brand's awkward weighted pedestal stands have been retired in favor of one that half-moons behind the screen, leaving only two chromed feet visible. The appearance is very chic. The speaker system fires downward, and is largely invisible.
When it comes to connectivity, the TX-50CX802 offers just three HDMI inputs, but significantly all support HDCP 2.2, so you should be able to hook up any next-gen content source. There's also a trio of USBs; Scart and component AV for legacy hardware; Ethernet; a digital optical audio output; and SD card slot. Wi-Fi is integrated and dual-band, giving you the choice of 2.4GHz and 5GHz bands. As with nearly all top-flight sets, buyers get two remote controls, one a traditional IR zapper, the other a Bluetooth trackpad.
The CX802 carries Panasonic's revamped Smart TV user experience, in the shape of the Firefox OS – and it's a goodie. Setup takes just a few minutes (in stark contrast to the Android OS adopted by Sony and Philips). The set prioritises satellite tuning – it has a Freesat tuner – above Freeview, which may be initially confusing for some viewers, but once past this hiccup, most will be tuned in and ready to go.
Apparently Panasonic took its concept for the Firefox OS to developer Mozilla, rather than the other way around – and the designers obviously had an alternative to LG's WebOS in mind. The new Firefox OS offers a similar stripped-back user interface. The system launches with just a trio of buttons – Home, Apps and Devices – but other innovations are hidden in plain sight. An Info Frame offers viewing recommendations, notifications, weather and web clips, accessible by the direction key. Just press for the Info Bar, and it slides into view.
Content apps are accessed via the Home key. In keeping with the circular motif, there are buttons for Netflix, Amazon Prime and YouTube, as well as a placeholder for Freeview Play, the new connected version of the ubiquitous TV platform. This features a roll-back EPG and integrated catch-up from all four main broadcasters, but wasn't live on our review sample – it will surface as a firmware upgrade as and when. Looking to use a dish rather than an aerial? The Freesat implementation here also supports Freetime, which is much the same as Freeview Play.
Both Netflix and Amazon apps are 4K-capable. While the former has become an increasingly common feature on HEVCenabled TVs, Amazon remains a relative rarity. The surprise is just how much 4K UHD material is available, both as part of the Amazon Prime subscription pack (The Man in the High Tower, Bosch and Mozart in the Jungle to name just three shows) and pay-per-view offerings. 4K movies to 'buy' include Ghostbusters 2, Men in Black 2 & 3, Fury, Salt, After Earth, Godzilla, The Amazing Spider-Man, Total Recall and several more. It's an impressive early collection.
The apps portal also offers Facebook and Twitter clients (just say no), miscellaneous movie and music streaming apps, and a bucket-load of casual games. A Quad Core processor ensures that navigating all this is nice and sprightly.
So Panasonic's TX-50CX802 is out in front when it comes to Smart connectivity. The good news is that it doesn't fall behind when it comes to image quality either.
At the heart of this flagship flatscreen (and it is fl at – there's no curve here) is Panasonic's 4K Studio Master Processing, effectively the brand's most advanced UHD picture engine yet. It's a glorious confluence of image manipulation and wide color gamut technologies. I was literally taken aback at just how great the CX802 looks. 2160p pictures are hugely detailed and dynamic, while the screen's black level performance (it uses a VA-type panel) is class-leading.
Backlight uniformity – often a failing of edge-lit screens – is here made a strength. From The Dark Knight (Blu-ray) to Daredevil (Netflix) you'll find the same elements of nuanced subtlety that made Panasonic's plasma screens so memorable, only bolstered with astonishing pixel density.
The screen does a fabulous job upscaling Full HD, particularly Blu-ray, to 4K UHD. Given that it'll obviously be some time before we have a healthy selection of native 4K discs to gawp at, this will do nicely. The opening reel of I Robot (Blu-ray) takes a street-level look at a wonderful futuristic cityscape. Remapped to 2160p, this sequence boasts an almost photographic realism. (If you don't want the set to upscale, you can display 1080p material with each pixel multiplied to four).
Personally, I think the TX-50CX802 looks its best on the Normal preset. Panasonic puts great store in its cinematic presets, calibrating them to ape the monitors used during the mastering process, as well as paying THX to do much the same, but I think the results do this 'Super Bright Wide Color Phosphor' panel scant justice. The Cinema mode dulls and colour-casts yellow, while THX knocks things back even further – it's designed to be watched in a room with low ambient light; THX Bright Room lightens the mood, but also deflates contrast.
Controversial it might be, but I'd argue that choosing any of the provided movie presets effectively makes the screen look like a display from five years ago. If that's the look you want, you might be better off buying your next TV on eBay.
By contrast, the Normal preset is rich, bright and contrasty, with strong vibrant color. It's good for most content, with the exception that it overscans. Best then to replicate it using the Custom mode, where you can correct the overscan.
The overall balance is good from the box, but there are simple tweaks which I feel improve things even more. I'd recommend nudging the brightness up +1. I also prefer the Cool 1, slightly blue white balance, over Normal, but there's not a lot in it. Sharpness should be reduced from the default of 50 to around 10 – Will Smith's black beanie and leather duds have wonderful tonality as a result. A dark, gritty show like Daredevil, in UHD on this Panasonic, looks remarkable – certainly comparable to plasma in terms of cinematic appeal, yet with more raw detail.
If you want, you can dig even deeper into the menus and have a fiddle. The set's gamma default is 2.2, although you can edge up and down from there – there's considerable latitude. 2.4 gives a more contrasty look, although you lose some shadow detail. This suits some content, but not all. By and large, the default positions are the best, which makes sense.
What doesn't work quite so well is the dynamic backlight control. In very dark sequences with bright highlights, such as Uma Thurman's live burial in Kill Bill: Vol 2 (Blu-ray), light can halo in a really unflattering way. Hopefully Panasonic will refine backlight control in future models. But this is a fairly extreme caveat.
And as is always the case with Panasonic TVs, some care needs to be taken with the various frame interpolation modes on offer. The greatest motion clarity can be found with IFC (Intelligent Frame Creation) ramped up, but artefacts become visible on both Mid and Max settings. For movies, the minimum setting proves most effective. It's surprising that Panasonic doesn't offer a user-adjustable menu to manage blur and judder, like its rivals.
The TX-50CX802 is also theoretically ready for HDR content, although with none provided this is difficult to assess. At least the provision is there. Peak  brightness is suggested to hit around 500 Nits. It is also Active 3D capable, and performs well in this regard. The Tangled (Blu-ray) menu reveals some crosstalk double imaging, but in play the movie presentation is engrossing. I doubt you will hear any kids complaining.
Audio, often an underserved element on Panasonic's super-thin screens, is here treated with welcome respect; there's enough volume and mid-range body to hold interest during casual viewing from the 40W speaker array.
While I would still expect enthusiasts to cocoon the panel in a sound system of some merit, the set at least doesn't suffer in isolation.
Overall, I'd rank the TX-50CX802 as a fabulous flatscreen. With both Netflix and Amazon 4K services in tow, HDR compatibility ready to be unlocked with a firmware upgrade and a sharp, modern Smart TV interface, this is a model ready for tomorrow's TV revolution. The fact that it delivers the best video performance I've seen to date from a Panasonic LED-lit LCD TV almost seems almost fortuitous. There are niggles, but these are minor in the scheme of things.
Sony's 2015 4K fleet, particularly the 55in X9305C, represent its nearest competition, and compete well on the visual front. But they're hobbled by the clanking monster that is the Android TV OS. LG offers an equally compelling Smart package with its UF850 line, but can't quite match image fidelity, while Samsung's range-topping 8 and 9 series are all curved and more expensive – even the 48in JS8500 model.
The TX-50CX802 is therefore a 4K television with instant appeal. Audition one.4K: Yes. 3,840 x 2,160 resolution
TUNER: 2 x Freeview HD; 2 x Freesat HDCONNECTIONS: 3 x HDMI inputs; 3 x USB; Ethernet; SD card reader, Scart; component/composite AV; digital audio output; CI slot
CONTRAST RATIO (CLAIMED): 'Supreme Contrast'DIMENSIONS (OFF STAND): 1,121(w) x 652(h) x 46(d)mm
FEATURES: Built-in dual-band Wi-Fi; USB multimedia playback; DLNA multimedia playback; Local Dimming Pro; 4K Studio Master Pro; 1,600Hz BMR; Super Bright Wide Colour Phosphor panel; Bluetooth remote control; Freeview Play upgradeable; HDR upgradable; Freesat freetime; Firefox-powered Smart interface including 4K Netflix and Amazon VOD; THX and ISF certified.