All kinds of audio
This big, shiny digital music player comes in white or black. Its feature list reads like one of those adverts for slightly-too-clever gadgets you find in the back of Sunday newspaper supplements. But instead of being the brainchild of some shock-haired hi-fi boffin it's made by Panasonic, the very sensible electronics company.
A wireless, multi-room sound system that produces rich and clear audio from just about any source
The most obvious purpose of the ALL7CD is to play CDs, which go in a tray that slides out from the front. If you have CD-RWs with MP3s or other standard audio files on them, these will play just fine, as well as shop-bought CDs. If swapping CDs isn't your idea of fun. though, you can save each disc as it play's, storing up to 25 albums which you can then play back any time, without needing to insert the discs. That might not seem an essential feature, when you can just rip the CDs on your PC. but it's handy when you don't want to fiddle with software. The ALL7CD's controls aren't quite so handy, however, being very small and tucked away under the front fascia, although a remote is provided as well.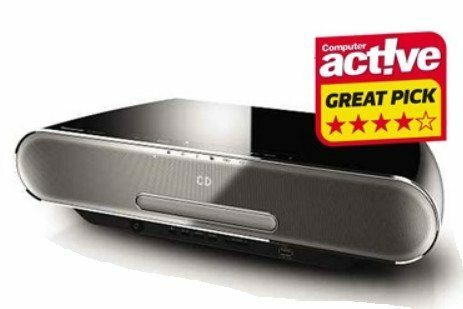 DAB+ and FM radio receivers are also built in. and there are jack and USB inputs for other sound sources. Finally, you can play audio from your PC, phone or tablet via Bluetooth. This works with Apple devices, although Apple's AirPlay isn't supported. Services like Spotify Connect are compatible, though you may need a premium Spotify account.
And the possibilities don't stop there, because Panasonic's ALL series – named after Qualcomm's AllPlay – is a wireless multi-room system. This uses your home Wi-Fi network to transmit audio from any of the above sources (via your ALL7CD) to any speakers you buy from the ALL range. In the app. you can arrange speakers in groups (if you have that many), then just tap what you want to play where.
Multi-room rivals are available from the likes of Philips, Samsung, Sonos and Sony, but they don't give you such a comprehensive music system in one unit, or make it so easy' – or even possible – to stream music from any source. The icing on the cake is that the ALL7CD's stereo output sounds beautifully rich and clear with almost any kind of audio.
SPECIFICATIONS
2x 2.5in woofers • 2x 1.5in tweeters • 40W RMS • CD player • FM/DAB+ radio • Wi-Fi • Bluetooth • Ethernet • 107x450x250mm (HxWxD) • 3.4kg • One-year warranty
VERDICT:
It's expensive, but you could pay the same for a high-end wireless speaker and this gives you much more
ALTERNATIVE:
Panasonic SC-ALL2EB

If you don't need CD but fancy multi-room, this compatible speaker is a good starting point
Best value
Panasonic SC-ALL7CD Review
It's expensive, but you could pay the same for a high-end wireless speaker and this gives you much more
Add your review