We don't give openSUSE the attention it deserves, but that's partly because of the project's off-canter release cycle. SUSE's enterprise edition and the community-supported openSUSE are now being developed in tandem from the ground up.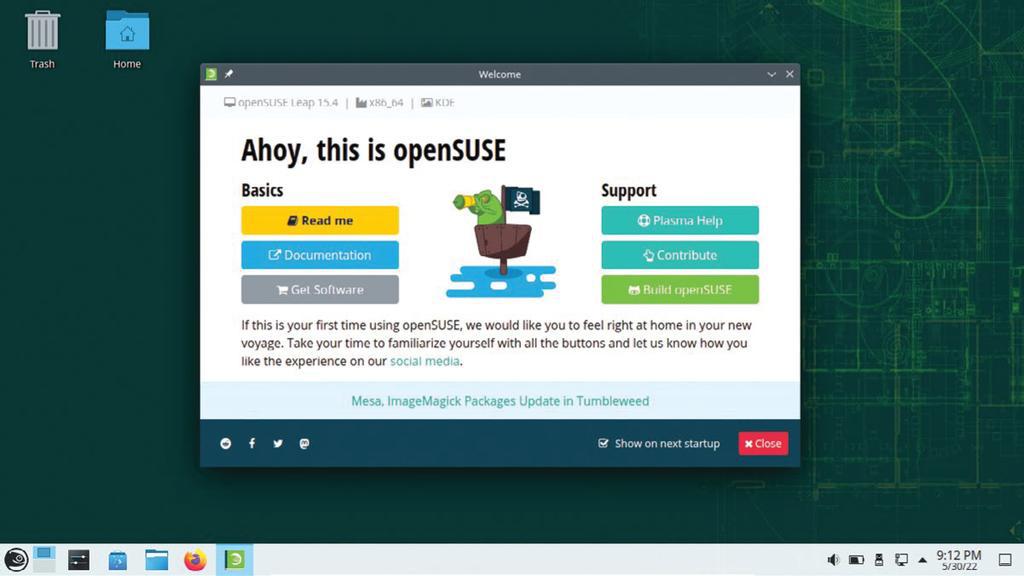 The openSUSE project maintains two main branches of the distro. In 2014, the developers split off a stabilised instance of its development branch named Factory into a rolling release update called Tumbleweed, pitched at developers and experienced users. Then comes Leap, which is the regular release that aligns with SLE, and is aligned with the sensibilities of long-term support (LTS) releases.
Leap 15.4 is based on the Jump release concept that was introduced in the previous 15.3 release, and sees the developers combine openSUSE Backports with binaries from SLE. Leap puts out one minor release once a year that's aligned with SLE Service Packs, and one major release between 36 and 48 months, aligned with the major SLE releases. This rather elongated release cycle helps openSUSE Leap pitch itself as a more stable option, making it suitable for everything, such as powering enterprise and beginner desktops.
The 15.4 release we're reviewing has entered release candidate stage, which is pretty much what you'll get when the final release goes live around the time this issue is out. Unlike a regular release though, which includes installable Live CDs, openSUSE 15.4 at this stage only offers an install-only medium.
More of the same
OpenSUSE 15.4 will include the KDE Plasma 5.24 desktop environment, which is a long-term support (LTS) release, and will continue to receive updates and bug fixes until the desktop moves to Plasma 6.
Being an LTS release, 5.24 is all about ironing out the wrinkles, rather than introducing revolutionary new features. That said, the release does include a new Overview effect similar to the Activities Overview in Gnome. KDE developers also make a note about the changes to Plasma's default Breeze theme, which now aligns better with the Breeze style for programs, thereby improving visual consistency on the desktop.
For Gnome users, the release includes Gnome 41. While it does include some interesting features, not only did Gnome 41 come out last year, many of openSUSE's peers – most notably Ubuntu and Fedora – have moved to Gnome 42 in their latest releases. However, it's the Xfce users who'll feel they've got a raw deal because 15.4 bundles Xfce 4.16, which is what it carried in the previous 15.3 release as well, and is the last stable release from Xfce's stable.
Another component from last year is 15.4's 5.14.21 kernel. This is the same one that's used in SLE 15 Service Pack 4, and is maintained by SUSE.
OpenSUSE Leap is much more than a desktop distro, and the inclusion of various AI libraries and frameworks indicate that the release serves more than just desktop use cases. In fact, the System Roles section in openSUSE's elegant installer can easily customise the entire installation based on several different use cases, from a KDE or Gnome desktop to all-purpose server.
However, the most interesting option in the System Roles section remains the Transactional Server option. This uses a read-only root filesystem and makes it easier to track updates and perform rollbacks.
Like all LTS distros, openSUSE Leap releases aren't the most exciting in terms of new features, and the latest 15.4 release is no different. However, it does an impressive job as a stable enterprise desktop, or a rock-solid server or development workstation.
IN BRIEF
One of the oldest Linux distros, openSUSE is to SUSE Linux Enterprise (SLE) what Fedora is to RHEL. Still popular, the distro has lost ground to its peers, as its corporate sponsor changed owners a couple of times in the past decade. Since 2018, the distro has aligned its version numbers with SLE 15.
SPECS
CPU: 2GHz dual-core
Memory: 2GB
HDD: 40GB
Build: x86_64, aarch64, PowerPC
VERDICT
DEVELOPER: OpenSUSE Project
WEB: www.opensuse.org
LICENCE: Various
FEATURES 8/10
PERFORMANCE 8/10
EASE OF USE 8/10
DOCUMENTATION 9/10
A must-have upgrade for existing openSUSE Leap users, the 15.4 release will suit anyone looking for an LTS distro.
Rating 8/10