Nobody who's ever lost data will argue about the usefulness of a backup, and anyone who's ever kept one will know the importance of good backup software. Your distro probably ships with one, and it does a good job of retaining copies of your important files. But if you need more protection for your data than just duplicating it, you need to invest in a dedicated network-attached storage (NAS) device.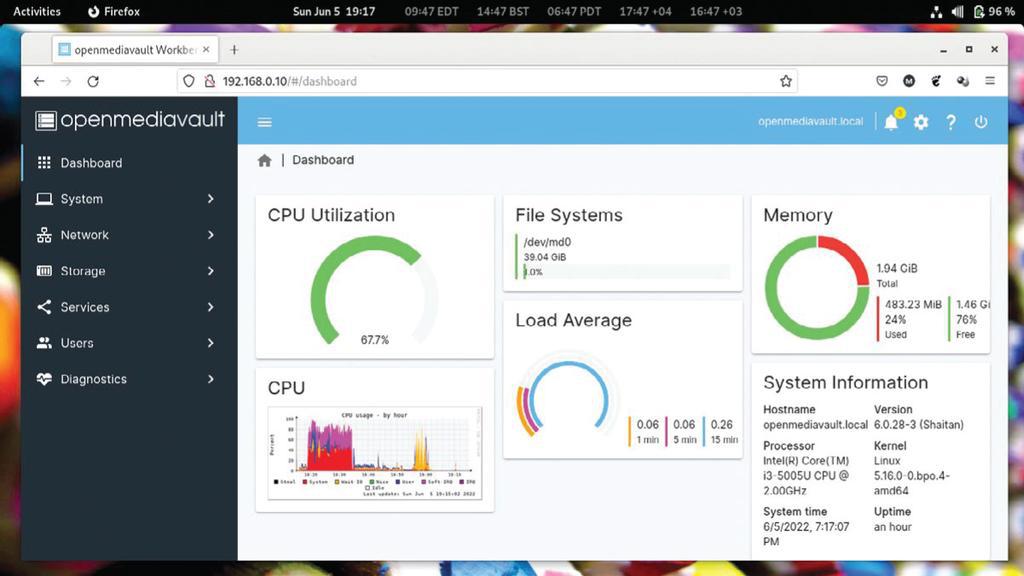 While there's no dearth of plug-and-play NAS boxes out there, building one from scratch doesn't take as much effort as other DIY tasks. That's because OpenMedia Vault (OMV) does all the work for you, reducing the process to essentially just tinkering with some settings to set things up as per your needs. In fact, the biggest task in creating your own NAS with OMV is assembling the hardware. Once you've cobbled together a bunch of disks inside an old, unused computer, you're pretty much done.
OMV's ease of deployment is only rivalled by its rich set of features. OMV supports all the popular deployment mechanisms, including several levels of software RAID, and you can access the data it holds using all the popular network protocols such as SSH, SMB/CIFS, FTP, rsync and more.
OMV also features an extensive permissions system that can help you control access to the shared volumes and folders, which means you can scale it to handle a lot of users. It supports all the file systems in vogue including EXT3, EXT4, BTRFS and XFS, and enables you to keep tabs on your rig with a comprehensive monitoring system. On top of it all, OMV is modular and can be extended with official and third-party plugins, which helps you do things with your custom NAS box that aren't always possible with an off-the-shelf option.
Same ol', same ol'
OMV's latest release marks the beginning of the v6 branch that's based on Debian 11. One of the noticeable differences in this release is the new user interface that's been written from scratch.
The new UI hasn't adversely impacted usability. You still step through the menu linearly, stringing your disks in a RAID, creating a filesystem, before mounting it and creating as many shared folders as you want. You'll need to configure the network services before you can access the NAS over the network, and OMV still offers reasonable defaults to handhold first-timers, making the process straightforward.
Another highlight of the release is the addition of a bunch of useful new plugins. For instance there's one that'll sync a shared folder with Microsoft OneDrive, another that'll use the AI-powered PhotoPrism to organise, and share pictures in your NAS, and others to give users the ability to browse files on the NAS using a graphical interface or from a web-based terminal.
Besides the visible changes, there are several enhancements in the distro's plumbing. The ISO installer has been enhanced to support USB-to-USB installations, and the omv-update tool has been replaced by the omv-upgrade CLI tool to keep the current installation updated. We also had no issues upgrading our previous 5.x OMV installation to the new 6.x branch using the omv-release-upgrade command.
OMV is one of the shining examples of open source software that hasn't lost any of its usability over the years. In all honesty, there's nothing it can do that can't be done by other NAS distros. However, it's OMV's intuitive interface and its dexterity thanks to the wonderful plugins ecosystem, which makes it a winner in our books.
IN BRIEF
OpenMediaVault is a specialised Debian-based distro to build and administer NAS devices. It can easily be scaled from serving a single user to a small office. The distro has modest hardware requirements and supports virtually all the popular features you'll need in a NAS, which are accessed via an intuitive, browser-based interface.
SPECS
CPU: Any dual-core processor
Memory: 1GB
HDD: 4GB
Build: x86-64, ARM
VERDICT
DEVELOPER: Volker Theile
WEB: www.openmediavault.org
LICENCE: GPL v3
FEATURES 9/10
PERFORMANCE 8/10
EASE OF USE 8/10
DOCUMENTATION 8/10
The latest OMV 6 release enhances the distro's best bits and removes the shortcomings; everything an update should be.
Rating 8/10