John McCann's hands look positively tiny holding this mobile monster!
The OnePlus 6 is the most polished, premium smartphone the firm has made in its short existence.
It boasts an all-glass design, bringing it in line with big-name flagships such as the Samsung Galaxy S9 and iPhone X, a large 6.28-inch display complete with the on-trend notch, dual rear-facing cameras, both fingerprint and face unlock, and up to 256GB of storage.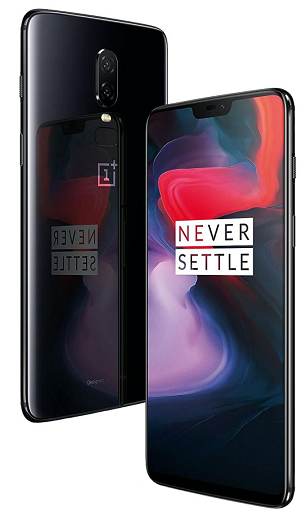 The display is one of the big new features on the phone.
In fact, it's the biggest display the firm has ever produced, with the 6.28-inch Full Optic AMOLED panel eclipsing the 6.1-inch offering found on the 5T.
The resolution stays the same at 'just' Full HD.
That's 2,280 x 1,080 to be exact, which ensures it keeps the 402 pixels-per-inch density of previous OnePlus flagships.
However, in a world where Quad HD is fast becoming the norm at the top end of the mobile market, the resolution is a key area where the firm has looked to cut a corner in an attempt to keep costs down.
On its own the screen appears bright and vibrant, providing a pleasing level of detail.
Slide it alongside a Galaxy S9 and you'll see the screen on the OnePlus 6 isn't quite as good – there's no HDR support here, either.
Behold the notch
With the reduction in bezel above and below the screen it boasts a 84 percent screen-to-body ratio that will likely please fans of outright display real estate.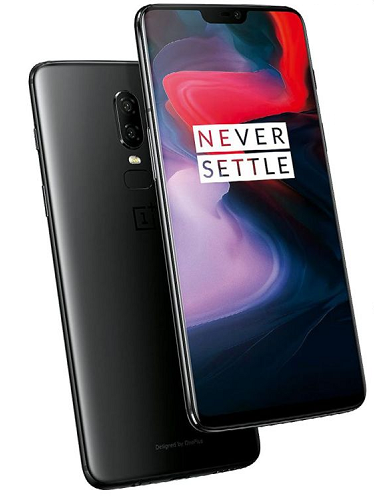 However, this has come at a price: the inclusion of a divisive 'notch' at the top of the screen.
The front camera is a tweak on the Sony-based 5T's dual-sensor model but with additional optical image stabilisation and enhanced sensor size for improved low-light and high shutter-speed shots.
There's now support for slow-mo 480fps 720p or 240fps 1080p video.
Battery life is pretty standard for a flagship. You can expect to squeeze a day's use out of the 3,300mAh battery.
But at least it supports fast charging.
Running Geekbench 4 returned an impressive average multi-core score of 9,100, which is better than the Sony Xperia XZ2, Galaxy Note 8 and Google Pixel 2 XL.
However, the iPhone X still trumps the lot with a score of over 10,000.
The One Plus 6's all-glass body means fingerprints are an issue.
The OnePlus 6 is the brand's most grown-up phone to date, and placed alongside the likes of the iPhone X, Samsung Galaxy S9, Sony Xperia XZ2 and LG G7 ThinQ it certainly doesn't look or feel out of place. It may not be quite as an accomplished all-round package as the Galaxy S9, or carry the same cool appeal as the iPhone X, but when you consider the price it's difficult not to be very impressed by what's on offer.
Verdict
Best value
OnePlus 6 Review
The OnePlus 6 feels grown-up, and it certainly doesn't look or feel out of place alongside the top-flight competition from the likes of Apple, Samsung and Sony.
Add your review
Best OnePlus 6 prices ?

£

199.99

£279.00
3 used from £185.99
4 new from £199.99
in stock


£

429.00
1 used from £149.98
1 new from £429.00
in stock


$

1,165.00
1 new from $1,165.00
in stock

MORE DEALS

Specifications
OS: Android 8.1 Oreo
Chipset: Qualcomm Snapdragon 845
CPU: Octa-core 4x 2.8GHz, 4x 1.7GHz
Screen: 6.28inch, 1,080×2,280
Mem: 6GB (8GB option)
SSD: 64GB (128GB/256GB options)
Camera: 16MP + 20MP dual- LED video 2160p@60fps, rear 16MP 1080p video
Size & weight: 155.7 x 75.4 x 7.8mm, 177g.