SUPER SNAPS!
Dual cameras feature for the first time in a Galaxy phone, giving it a major upgrade in the photography department. You'll be able to shoot wide and far, with stunning results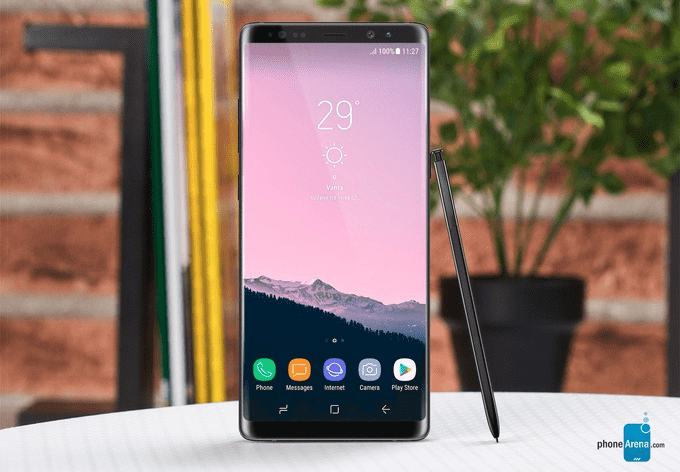 FRINGE BENEFIT
As with the S8, the Note 8 features the Infinity Edge display, giving you that incredible edge-to-edge look
Well, T3, what have we here?
Quite possibly your next phone – if you like 'em big, that is. The Note 8 is Samsung's super-sized new handset, sporting an S8+ beating 6.3-inch screen. It's huge, backed up by slightly more weight and larger dimensions over its 'smaller' sibling.
It looks like the S8!
Doesn't it just? The Note 8 features Samsung's signature Infinity Edge Super AMOLED display, packing an eye-searing QHD+ display just like the S8, so it'll look gorgeous from any angle. It's got some extra usability, though, thanks to the included S Pen stylus, which gives the Note 8 a productivity-on-the-go advantage for some tasks.
Wow. Is it speedy?
You bet. It features an octa-core 64-bit 10nm processor and 6GB RAM. The only sticking point is the smaller 3,300mAh battery – we really hope Samsung has optimised Android 7.1.1 to ensure all-day battery life.
Tell me about that camera…
Ah, nice spot. The Note 8's most striking feature is its dual camera setup. With a wide-angle 12MP Dual Pixel lens and a telephoto 12MP, you'll be able to get regular shots and then zoom in close to objects without losing image clarity.
When can I get my (large) mitts on this?
Big hands rejoice, it's due imminently.
Samsung's biggest phone could be its best.
NICK ODANTZIS, DEPUTY EDITOR
Vital stats
12MP
The resolution of the dual cameras on the Note 8's rear
195g
The weight of the Note 8; 22g heavier than the Galaxy S8+
6.3
The size of that jumbo display, in inches – bigger than the S8+
64GB
The capacity of the Galaxy Note 8's internal storage
What about the iPhone 8?
Here's what we expect to see Apple announce in early september
REAR CAMERA
Expect a new higher-res sensor that can record 4k video at 60fps, possibly with a laser- based focusing system
FRONT CAM
The front camera will do 4k 60fps video too, for fancy FaceTiming. The screen insert will also house 3D face-scanning security tech
NEW SCREEN
Expect an edge-to-edge 5.8-inch, 2436×1125 display, in a smaller body than the 7 Plus
CHANGING HOME
iOS leaks suggest the new on-screen Home button will be resizeable, or even hidden in some apps
Apple needs a big leap, and this could be it.