As you may already know, a virtual private network (VPN) is a service that hides your IP address and virtual location whilst encrypting your internet traffic. This vastly improves your online security and privacy, which is something we should all be keeping tabs on these days.
Although the old adage about "nothing to hide, nothing to fear" often comes up in discussions about internet privacy, a VPN does more than simply hide your internet browsing history. In an era when almost our whole lives are spent on the internet, it goes without saying that you don't want prying eyes stealing your data or getting up to no good with your valuable information, whether that's your financial details, personal information, photographs, or employment history.
If you're opting to go down the VPN route, it's important to choose one that you're happy with and feel secure using. Thankfully, there are plenty of VPN services around but two of the most popular choices are ExpressVPN and NordVPN. Read our NordVPN vs. ExpressVPN.
The two offer similar packages that strongly rival each other and while they aren't new, they do offer most of the features that VPN users will be after.
VPNs can be traced back to the mid-1990s when Microsoft employees created PPTPs (point-to-point tunneling protocols) to form a secure tunnel between LAN or WAN connections by encrypting data between users. VPNs have come a long way since then, but their uses remain similar to this day.
There are many reasons why you may want to use a VPN tool, whether it's to access a website that is geo-blocked in your home country for gaming, or if you're connected to an unsecured public network. Even something as simple as having the ability to access a different Netflix library from another country may be enough to justify investing in a VPN, but whatever your need, we will outline the key reasons why you may want to choose one of these two popular VPN services.
First and foremost, security is one of the most prominent factors of a VPN. Thankfully, if you choose either NordVPN or ExpressVPN, both have solid security. The two applications have kill switches that prevent potential leaks when a stability issue arises with your internet connection.
This essentially stops all internet traffic if the VPN is disconnected. Another key security feature of both applications is ChaCha20 encryption, which is available through both of the service's protocols.
The two also use RAM-only servers, which are a must-have feature as this eliminates the retention of your data. But although it appears to be neck-and-neck for these two VPNs at this stage, NordVPN is a few steps ahead of ExpressVPN with a few extra features, such as Double-VPN servers, CyberSec, and Tor-over-VPN servers, for example. But while these are certainly handy to have, they may not be essential for all users.
We found that when applying security features, it was marginally quicker and easier to navigate on ExpressVPN as the desktop application is slightly smaller to navigate. After all, both are highly secure with certification from ioXt and have been independently audited. In short, both these VPN services get the thumbs up when it comes to security, with NordVPN just edging ahead in this category.
As for navigating around the application, ExpressVPN was easier, but not necessarily for the best reason. NordVPN's desktop app had more settings and features to play with, which makes ExpressVPN easier to navigate. The less-is-more approach works here for efficiency but we prefer what NordVPN has to offer and the overall aesthetic of its software. That's not to say that ExpressVPN's design is complicated, as they both have a clean design language. NordVPN is less cluttered and features light colors that are easy on the eye.
On NordVPN's landing page, you're greeted with a world map in which you can pick and choose where you want your IP to appear virtually. There's also a list available down the left side if you want to search or scroll there. ExpressVPN offers a list of countries, but its app opens multiple pop-up windows rather than everything sitting in one window. It's a small issue but NordVPN's application works better with everything in one place. The only benefit to ExpressVPN's design is that if you open it quickly, it doesn't take up much real estate on your screen as you can't expand or open it full-screen.
So another marginal victory for Nord, but how do these VPNs fare when it comes to performance? When running internet speed tests through Ookla with no active VPNs, we received a whopping average download speed of 35Mbps and an upload of 12Mbps – and our Ping was running at 7ms, which wasn't exactly brilliant. When testing both NordVPN and ExpressVPN, we were pleasantly surprised that the internet speed test stayed at a similar level to the bench test. In fact, with ExpressVPN we got lower ping and slightly faster download/upload speeds. Though internet performance doesn't sit at a constant speed and fluctuates all the time, it's good to see that neither service negatively impacts your speed while you're using them.
When streaming across geo-blocked websites, both ran smoothly with no apparent issues. We tested services such as Netflix, YouTube, Spotify, and Tidal and both VPNs gave us access to content that would have otherwise been blocked in our location. Both have a handy smart DNS feature which is great for Smart TVs that don't have a VPN application installed natively. It allows you to gain access to geo-blocked content easily on your TV and when testing, both worked as they should.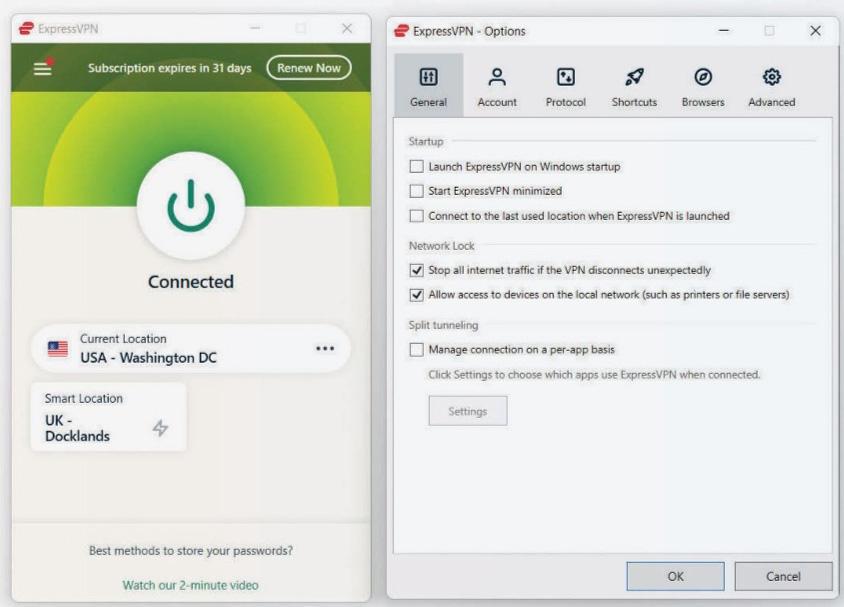 "When it comes to pricing, NordVPN leaps ahead of ExpressVPN. Although ExpressVPN offers a similar experience, it is more expensive than its competitor and doesn't deliver all the same features."
As well as streaming services, we tested Call of Duty: Warzone with no noticeable performance issues. Using a VPN when gaming can help you to play with different lobbies globally. Yes, this could be seen as a cheeky workaround to play against other players around the world if the ones in your location are too tough to play against, but it works.
So far, it's been difficult to separate these two VPNs with both putting up a good fight. Yet when it comes to pricing, NordVPN leaps ahead of ExpressVPN. Although ExpressVPN offers a similar experience, it is more expensive than its competitor and doesn't deliver all the same features. With a cleaner design and layout, more availability, and cheaper prices, NordVPN takes the victory here. Yet, if you opt for ExpressVPN, you won't be disappointed. It provides reliable performance with great security and a decent desktop design. It's just a shame about the pop-up windows.
NordVPN Great application design, solid speeds and superb security, though Fewer territories available than ExpressVPN. Sam Lewis

ExpressVPN Excellent security features, more territories than NordVPN in an easy-to-use app. Sam Lewis