In the 1999 sci-fi film The Matrix film, Keanu Reaves, as Neo, receives a high-tech matt black monolith that slides out into a very cool curved mobile phone.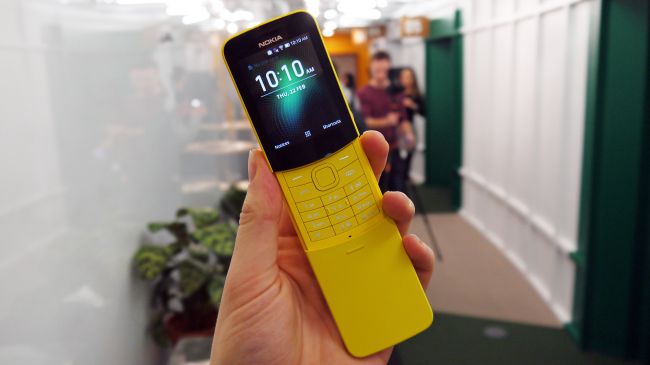 For the rest of us, the original Nokia 8110 (1998) didn't pop open like the spring-loaded Hollywood mockup, and nor does this revival, but you can flick it one-handed with practice.
If More of a novelty toy than a phone for everyday use
At just 60 per cent of the original thickness, and lacking the stubby aerial, the new 8110 fits easily into your pocket.
Sliding it answers a call without needing to tap anything, and reveals a set of number keys with the traditional arrangement of letters for texting.
The colour screen beats the old model's five-line LCD, but at 240×320 pixels it's closer to the resolution of a single app icon on a modern smartphone than a whole screen.
And this isn't a touchscreen: everything is laboriously accessed from menu options with a scroll key, which, hanks to underpowered hardware, can take a moment to respond,
The KaiOS software supports web browsing as well as a few basic apps like Facebook and Twitter.
Snake, the game that once kept Nokia owners frustrated for millions of commuter hours, is included in a pointlessly jazzed-up version.
Watching videos isn't much fun at this size, and oddly you have to keep the slider open, because closing it hangs up apps as well as calls.
Some features are surprisingly advanced. Google Assistant (activated by button rather than saying 'OK, Google') and Google Maps work well, using the built-in GPS, and an FM radio is included as well as basic earphones.
Your network SIM gets you 3G and 4G data, and you can create a hotspot (tariff permitting) to connect a Wi-Fi device to the internet.
Scroll to the camera function, though, and you're back in 1999.
The rear camera takes basic two-megapixel stills, and its videos are purely of novelty value.
With no front camera, selfies and video chat maybe the 8110's biggest miss.
Inside is just 4GB of storage, which you can expand by prising off the back panel and inserting a microSD card, but other than thousands of tiny photos it's not clear what you'd fill it with.
If you need a smartphone, this isn't it.
But, perhaps as a companion to a tablet, the 8110 is a cool toy, available in Matrix black or 'banana' yellow and, thanks to that curve, as much fun to spin like a top on your desk as it is to use.
SPECIFICATIONS
2.4in 320×240-pixel screen • 2-megapixel rear camera • 4GB storage (mostly taken up by built-in software) • MicroSD card slot • Bluetooth 3.0 • 2G (for calls) • 116x51x12.8mm (HxWxD) • 80g
VERDICT
Best Nokia 8810 4G prices ?
MORE DEALS

ALTERNATIVE
Vodafone Smart Prime 7
This Android phone is a similar price, if you can wait 30 days to unlock it from Vodafone's network