Our Group Tests are supported by rigorous and exhaustive listening tests carried out by experts
NOISE-CANCELLING HEADPHONES GROUP TEST
ALL OF THE noise-cancelling headphones in this group can be used as conventional passive models along with the provided cables. This generally offers superior sound quality – as well as preserving battery life – so we begin by testing each headphone with any noise-cancellation modes deactivated. The source used throughout the test is an Astell&Kern AK70 MKII portable music player, which supports both aptX and aptX HD Bluetooth and allows us to test any models with wireless capabilities.
The next step is to activate noise-cancelling modes on each headphone and compare performance under controlled conditions. Several models have adjustable levels of cancellation that allow a certain amount of background noise to be heard. However, our listening tests focus on each model's highest setting to block out as much background noise as possible.
To provide consistent levels of background noise we use sound files to simulate aircraft cabin noise (mynoise.net/NoiseMachines/cabinNoiseGenerator.php) and the more varied sounds of an airport departure lounge (soundsnap.com). These files are played at fixed volume via an Apple iMac connected to a SVS Prime Wireless Speaker System (HFC 451). This ensures that the background noise the headphones are subjected to is as consistent as the music tracks used during our listening tests.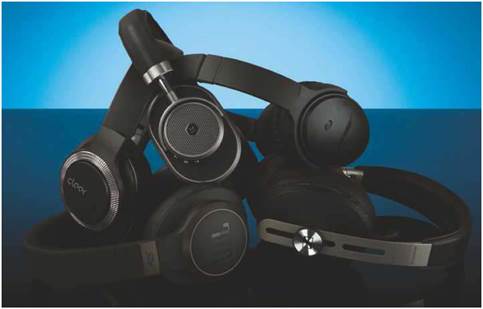 Reference SYSTEM
LOSSLESS STREAMING: Tidal HiFi HFC 455
Even Amazon has added an HD tier to its streaming music service now, so there's plenty of choice for CD-quality and hi-res music online. Tidal's HiFi streaming service is still one of our favourites though, and offers over 50 million tracks in 16/44.1 FLAC as well as extensive hi-res Masters material.
PORTABLE DAC: iFi Audio xDSDv HFC 439
Most people are more likely to travel with a smartphone than a music player such as the AK70 MKII (right), so if you want to beef up the sound from your smartphone iFi Audio's xDSD is a good travelling companion. As well as its variety of wired inputs, the xDSD also provides a Bluetooth option with aptX support.
DIGITAL AUDIO PLAYER: Astell&Kern AK70 MKII
A good all-rounder, the compact AK70 MKII music player provides hi-res PCM support up to 24-bit/ 192kHz file formats, along with both balanced and unbalanced outputs via its twin DACs. There's a micro-SD card slot for adding extra memory, and it supports both aptX and aptX HD wireless Bluetooth streaming.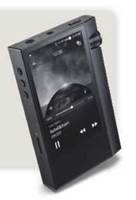 TEST MUSIC
KATE BUSH
Hounds Of Love (EMI Centenary) My Lagan Love

MAX RICHTER
The Blue Notebooks Shadow Journal

JOHANN JOHANNSSON
Orphee
Flight From The City

QUEEN
A Day At The Races (2011 Remaster) The Millionaire Waltz

NOISE-CANCELLING HEADPHONES
It's oh so quiet
With noise-cancelling headphones to suit all budgets, Cliff Joseph tries six models to see which has the best sound while blocking out the crowd…
TRADITIONALLY SOMETHING
OF a specialist product, noise-cancelling headphones have grown to become as popular on a daily commute as they have for well- heeled business travellers seeking peace and quiet on long haul flights.
Increasingly, the technology is reaching a far wider audience, and is being fitted into a variety of designs targeted to different situations. Noise cancelling can make a journey to work on busy public transport more bearable or simply drown out background noise in the office. The tech works by monitoring ambient noise using small built-in microphones and generating an identical but out of phase soundfield in the earcups, resulting in the external sound being cancelled out by our ears. Clever, eh?
Pick and mix
This expansion of the market has meant that noise-cancelling has had to adapt, and the main trend in the last year or so has been the ability to adjust the level of cancellation for different situations. Most of the headphones on test provide a high level of noise cancellation designed to cut out as much external noise as possible when travelling on trains and planes, but several also offer other options too. If you're walking around on busy city streets it makes sense to let in some low-level background noise, such as traffic, for safety reasons. Or, in an office setting, a 'conversation' mode will allow you to hear colleagues when they need to get your attention.
In selecting the models for this group, we opted for six popular over-ear designs. Read on to find out which models sound the best and deliver effective noise cancelling too.
ON TEST
AKG N700NCM2
Now owned by Samsung, AKG's noise-cancelling headphone focuses on improved battery life and Bluetooth connectivity ideal for its range of smartphones.
Bose QC35 II
Not the most ambitious update for this second- generation model, but Bose's impressively effective noise-cancellation features still lead the way, especially for air travel.
Cleer Flow
A new name to the UK, Cleer's Flow headphone makes a strong debut with the combination of effective noise cancellation and attractive sound at a competitive price.
JBL Live 650BTNC
A bit basic and not really designed for air travel, the Live 650BTNC headphone nonetheless offers an affordable noise- cancellation option for your daily commute.
Master & Dynamic MW65
M&D's expensive beryllium drivers deliver the goods with impressive sound quality, although its noise-cancelling tech isn't quite as effective.
Sennheiser Momentum 3 Wireless
The latest version of Sennheiser's popular Momentum headphone nails sound quality, but battery life and noise cancellation offer more of a mixed bag.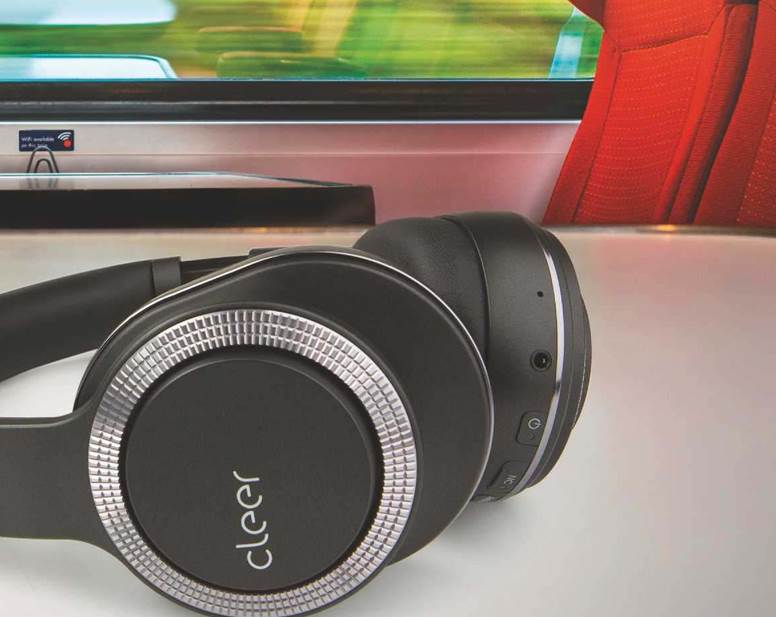 Group lest verdict
Having travelled by air and land with noise-cancelling headphones clamped firmly to his cranium, Cliff Joseph sums up his performance findings.
THERE ARE SEVERAL factors that influence the decision here. If you travel by air a lot. effective noise cancellation will be every bit as important as sound quality, while features like support for AAC or aptX might also help seal the deal.
If you have a Samsung smartphone, the inclusion of its home-grown Bluetooth codec on the AKG N700NCM2 ensures the pair will work well together for wireless audio. Sound quality and noise cancellation are workmanlike rather than impressive and there are less expensive models that give the N700NCM2 a run for its money.
JBEs Live 650BTNC offers admirable clarity even if it isn't the warmest or most expressive sound. Noise cancelling is adequate, but lacks the insulation of more expensive rivals.
If sheer noise-cancelling efficiency is your main priority, the Bose QC35 II leads the way. It can't match the detailed sound of the Sennheiser or Master & Dynamic, but it wraps you in a cocoon of peace and quiet.
The Cleer Flow is effective at blocking out aircraft cabin noise while its 'ironless' driver design produces very attractive sound. And. It hits a sweet spot that makes it great value.
Far and away the most expensive option. Master & Dynamic's MW65 provides a suitably luxurious mix of great sound quality, comfort and build quality, and is the only model in the group to support aptX HD for top-notch wireless Bluetooth connectivity. Ultimately, though, there is one less expensive option that rivals it for sound quality and noise cancellation…
Winner
The Momentum 3 Wireless has a modest battery, but that's not too much of a problem in wired mode. It's the sound quality that stands out with both clarity and presence matching the more expensive MW65 before beating it on overall value for money.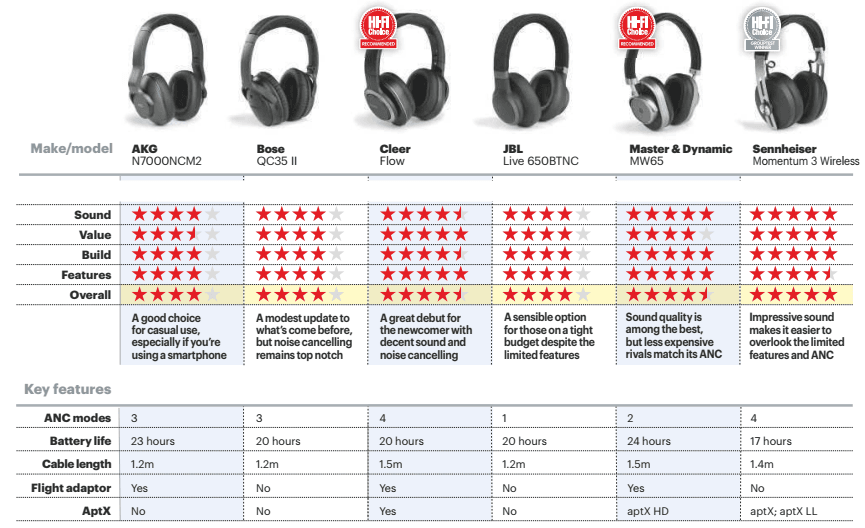 Try With These
HEADPHONE CALIBRATION: Sonarworks True-Fi HFC 450
True-Fi is a mobile app that includes profiles for calibrating more than 300 models of headphones in order to provide a more 'neutral' sound.
It's a bit rough around the edges, but the iOS and Android apps are free during their 'early access' stage of development.
STREAMING SERVICE: Tidal HFC 455
Tidal might have a lot of competition these days, but it led the way with hi-res streaming and has accumulated one of the largest collections of music of any streaming service. It also continues to experiment with new audio formats, such as Sony's 360 Reality.
HEADPHONE AMP/DAC: iFi Audio xCan HFC 447
An affordable headphone amp that can really boost performance from smartphones when you're travelling. It has a Bluetooth wireless mode that supports aptX and AAC codecs, and claims to give up to 12 hours battery life.