MSI CUBI 3 review – WITH PERFORMANCE A LETDOWN, IT'S UP TO EXCELLENT DESIGN AND EASY CUSTOMISATION TO MAKE THE CUBI 3 SILENT WORTHWHILE
Cubi is one of the most reliable sub- brands in the mini PC market; we particularly liked the original MSI Cubi for its low price and tiny form factor. Fast forward two years and we now have the Cubi 3 Silent, a brand new model that's both bigger and more expensive but comes with a fanless case that runs without so much as a whisper.
It is, like previous Cubi models and the Asus VivoMini, a barebones system. In other words, it arrives with the CPU already installed, but you'll need to provide your own storage, operating system and RAM.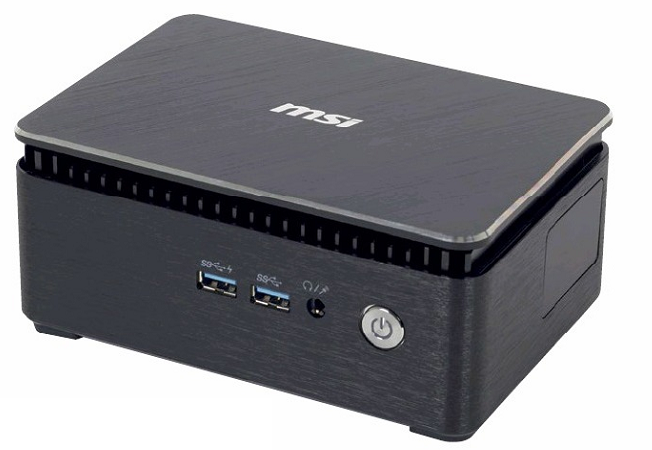 This can make the initial setup a lot more time-consuming (especially when it comes to installing Windows) than simply buying a complete system at retail, but it shouldn't be something to be afraid of.
MSI provided us with the parts we needed for this review, which comprised 4GB of SO- DIMM memory and a 128GB NVMe SSD with Windows 10 Home installed on it. Already housed within was a dual-core Intel Core i5- 7500U, typically found in mid-range laptops.
MSI CUBI 3 review: BOTTOM OUT
Installing everything is easy: simply remove the four screws on the underside, pop off the plate, and slide the RAM and NVMe drive into their respective slots. You'll need a smaller screwdriver to secure the latter in place, using the provided screws, but making the Cubi 3 Silent whole is easy. There's also a tray, attached to the removable plate, which can hold a 2.5in SSD or hard disk – a likely future addition, as large-capacity NVMe drives are still pretty expensive.
Once it's up and running, you will probably appreciate the silent running, especially if it's given pride of place as a home office PC. There are drawbacks, however. For one, the top of the Cubi Silent 3 gets extremely hot when the system is under load; we've only ever seen the Core i5-7500U with a fan, so it's commendable that MSI can keep it from overheating with passive cooling, but it seems to manage this only by dispersing heat all the way out to the chassis.
Such warmth doesn't do performance any favours, either, with the MSI PC scoring 65 in the image test, 36 in the video test and four – yes, four – in the multitasking test.
It didn't fare well in Dirt Showdown either, managing only 26fps on Low settings and 17fps on High. That's lower, at both quality settings, than the weedy Intel Compute Stick.
With our more merciful 1080p benchmarks, the Cubi 3 Silent did a lot better, especially in the image test where it scored 173. Its video and multitasking scores of 107 and 118 were more modest, but with 123 overall, it's fair to say that the Cubi 3 Silent can handle simple work. It's just a shame that it falls so far behind the fan-cooled VivoMini.
MSI CUBI 3 review: BOX OF DELIGHTS
In MSI's defence, the Cubi 3 Silent never claims to be a micro powerhouse, and the price reflects that – is firmly within budget territory for both full-size PCs and laptops. Besides, there's a lot else here for your money.
Connectivity is very good: at the front, two USB3.1 ports are joined by a combined mic and headphone jack, while at the rear, another two full-size USB3.1 ports ensure you won't run out of options when you hook up a wired mouse and keyboard. You gel a choice of HDMI or DisplayPort outputs (or both, if you have two monitors) and if you don't want to rely on the integrated 802.11ac Wi-Fi, there's a Gigabit Ethernet slot as well.
All of this is contained within a chassis that, bigger than previous Cubi PCs or not, looks excellent. The brushed aluminium finish provides a premium feel and a touch of character, as do the visible radiator fins that sit beneath the raised top panel.
It's still very compact, too, measuring 70x160x110mm and weighing 1.3kg. That's small enough that, with the optional VESA mount, it's possible to attach the Cubi 3 Silent to the back of a monitor, or even on a wall, keeping your desk as tidy as possible. We like the look it so much, however, that we'd prefer to keep it close.
MSI CUBI 3 review: LAID BARE
All this isn't to diminish the Cubi 3 Silent's performance foibles; indeed, this alone costs it both an award and a higher score, though the VivoMini being able to run much better with similar hardware doesn't help matters. Asus's PC doesn't look as nice, and costs a bit more, but it benefits from dedicated graphics.
Nonetheless, as a basic home office computer (or a media PC that will never interrupt a film with irritating fan noise), the Cubi 3 Silent remains endearing. We do have some advice for anyone considering it, though: first, be prepared to upgrade the storage. A 128GB NVMe SSD will work to begin with, but with Windows 10 Home installed, you'll only have about 72GB of usable space. A 256GB SSD and 2.5in hard disk with at least 1TB capacity should be your starting point, even if this bumps the total price up.