Acer Chromebox CXI3
Pillarbox
Google's Chrome operating system is much less demanding than Windows, so PCs capable of running it can be built much more cheaply. That means we're used to seeing Chromeboxes at the bottom end of the market, starting at a couple of hundred quid with a basic Celeron processor. If you use one of these regularly for more than just online shopping and checking your email, however, the slow performance can get annoying, and as a home-cinema centre or for games from the Google Play Store, you might need a bit more processing power.
At over 500 quid, this Intel i5 version of the CX13 is straying into proper PC territory, but it's still relatively affordable and has the advantage of being extremely compact – more like the size of an external hard drive than a PC, and with the option of sitting it flat, standing it up or VESA-mounting it to a monitor or HDTV set. A hard drive is one thing you won't find inside – this model has a 64GB SSD: much too small for a Windows 10 PC, but fine for
If you only need a glorified browser, this is compact and quicker than previous models
Chrome OS, which is based on the assumption that you work in the 'cloud'.
You can keep files and even some  apps on the internal storage rather than accessing them online if you prefer, but a machine installed at home will normally always have internet access anyway In our multi-core tests, the laptop-class quad-core i5-8250U processor, accompanied by 8GB of memory, was more than five times as fast as the Celeron 3865U chip used in the cheapest configuration of the CXI3. That model comes with half the memory and 32GB of storage in the form of slower eMMC, not an SSD. A version with the old but still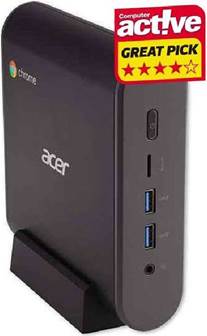 popular dual-core i3-7100U processor, otherwise similar to the i5. We found the i5's integrated Intel UHD Graphics 620 more than good enough for compatible games.
Internal expansion is obviously non-existent, and there are no ultra-fast external ports, but you do get a total of five USB 3.0 and a USB-C, HDMI, and a microSD slot for more storage. Audio is limited to a mic/headphone jack. Fast Wi-Fi is built in, or there's Gigabit Ethernet if your router is nearby.
SPECIFICATIONS
1.6GHz Intel i5-8250U quad-core processor • 8GB memory • 64GB SSD • 802.11ac Wi-Fi • Bluetooth 4.2 • 5x USB 3.0 ports. USB-C port • MicroSD slot- HDMI port • Gigabit Ethernet • Chrome OS • 40x151x149mm (HxWxD) • 2kg • One-year warranty
VERDICT
Best price
Acer Chromebox CXI3
The best Chromebox we've seen, but pricey for a non-Windows system with average performance
Add your review
Best Acer Chromebox CXI3 prices ?
MORE DEALS

ALTERNATIVE
Asus PB60
For £ more with a six-core i5-8400T chip and 128GB SSD, this mini PC runs Wndows 10 Pro
WHAT YOU CAN DO WITH CHROME OS
Chrome OS is still basically a glorified web browser, so to judge how useful a Chromebox would be to you, try spending your whole day in the Chrome browser app on a PC. With services like Google Docs and web app versions of Microsoft Office now available, as well as creative tools like Google Photos and Pixlr, there's quite a lot you can do. But it's not Windows, and many advanced tasks aren't possible. For gaming, Chrome OS is more like a mobile platform, and compatible with Android games, although how playable they are is pot luck.
Chromeboxes will also work with Google's Stadia console subscription service when it launches later this year.
The CXI3 comes with a mouse and keyboard (pictured), but they are rubbish. You could add better ones and any HDMI monitor to complete your system, but Chrome supports multi-touch gestures, so you might want to consider a touchscreen or touchpad. For a living-room system, something like Logitech's K400 Plus Wireless Touch Keyboard would be practical (but its trackpad is only for cursor control, not gestures.