ASUS VIVOMINI review – WITH DEDICATED GRAPHICS AND EXTENSIVE CONNECTIVITY, THIS IS AN ATTRACTIVELY VERSATILE MINI PC
The VivoMini family has about as many different configurations as a Rubik's Cube, starting with the Intel Celeron- based UN45 and scaling all the way up to i5 CPUs. This sits very close to the top of the line, with a dual-core Intel Core i5-6200U and even a dedicated graphics chip, Nvidia's GeForce 930M.
Table of contents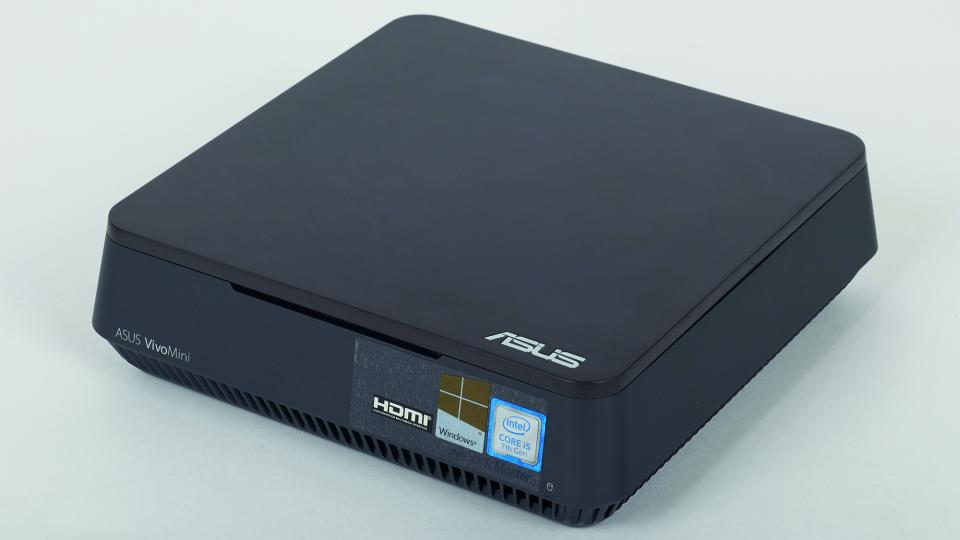 ASUS VIVOMINI review: BALANCE OF POWER
This GPU is, like the CPU, a relatively low- power laptop component, however is an awful lot cheaper, not to mention far more compact, and still puts up a very competitive performance in our 4K benchmarks. Its multitasking score of 14 is unfortunate (despite active cooling from a fan, we wouldn't be surprised if there was some throttling going on), but its image score of 81 and video score of 56 point towards a system that can at least handle some low-end media editing, as well as the basic stuff such as browsing and word processing. Overall, the VivoMini scored 39, handily beating the MSI Cubi 3 Silent and falling behind the more expensive HP Elite Slice.
Out of curiosity, we also ran the 1080p version of our benchmarks, which the VivoMini sailed through: 206 in the image test, 182 in the video test and 186 in the multitasking test. That's twice the performance of the Intel Compute Stick. It's also interesting to see that the VivoMini's multitasking weakness disappears in this less demanding test, its score becoming much more proportional to the image and video-encoding segments.
The GeForce 930M also makes Asus's mini PC an adequate tool for light gaming. Running Dirt Showdown at 720p, the VivoMini produced 43fps with the High quality preset and 51fps with the Low quality preset.
ASUS VIVOMINI review: HARD TRUTHS
Of the barebones systems tested here, the VivoMini also has the best storage options, with two 2.5-in drive bays. This allows for the use of an SSD for speedy operation of Windows and key apps, as well as the opportunity to also fit a large capacity hard drive in addition to the SSD. Most mini PCs, even more expensive ones such as the Elite Slice, make do with a single SSD, but we strongly recommend a larger backup like a HDD if you want it as your main PC.
What's more, you can swap it out for a larger drive if you do ever run out of space. Opening up the VivoMini is child's play: simply flip a release switch on the back, slide off the top cover, and you're in. Admittedly, the extent to which you can upgrade and customise this PC is slightly more limited than, say, the Cubi 3 Silent — you can only really reach the hard disk and the SO-DIMM memory slots, both of which are located in their own little self-contained compartments. We get the impression that tinkering with the VivoMini's innards is meant to be a last resort, rather than something that's encouraged as it would be other barebones systems.
Asus has squeezed in a fine selection of ports. As well as four USB3 ports, there are another two faster USB3.1 connectors, and dual display support is possible thanks to both HDMI and DisplayPort outputs. Gigabit Ethernet provides a wired alternative to the built-in 802.1lac Wi-Fi, and the full-size SD card reader could be great for photographers and amateur filmmakers.
There's even an optical S/PDIF out, below the separate 3.5mm microphone and headphone jacks. Support for high-end audio hardware is exceedingly rare among PCs at this price, even larger desktops, so the presence of this port is a very nice surprise.
ASUS VIVOMINI review: MOUNT PLEASANT
We wouldn't consider it a fault, knowing how much is inside, but the VivoMini does have a large footprint for a mini PC: at 52x190x190mm, it's both taller and wider than the Elite Slice, and takes up a lot more desk real estate than the Cubi 3 Silent. It's also
light enough that if you invest in a VESA mounting kit and affix it to the holes on the bottom, you can have it attached to the back of a monitor, on the underside of a desk or vertically on a wall. It would have been easy to look at the VivoMini's 4K multitasking score and be put off, but otherwise this is beyond a doubt the most well-balanced mini PC we have here. It's great value, has enough processing power for home office use (and enough graphics power for occasional 720p gaining), and has plenty of storage options. This is the best of the launch.
Editor choice
Asus VivoMini Review
With dedicated graphics, great storage and extensive connectivity, this is an attractively versatile mini PC
PROS
Good enough for light gaming
Excellent storage
CONS
Tricky to upgrade
Large footprint
Add your review
|
Read reviews and comments