Dell OptiPlex 7060 Micro
Downsized worker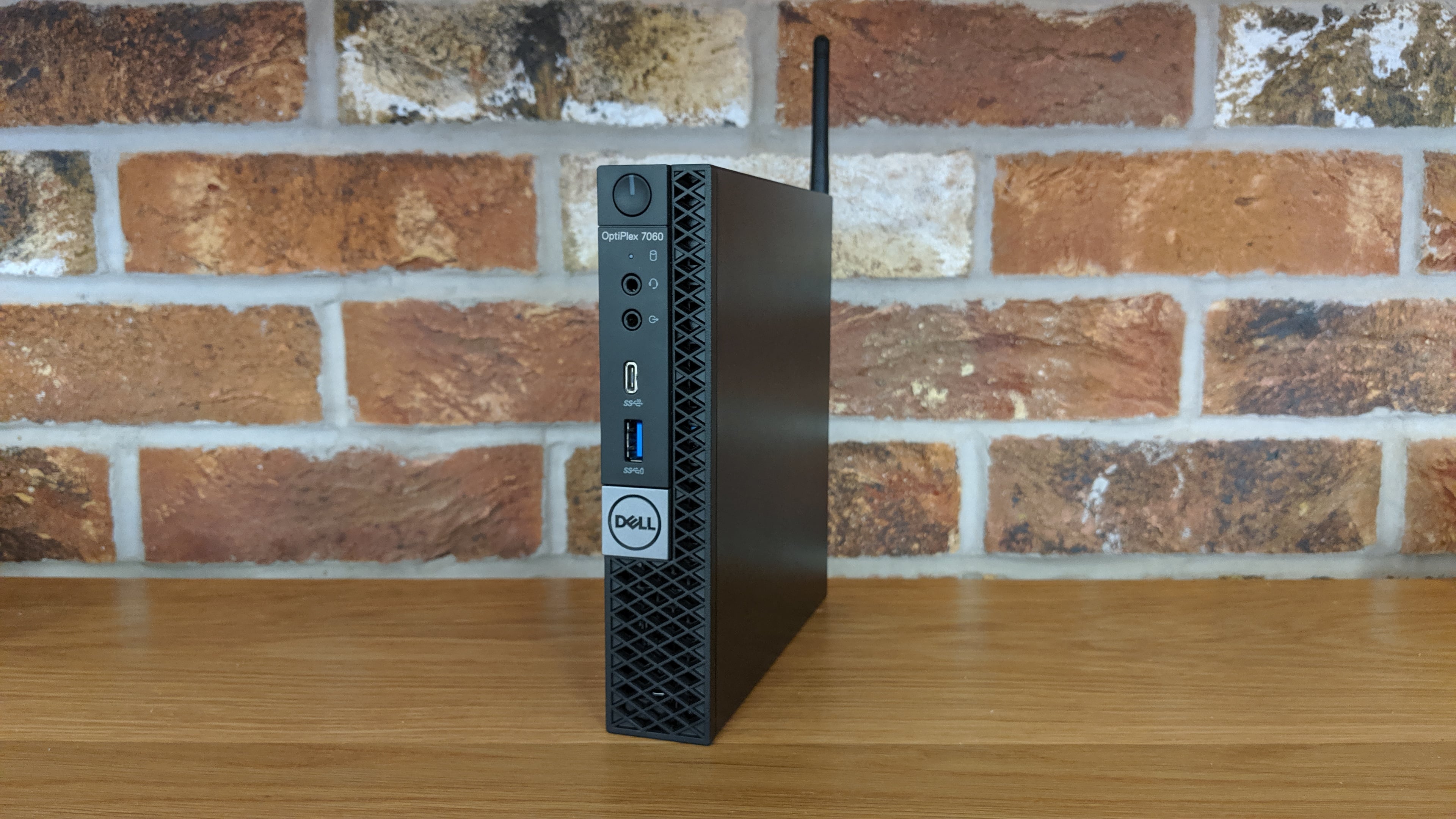 Dell practically invented the business of making PCs and selling them directly to customers, and it's still a company that puts as much ingenuity and innovation into its marketing as its hardware. In practical terms, that means its prices are competitive but confusing.
The OptiPlex 7060 Micro is categorised as a business system, so it's listed without VAT, but you'll be charged an extra 20 per cent on your way through the checkout. And this isn't a bargain-basement setup: it comes with an i5 processor, 8GB of memory and an SSD. On top of that, you get decent build quality, Windows 10 Pro installed and a three-year warranty with on-site service.
A solid, space-saving PC, if you can live with its limitations
The only obvious catch is the small 128GB SSD, which might be fine for a machine that sits on an office desk producing Word files saved to a company server but won't hold all the hies you're likely to need at home, such as a growing collection of family photos and videos.
Our test model came with 256GB, which would cost you a rather silly £ extra, including VAT. You could add an external 4TB USB hard drive for half that, and still get the benefit of Windows running from the fast built-in drive. Although fitted in an M.2 socket, it uses the old SATA interface, limiting its read and write speeds. We got 517 and 441 megabytes per second respectively, still comfortably four times faster than a mechanical drive.
A less obvious catch is that the i5-8500T may have six cores, but it's a low-power chip that was about 30 per cent slower than a regular i5-8500 in our tests. That's still solid all-round performance, and the benefit is that you get a very small PC that runs very quietly, There's no dedicated graphics card, nor room to add one, but – unusually for a desktop PC – 802.11ac Wi-Fi and Bluetooth 5 are built in, as well as Gigabit Ethernet if your router is near enough to run a cable. For external add-ons there are five 5Gbps standard USB ports and one 10Gbps USB-C. A keyboard and mouse are thrown in, but the less said about them the better.
SPECIFICATIONS
2.1GHz Intel Core i5-8500T six-core processor • 8GB memory • 128GB SSD • Gigabit Ethernet • 5x USB 3.0 ports • USB-C port • 802.11ac Wi-Fi • Bluetooth 5.0 • Gigabit Ethernet • 2x DisplayPort outputs • Windows 10 Pro • 182x36x178mm (HxWxD) • 1.2kg • Three- year warranty
VERDICT
---
TODAY'S BEST DEALS
Intel UHD Graphics 630 Graphics - Wireless LAN - Bluetooth - English Keyboard - 6 x Total USB Port(s) - USB Type-C
$

1,399.00
2 used from $599.00
1 new from $1,399.00
in stock


Dell OptiPlex 7060 MFF Desktop PC, Intel Core i5-8500T 2.1GHz, 8GB RAM, 256GB SSD, No-DVD, Intel HD, WIFI, Windows 10 Pro

ALTERNATIVE
Asus Mini PC PB60
This has a similar spec with a slightly slower i5- 8400T chip; as with the Dell, an i7-8700T is also available