As a spin-off for this month's Labs test, we've also included MSI's B450M Mortar micro-ATX motherboard in the roundup. It first appears to be a B450 Tomahawk with a few centimetres lopped off the bottom. Read our MSI B450M Mortar Review.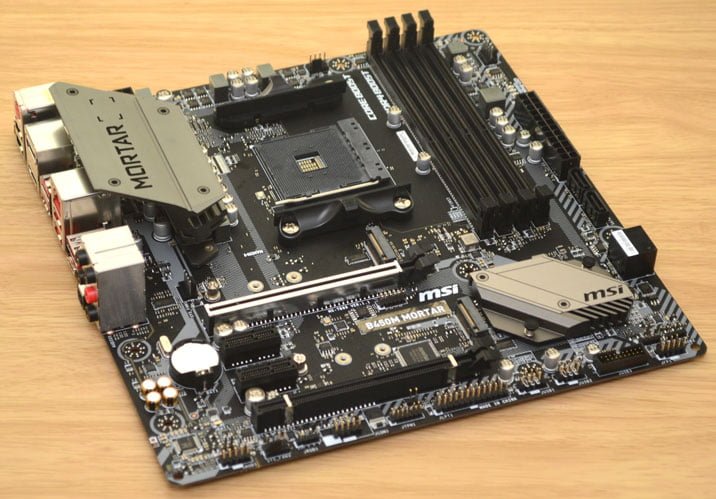 You may also like:
The two boards sport identical-looking heatsinks; the Mortar lacks the top VRM section, but they're otherwise very similar. Both boards also have the same power circuitry design, along with the same Realtek ALC892 audio codec.
However, the B450M Mortar actually beats its more expensive sibling in a couple of areas. The rear I/O panels differ significantly. Both boards have eight audio outputs and a USB BIOS Flashback button, along with two video outputs, but the smaller board additionally offers an optical audio output. DisplayPort and two additional USB 3 ports. The DisplayPort connector allows the B450M to power 4K displays at 60Hz too. while the B450 Tomahawk is more limited with its DVI and HDMI 1.4 ports. The Mortar's PCB even has two M.2 connectors, as opposed to a single port on the B450 Tomahawk, although the second only offers 4x PCI-E 2 bandwidth for NVMe SSDs.
Of course, having less PCB real estate will inevitably mean there are cuts to the feature list. Being micro-ATX necessitates having one fewer 1 x PCI-E slot. You also get four as opposed to six fan headers, and four rather than six SATA 6Gbps ports. However, none of these issues will likely worry your typical PC enthusiast, most of whom will only have one or two PCI-E cards and a couple of storage drives.
Meanwhile, the EFI is mostly identical to the system found on MSI's other current boards. It has an excellent fan control section and easy-to-use overclocking section, which offers all the settings you need to tweak your Ryzen CPU, including manual voltage control, although it does lack base clock control for people wanting to fine-tune their overclock.
We managed to hit 4.2GHz with our Ryzen 7 2700X using a 1.425V vcore and. amazingly, the B450M Mortar, like its sibling, held that frequency even during our stress test. The VRMs did get pretty toasty, though.
with the heatsinks reaching over 50'C and the rear of the PCB topping out at 70'C according to our IR thermometer. Even so, for demanding multi-threaded content creation tasks, the board appears to have what it takes, even when heavily overclocked, unlike most of the B450 boards we tested this month.
The RealBench system score rose from 200,664 to 207,059 when overclocked but. like the B450 Tomahawk, idle power consumption was a little high at 97W. Our test system drew 321W under load with the Mortar installed when overclocked, although that figure is a little more reasonable than the Tomahawk's 357W. Audio performance was identical to the larger board too, with the Realtek ALC892 codec managing a 91 dBA dynamic range and -92dBA noise level.
Conclusion
If you have an ATX case, we still recommend opting for the B450 Tomahawk if you're aiming for a big overclock and regular heavily multithreaded work, as it has more power circuitry cooling. However, the MSI B450M Mortar still performed well and. unlike other B450 boards we tested this month, didn't throttle after just a couple of minutes when overclocked under load. It also has USB 3.1 Type-A and Type-C ports.
An excellent EFI and even two M.2 ports, making it excellent value for money if you're looking for a smaller motherboard.
Verdict
Editor choice
MSI B450M Mortar Review
Small but mighty - the Mortar handles overclocks well and has a great feature set for the cash.
Add your review
Best MSI B450M Mortar prices ?
$

198.99
1 new from $198.99
in stock


$

346.50
1 new from $346.50
in stock


$

604.99
1 new from $604.99
in stock

MORE DEALS

SPECIFICATIONS
Chipset AMD B450
CPU socket AMD Socket AM4
Memory support 4 slots: max 64GB DDR4 (up to 3466MHz)
Expansion slots One 16x PCI-E 3, one 16x PQ-E 2, two 1x PCI-E2
Sound 8-channel Realtek ALC892
Networking Realtek Gigabit LAN
Overclocking No base clock adjustment, max CPU multiplier 64x; max voltages: CPU + 1.55V, RAM2V
Ports 4 x SATA 6Gbps (B450), 2 x M.2, 1 x USB 3.1 Type-A, 1 x USB 3 Type-C, 4 x USB 3, 2 x USB 2, 1 x LAN, 6 x surround audio out
Dimensions (mm) 244 x 244