Gigabyte's B450 I Aorus Pro WiFi is aiming high, especially considering it uses AMD's B450 chipset as opposed to X470. Thankfully, on mini-ITX boards at least, there's next to no difference between the two chipsets, as there's no space to make use of the additional features that the more expensive X470 chipset offers anyway.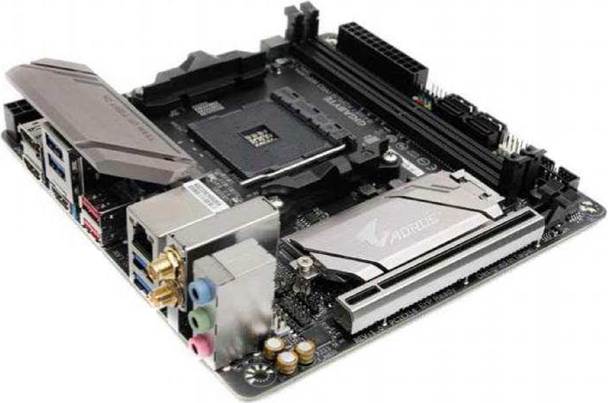 However, Gigabyte has some stiff competition, as the B450 version of the Asus ROG Strix mini-ITX board retails. Gigabyte has certainly upped its game since its last AM4 mini-ITX effort though – the B450 I Aorus Pro WiFi looks and feels decidedly more premium than the last-generation B350N Gaming AC WiFi.
There's a large VRM heatsink covering the 4+2 phase power circuitry, and you also get a large M.2 heatsink with the port beneath it supporting either 4x PCI-E 3 or SATA-based SSDs. The heatsink dropped the temperature of our Samsung 960 Evo by 9°C too, so it's definitely worth putting it to use. There's no second port, though, so adding extra storage will involve using of one of the four SATA 6Gbps ports, which are all handily located on the edge, next to the DIMM slots.
The rest of the PCB is fairly spartan, and there's a severe lack of fan headers. There are just two fan headers on the PCB, so you'll need to invest in some splitter cables if you need to power more than a single case fan. What's more, header-powered, dual-fan all-in-one liquid coolers will be tricky to set up too.
SPECIFICATIONS
Chipset AMDB450
CPU socket AMD Socket AM4
Memory support 2 slots: max 32GB DDR4 (up to 3200MHz)
Expansion slots One 16x PCI-E3
Sound 8-channel Realtek 1220 Networking Intel Gigabit LAN
Overclocking No base clock overclocking, max CPU multiplier 63x; max voltages: CPU 1.5V, RAM 2V
Ports 4 x SATA 6 Gbps (B450), 1xM.2, 4 x USB 3, 4 x USB 3.1 Type-A, 1 x LAN, 3 x surround audio out
Dimensions (mm) 170 x 170
The rear I/O panel also seems to be at odds with the PCB in terms of features, as it's bristling with useful connectors. There's on-board 802.11ac Wi-Fi and Bluetooth 5 support, six Type-A USB ports, including two USB 3.1 ports, and not a sign of USB 2 either.
There's a trio of digital display outputs too, and an Intel-controlled LAN port. The only disappointment on the rear panel is that, despite the board sporting Realtek's superb ALC1220 audio codec, there are only three audio outputs. There's no optical output, and connecting a 7.1-channel speaker system will require using the case's 3.5mm audio output via the on-board audio header. There's little by way of lighting out of the box either, but there's a row of RGB LEDs underneath the right side of the PCB, plus a single RGB header for LED strips.
The fan control section of the EFI is also excellent
Performance
We initially had issues firing up Gigabyte's System Information Viewer Windows monitoring software, but these problems were fixed when Gigabyte sent us the B18.0522.1 update for it – you'll need to do the same if you experience the same issues. However, Gigabyte's EasyTune overclocking software worked fine.
The fan control section of the EFI is also excellent, making it even more of a shame that there are just two fan headers. The rest of the EFI could do with some improvements too; it looks dated compared with the competition, with typical overclocking settings often spread across several tabs, while the Precision Boost Overdrive controls are bizarrely located in the peripherals section.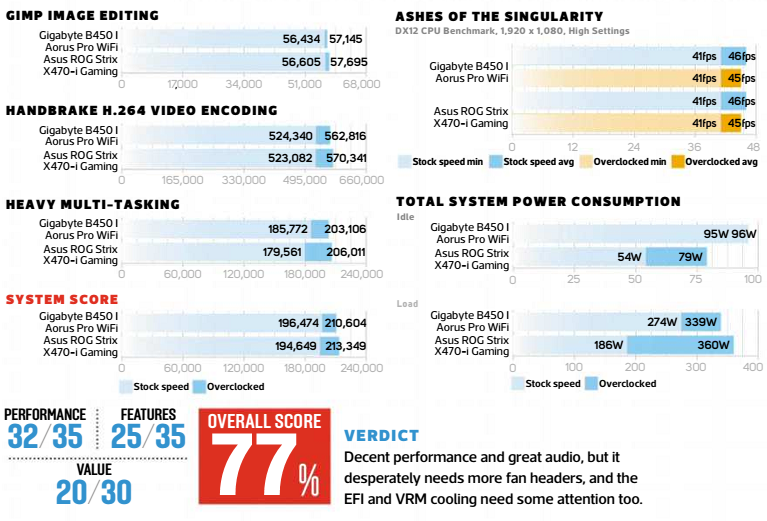 We managed to overclock our Ryzen 72700X to the usual 4.25 GHz frequency and, despite the lowly power circuitry, the board held up under sustained multi-threaded load for a good five minutes.
However, it eventually succumbed and the software revealed that extremely high VRM temperatures were the likely cause, with the CPU never topping 85°C. It was stable enough to pass all our benchmarks, but the B450 I Aorus Pro WiFi isn't an ideal candidate for an overclocked 8-core CPU in multi-threaded tasks.
At stock speed, the system score of 196,474 was typical for an AM4 board using our Ryzen 2700X and our overclock saw this rise to 210,604 – again, similar to X470 boards we've tested.
The idle power consumption is a concern, though, and was a feature of many B450 boards we've tested, both at
A large VRM heatsink covers the 4+2 phase power circuitry next to the CPU socket
The Realtek ALC1220 audio sounds excellent, but it could do with more audio outputs
The hefty M.2 heatsink dropped the temperature of our Samsung 960 Evo by 9°C stock speed and when overclocked, and the load power draw numbers aren't too clever either.
Thankfully, the audio performance was excellent, with noise and dynamic range levels of – 110 dBA and 111 dBA respectively. The board managed 3,392MB/sec and 1,871MB/sec read and write speeds with our Samsung 960 Evo M.2 SSD too. All in all, it performs on a par with an ATX AM4 board.
Conclusion
We had high hopes for the B450 I Aorus Pro WiFi – it looks great and has stand-out features such as 802.11ac Wi-Fi, Realtek ALC1220 audio, an M.2 heatsink and large VRM heatsink. However, it's let down by its EFI, a lack of VRM cooling and lowly CPU power circuitry that undoubtedly led to our CPU throttling back under load. There are also only three audio outputs, no optical output and just two fan headers.
Three fan headers is the bare minimum for a typical enthusiast motherboard, but as it stands, you'll be left wanting if you use the B450 I Aorus Pro WiFi with any setup other than a single-fan CPU cooler and a single case fan. As a result, if you want to overclock your Ryzen CPU, the Asus ROG Strix B350-I Gaming or its X470 counterpart are your best bet while, for less cash, Gigabyte's own AB350N- Gaming WiFi is a good choice for a budget mini-ITX system
at stock speed, although it doesn't support AMD's StoreMI technology, and you'll need an EFI update to support the latest CPUs. Gigabyte has made some superb mini-ITX boards for Intel CPUs, making it a real shame to see this AM4 board fall short.
ANTONY LEATHER
VERDICT
Gigabyte B450 I Aorus Pro Wifi Review
Decent performance and great audio, but it desperately needs more fan headers, and the EFI and VRM cooling need some attention too.
Add your review
|
Read reviews and comments
Best Gigabyte B450 I Aorus Pro Wifi prices ?

$

114.00
1 new from $114.00
in stock

MORE DEALS