The best mobo for your small form factor PC?. Read our MSI Z790I Edge Wi-Fi mini-ITX Review.
Wi-Fi mini-ITX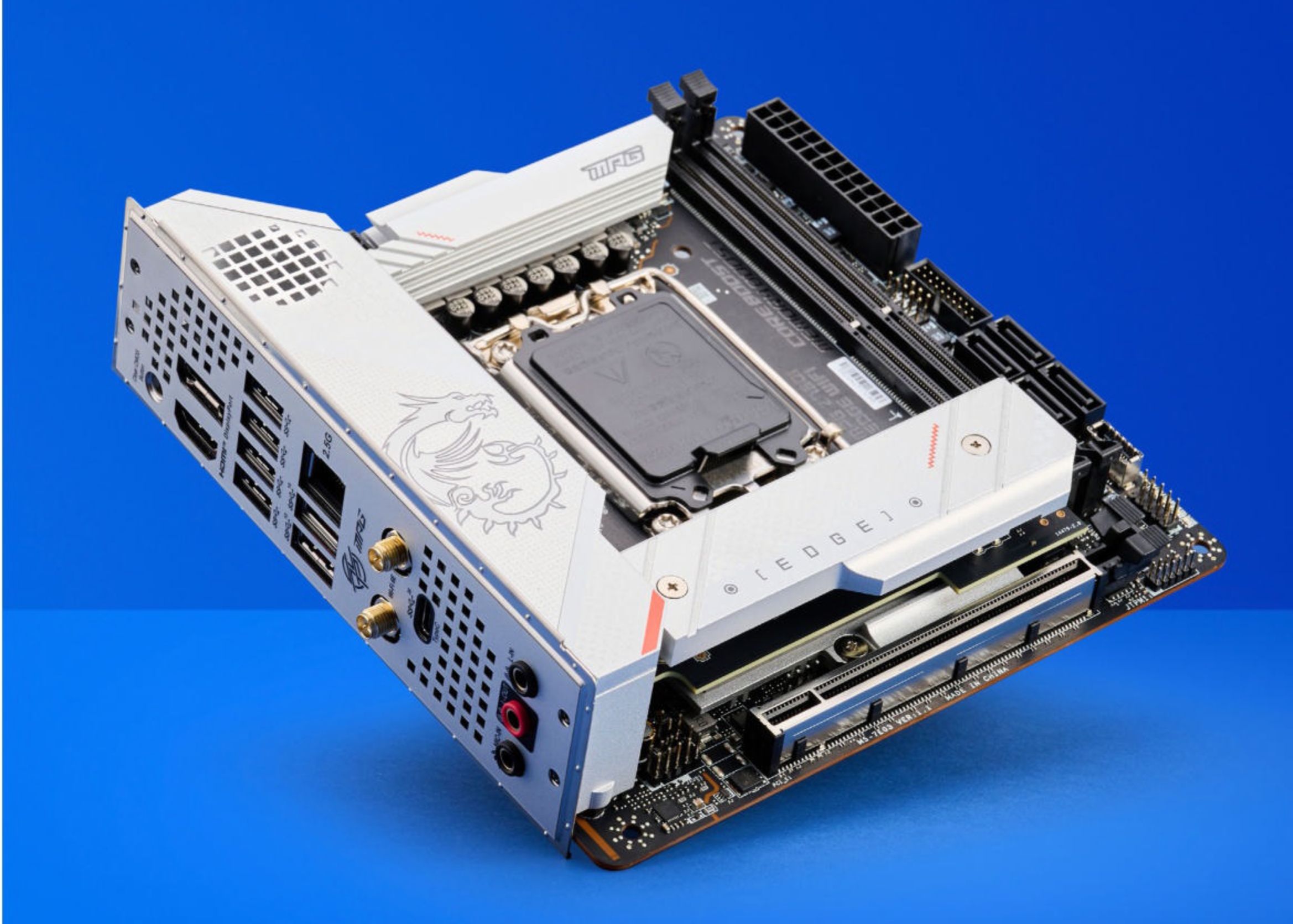 This is one of the best options for building with Intel chips.
to call anything the best is a strong opinion, to say the least. Of course, it's a very subjective thing to say, and will vary depending on your personal preferences, but if you're looking for a mini motherboard, this one has plenty of tricks up its sleeve. With a mobo, you must consider an element of futureproofing too, as it's the most awkward component to swap out for obvious reasons. You can trust us on that one too—we've taken a fair few mobos out of builds in our time! Selecting a dependable one for your system is vital—you need to pick the right backbone for your PC to ensure your components work in harmony with one another. This MSI Z790I Edge may be one of the best to choose from if you want to build using the latest Intel chips, but in a small case.
Kicking things off with the aesthetics of the board, MSI has nailed it here with the silver/white color scheme. The mini-ITX design helps, as it means that most of the PCB has been cut off and the majority of the remaining board consists of heatsinks and panels. There also isn't too much gamer-inspired design—just the MSI logo and the MPG and Edge branding. It could certainly be used in a more productivity-based system. We've featured this motherboard in our cover build found on page 16—unfortunately for us though, its design was hidden away underneath our case, but as it goes, this is a good-looking mobo!
If we turn our attention to the side of the motherboard, we can take a look at the selection of ports on offer. Again, for this size, it offers a lot. There are a total of six USB Type-A ports, one USB Type-C, an ethernet port, one HDMI, one DisplayPort, Mic-in, Line-in, and Line-out ports. Now, that's a healthy selection. This I/O panel is pre-installed on the board and finished in the same silver/white color scheme as the rest of the motherboard.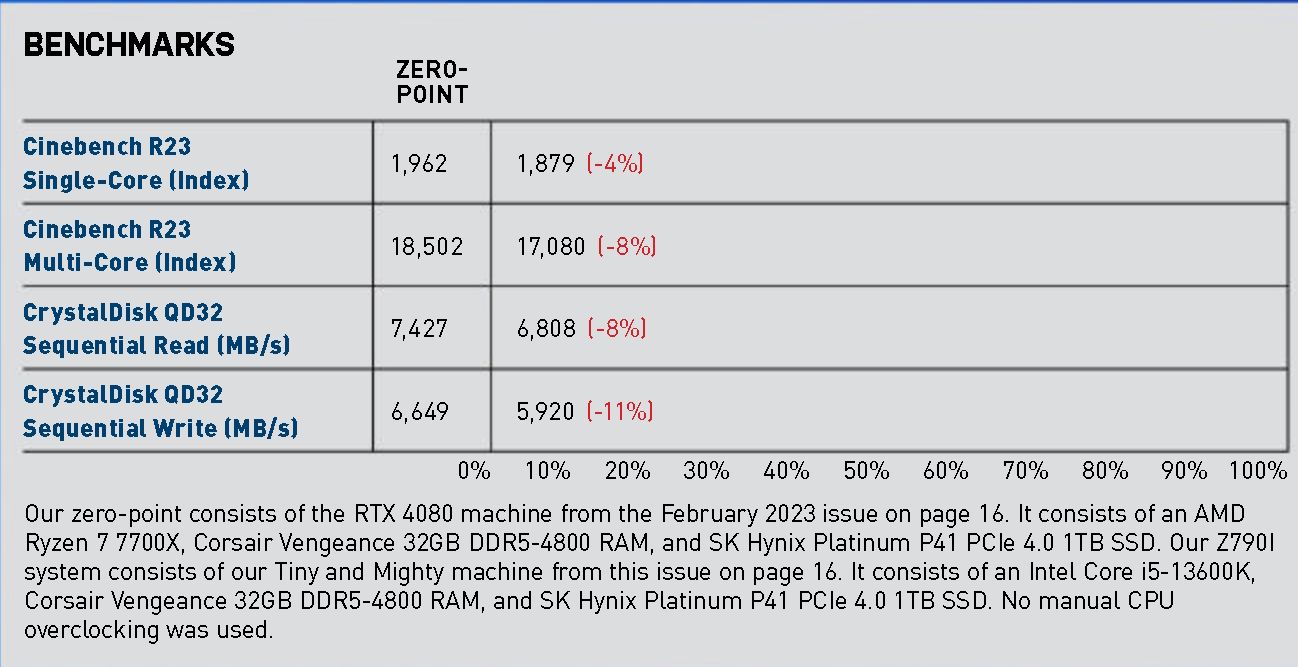 Our zero-point consists of the RTX 4080 machine from the February 2023 issue on page 16. It consists of an AMD Ryzen 7 7700X, Corsair Vengeance 32GB DDR5-4800 RAM, and SK Hynix Platinum P41 PCIe 4.0 1TB SSD. Our Z790I system consists of our Tiny and Mighty machine from this issue on page 16. It consists of an Intel Core i5-13600K, Corsair Vengeance 32GB DDR5-4800 RAM, and SK Hynix Platinum P41 PCIe 4.0 1TB SSD. No manual CPU overclocking was used.
We're now heading back to the main part of the board and some of its core features. This is, of course, a Z790 board, which is the top chipset available for Intel processors. This is perfect if you want to use some of the top-end Intel chips, such as the i9-13900K, but it supports the whole 13th gen lineup. Having the best chipset will ensure that you have the most futureproofed motherboard, and it should last you a few generations without needing to be changed. Other stand-out features include its DDR5 support. Sure, it only has two slots, but it supports RAM with up to 96GB of capacity and at speeds of up to 8000MHz. Granted, that is with some overclocking, but still, that amount of RAM should be enough for anyone.
The board also supports up to three M.2 slots. This allows for a ton of storage on your mini-ITX machine, something that's very important if you 're using it as a games console alternative as we did this month. Connectivity is another plus for the MSI Z790I Edge Wi-Fi, as it supports—the clue's in the name—Wi-Fi 6E, and also Bluetooth 5.3. This is all you could need right now to ensure snappy connection speeds. In the box, you get a rather large Wi-Fi antenna, which if we are going to be picky, is more on the ugly side, but it works very efficiently. Another element we feel is a letdown for the board is debugging. It does come with what MSI calls the EZ Debug LED. However, it doesn't feature any of the numbering we've found on cheaper motherboards. It's not the end of the world—at least it has a debugging element, but it makes it slightly harder to troubleshoot if you run into problems.
So, to wrap things up, this board is one of the best chipsets around, has great support for DDR5 (considering there are only two DIMM slots), features lightning Gen5 PCIe, a positive amount of ports, great connectivity, and looks fantastic. For a mini-ITX board, you can't go wrong here. Its only slight issues are an ugly Wi-Fi antenna, its fairly expensive price, and that it could include a more advanced debugging tool. It impressed us though, and if you're thinking of building a small form factor machine, this is a brilliant choice for your PC. -sam lewis
VERDICT
MSI Z790I Edge Wi-Fi mini-ITX Review
PROS
High-end mini-ITX board
Good port selection
Great design and heatsinks
Speedy connectivity options
CONS
More on the pricey side
Bulky Wi-Fi antenna
No LED number debug display
Add your review
Best MSI Z790I Edge Wi-Fi mini-ITX prices ?
$

350.99
9 used from $252.44
19 new from $350.99
in stock


£

329.98
2 used from £319.75
16 new from £329.98
in stock


£

356.65
2 new from £356.65
in stock

MORE DEALS

www.msi.com
SPECIFICATIONS
| | |
| --- | --- |
| Size | mini-ITX |
| CPU | Intel 12th & 13th generation processors |
| Socket | LGA1700 |
| RAM | 2x DDR5 (up to DDR5 8000+OC), 96GB limit. |
| Chipset | Intel Z790 |
| Expansion | 1x PCIe x16 slot, PCIe 1 Gen PCIe 5.0 supports up to x16 (From CPU) |
| Storage | 3x M.2, M.2_1 Source (From CPU) supports up to PCIe 4.0 x4, supports 2280 devices, M.2_2 Source (From Chipset) supports up to PCIe 3.0 x4 / SATA mode, supports 2280 devices, M.2_3 Source (From Chipset) supports up to PCIe 4.0 x4, supports 2280 devices, 4x SATA 6G |
| Ports | 2x USB 2.0 (Front), 4x USB 3.2 Gen1 Type A (Rear), 2x USB 3.2 Gen1 Type A (Front), 2x USB 3.2 Gen2 Type A (Rear), 1x USB 3.2 Gen2x2 Type C (Rear), 1x USB 3.2 Gen2x2 Type C (Front), 1x HDMI 2.1, 1x DisplayPort 1.4 |
| Connectivity | Intel 2.5Gbps LAN, Intel Wi-Fi 6E, Bluetooth 5.3 |
| Audio | Realtek® ALC4080 Codec, 7.1-Channel USB High Performance Audio, Supports up to 32-Bit/384 kHz playback on front panel |
| Dimensions | 6.69 x 6.69 inches |