Why, Asus? Why? We want to be kind to your products, honest we do, but with the current lack of innovation across your mid-range motherboard arsenal, it forces us into an unhappy position.
Read our ASUS ROG Strix X470-F Gaming Review.
What's the problem?
Well, it's a simple one, but it comes down to what can only be described as the ROG tax. Aesthetically, it's a pleasing AM4, ATX motherboard, complete with flashy RGB heatsink, swappable chipset stickers, and a fully specced out complement of connectivity for all your devices.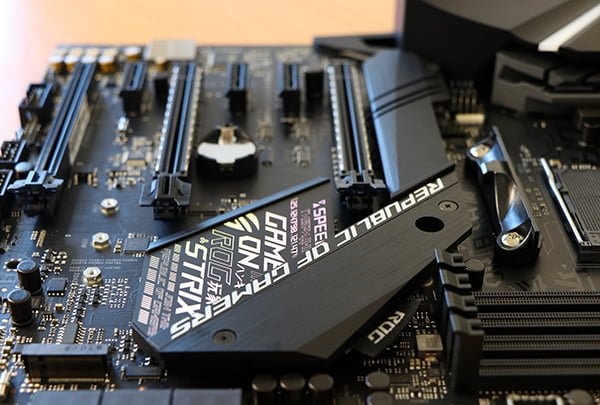 It really ought to be —after all, and it's not what we'd consider affordable. The problem lies with a product within Asus's own arsenal. Namely the ASUS Prime X470-Pro, which is cheaper.
Side by side, the PCB layouts are almost identical. Power phases, capacitors, traces, fan headers, SATA ports, PCIe slots – you get the picture. Even the rear I/O is the same.
The only differences being that the Prime lacks an additional RGB header, and it doesn't have quite as beefy an audio solution as the ROG.
So, why buy the ROG?
That's a good question and that decision mostly comes down to aesthetics. Do you like the darker styling, the rear I/O plate being pre-installed, and the I/O cover being somewhat larger than that of the Prime? If so, perhaps the ROG is the choice for you, but we're not convinced.
After all, you can pick up an older X370 Crosshair VI for less, and apart from the better power solution, improved audio hardware, and expanded connectivity, it also has that splendid styling.
It's a far superior motherboard, though you'll need to perform a BIOS update to get it to work with the latest Ryzen 2 series.
But enough railing – how does it do in our tests? All in all, it's pretty impressive.
We saw excellent scores in both Tech ARP's X264 test and the Fry Render benchmarks. Latency was far better than the other boards we've seen so far, no doubt thanks to a newer BIOS, and CrystalDisk sequentials also performed solidly, too.
Unfortunately, there's still no change on the overclocking front, and the lowest voltage we managed at 4.0GHz was 1.41V, placing it slightly worse than the Crosshair VI Hero.
Power draw is something of a problem, though, and is arguably what contributed to the high scores in both TechARP's X264 and Fry Render, because under load it drew 315W from the wall.
So, the price shenanigans aside, it's a fairly well-rounded board. Yeah, it's a bit heavy on the old power draw, but ultimately it performs well, is consistent, and admittedly does look seriously good.
The RGB lighting is subtle and isolated, and being able to swap out chipset stickers although a bit gimmicky, is admittedly a neat addition.
That said, if you want the performance, we recommend the Prime X470-Pro; if you want the looks, you could grab the ROG, although a Crosshair VI would likely serve you better. Zak Storey
Verdict
ASUS ROG Strix X470-F Gaming Review
Impressive performance, with a strong BIOS and great looks, with price and power draw the main negatives.
PROS
Impressive performance
Strong BIOS
Looks great
Add your review
|
Read reviews and comments
Best ASUS ROG Strix X470-F Gaming prices ?
MORE DEALS

Specifications
| | |
| --- | --- |
| Chipset/Socket | X470/AM4 |
| Form Factor | ATX |
| Memory Support | 64GB DDR4 @ 3,466MT/s |
| M.2/U.2 Support | 2x M.2 |
| SATA Support | 6x SATA 6Gb/s |
| Max PCIe Support | 2x PCIe 3.0 x 16 (x8x8) |
| Roar I/O | 5x USB 3.0, 2x USB 3.1 Type A, 1 x USB 3.1 Type C, HDMI, DisplayPort, PS/2 port, Intel Gigabit Ethernet, 5.1 audio out, optical audio out |
MOTHERBOARD BENCHMARKS
| | | |
| --- | --- | --- |
| | Asus ROG Strix XA70-F Gaming | Asus Crosshair VI Hero |
| Tech ARP's X264 (fps) | 35.27 | 33.06 |
| Cinebench R15 Multi (Index) | 1,634 | 1,664 |
| Fry Render [m:s] | 2:33 | 2:45 |
| AIDA64 Memory Latency (ns) | 75 | 96.8 |
| CrystalDisk 0032 Sequential Read IM8/s| | 551 | 540 |
| Crystal Disk QD32 Sequential Write (MB/s) | 477 | 450 |
| Power Draw Idle/Load (Watts) | 60/315 | 47/278 |
| Total War: Warhammer II (fps) | 57 | 57 |
| Lowest Voltage @ 4.0GHz (Volts) | 1.41 | 1.4 |
| Maximum Overclock Achieved (GHz) | 4 | 4 |
Best scores in bold. Our test bed consists of an AMD Ryzen 7 1800X, 16GB of Corsair Dominator Platinum DDR4 @ 3.200MT/s, an Nvidia GeForce GTX 1080, and a 250GB Samsung 850 Evo. Total War: Warhammer II was performed on the Ultra preset at 1440p.