What we like
Whether you use it as your main webmail provider or as a secondary account for sensitive messages, email services don't come more private than Proton Mail. You don't need to provide any personal information when setting up an account, and your IP address isn't logged, so you can send and receive messages in comfortable anonymity.

Justifying its claim that "our top priority is keeping your data safe", Proton Mail uses powerful PGP (Pretty Good Privacy) encryption to protect the contents of your messages so that only you and the recipient can read them. Emails are encrypted automatically in your browser, or Proton's Android and iOS apps, before they're sent to the company's servers and aren't decrypted until received by the other person. However, this end-to-end encryption only works if the recipient is using Proton Mail or another PGP tool. If not, you can password-protect your messages to prevent interception and set them to expire after a specific time (see page 56 to find out how).
Proton Mail also insists on 'zero access encryption', which means that – unlike Gmail and Outlook – it can't read or grant anyone access to your messages. The company is based in Switzerland, so it's outside the jurisdiction of the 'Fourteen Eyes' surveillance alliance (see https://www.securitymadesimple.org/cybersecurity-blog/fourteen-eyes-surveillance-explained) and can't be ordered to share its users' data with intelligence agencies. Usefully, any contacts you save to your account are also encrypted, so only you can view their details.
Another welcome privacy feature blocks trackers in emails to stop companies and spammers seeing when and where you open their messages, and using that information to target you with junk mail.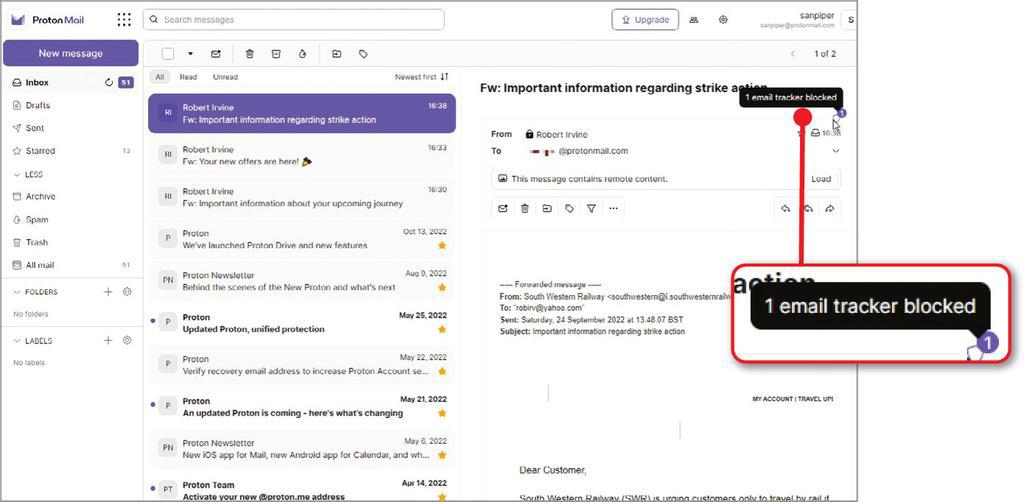 To get this option in Gmail and Outlook, you need to install a browser extension but it's enabled by default in Proton Mail, helpfully tells you how many trackers it's removed (see screenshot above) and lets you load 'remote content' such as images in messages without being tracked.
ProtonMail's simple, attractive interface makes it even easier to use than Gmail and Outlook, and can be customised with seven different themes – including two dark modes, Carbon (see screenshot below) and Monakai – and by switching between Compact and Comfortable layouts (just like Gmail).
What we don't like
Proton Mail's free plan limits you to 500MB of online storage, which is shared across the other services included with your Proton account: Drive, VPN and Calendar. This is upgraded to 1GB once you've completed certain actions, such as importing emails or contacts, but it's still pretty stingy.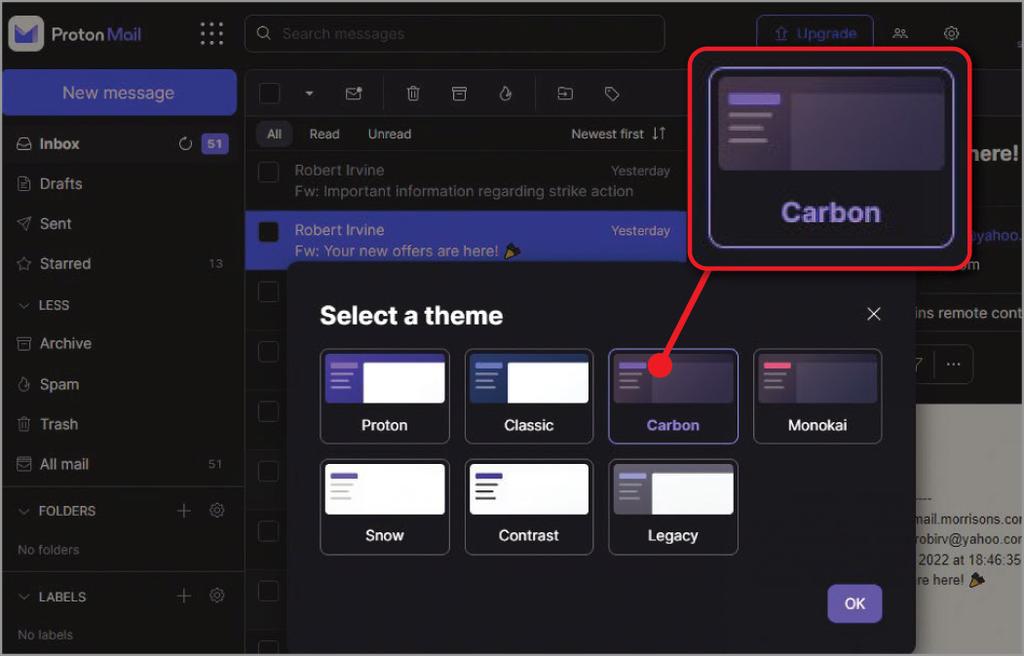 You're also restricted to having one '@proton.me' or '@protonmail.com' email address, sending 150 messages a day and attaching files of up to 25MB. You can increase these amounts and unlock extra features by paying €3.99 (£) per month for Proton Mail Plus or €9.99 (£) per month for Proton Unlimited, but you get more flexibility – though much less privacy – from the free versions of Gmail and Outlook.
What we like
Describing itself as the "world's most secure email service", Tutanota – which is Latin for 'secure message' – comes a very close second to Proton Mail. It provides most of the same privacy features, along with some useful options of its own, and its cheapest paid-for plan costs from just €1.20 (£) per month. However, this offers the same amount of online storage (1GB) as the free version, whereas a Proton Mail subscription gives you 15GB.

As well as applying end-to-end encryption to your emails so that only you and the recipient can read them, Tutanota encrypts their subject lines to hide all indication of what you're writing about. As with Proton Mail, the company can't decrypt your messages and doesn't log your IP address, and helpfully encrypts your contacts and calendar, too. You can send encrypted emails to people who aren't using Tutanota, by providing a password for the recipients to enter (see screenshot below left), but unlike Proton Mail, there's no option to set your messages to expire.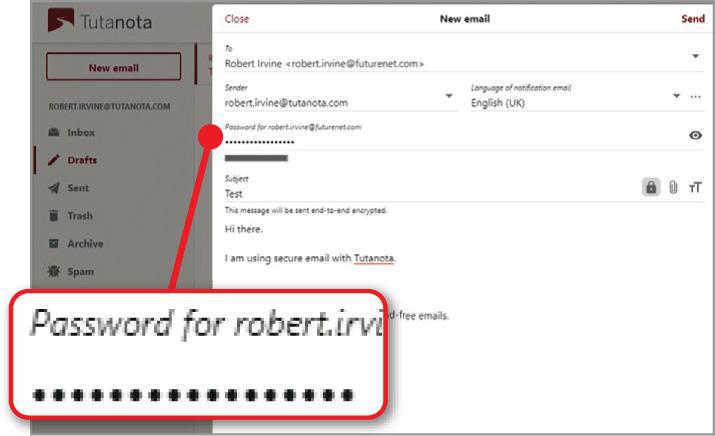 Where Tutanota excels is in its support for different devices, with free apps for Windows, macOS, Linux, Android and iOS, in addition to its website, which ensures you can always send and receive private messages wherever you are. Its interface is even more pared-down than Proton Mail's, though this means it lacks features such as being able to 'star' important messages.
What we don't like
Tutanota is based in Germany, which is one of the Fourteen Eyes countries, so your data could feasibly be passed to the authorities if legally demanded – though it is protected by GDPR legislation. While the service does a good job of blocking ads and trackers in emails, its spam filter is less accurate than Proton Mail's, sometimes failing to recognise junk mail while marking trustworthy senders as spam.
What we like
Although Zoho Mail is primarily aimed at businesses, it includes plenty of useful features for home users and – unlike Gmail and Outlook – you'll never see any ads in your inbox. Sign up for its free Personal Email plan to get 5GB of storage (10 times the amount offered by Proton Mail's free version) and send email attachments of up to 20MB. If that's too restrictive for your file-sharing needs, Zoho Mail's cheapest paid-for plan, Mail Lite, increases the limit to 250MB and costs a mere £ per month (charged annually at £).

Notable tools include the ability to schedule emails to send at the time and date of your choice, or on a recurring basis; options to 'snooze' messages to deal with later (see screenshot above right) and set reminders so you don't forget; and a Undo Send function that lets you cancel emails up to 30 seconds after you click Send. Best of all, if you want some of the privacy provided by Proton Mail and Tutanota, you can use Zoho Mail's SecurePass Email feature to make messages expire after a specific time, prevent them from being forwarded, printed or copied, and protect them with an OTP (one-time password) code, which is sent separately to the recipient. Zoho Mail also offers excellent spam controls, and lets you block unwanted messages by email address, domain and language.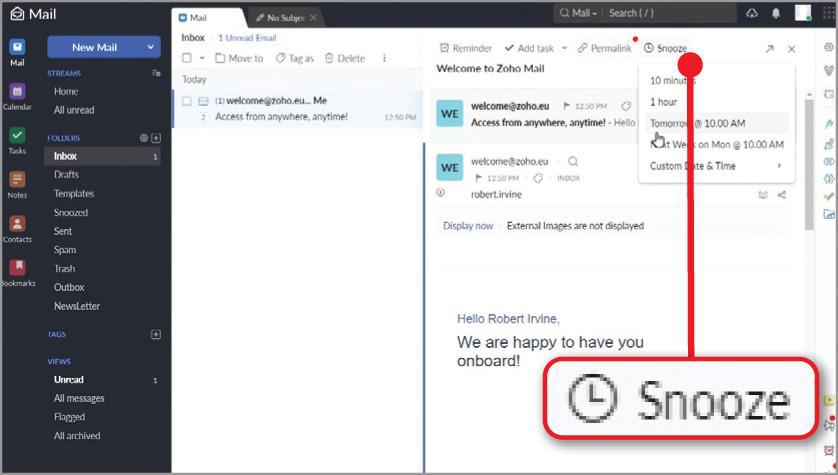 What we don't like
Compared with our Gold and Silver award winners, Zoho Mail suffers from a cluttered interface, with icon-packed toolbars on either side of your inbox. Tools such as Zoho Meeting and Projects might be useful to business users, but they're distracting for the rest of us, as is the Streams feature for team collaboration. Also annoying is that your free email account can only have a 'zoho.eu' address, not 'zoho.com' or 'co.uk'.
GMX
https://www.gmx.co.uk/mail/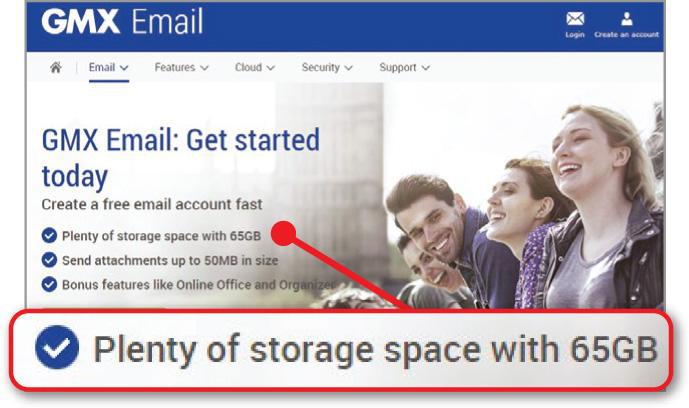 GMX gives you a whopping 65GB of email storage for free (see screenshot), a 50MB file attachment limit and end-to-end encryption through its Mailvelope PGP extension for Chromium and Firefox browsers. It also offers online office tools for creating and editing documents, and simple apps for Android and iOS. On the downside, it's supported by annoying ads for products from GMX and its partners, which make its web interface tiresome to use.

Yahoo Mail
www.snipca.com/43729

The free version of Yahoo Mail is blighted by the same problems as Gmail and Outlook, including inbox ads, poor spam filtering and unreliable TLS-only encryption, but its 5TB of storage is undeniably impressive. Its recently redesigned mobile apps are pretty good, too. Upgrading to Mail Plus for £ (see screenshot) removes ads, makes it easier to block spammers and lets you protect your privacy using disposable email addresses.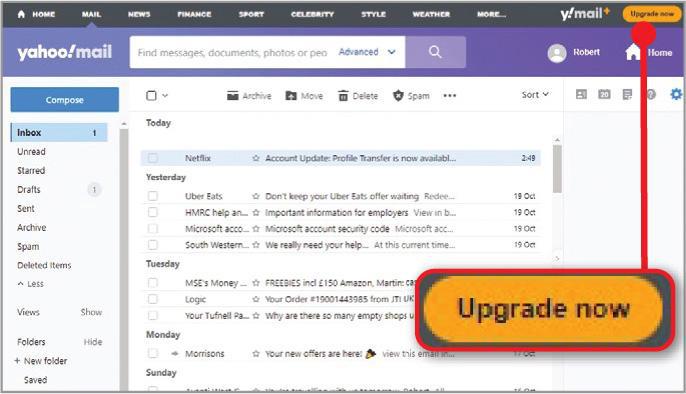 Mailfence
https://mailfence.com/

Like Proton Mail and Tutanota, the Belgium-based Mailfence places a strong emphasis on privacy. It provides end-to-end encryption (see screenshot), blocks ads, trackers and spam, and uses digital signatures to prevent scammers from faking your email address. However, its free version offers few other features, so you'll need to pay from €2.40 (£) a month to make the most of the service, and be able to use its Android and iOS apps.