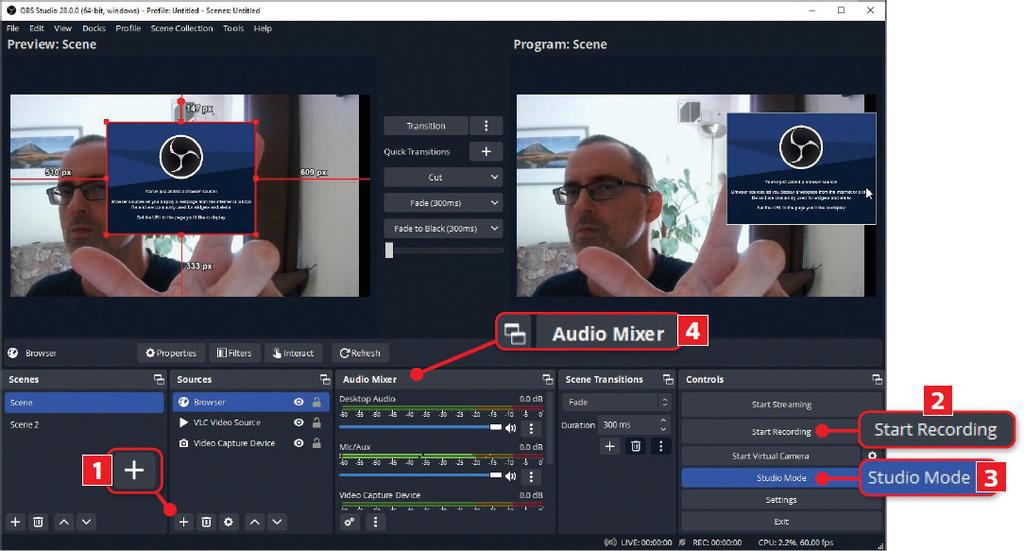 VIDEO TOOL
OBS Studio 28
www.snipca.com/43189
What you need: Windows 10 or 11, macOS or Linux
Open Broadcaster Software (OBS) Studio is celebrating its 10th anniversary by releasing this feature-packed version of its powerful software for recording and streaming live video. Unlike similar tools, all its options are free to use and it's open-source, which means bugs are quickly identified and fixed. Read our OBS Studio 28 Review.
Most of the changes in OBS Studio 28 are quite technical, but will be warmly welcomed by avid users of the software. They include the ability to increase streaming quality by encoding videos in HDR (High Definition Range) format with 10bit colour depth, which means they'll look fantastic and realistic on the latest 4K screens. OBS has also improved encoding for AMD graphics cards to enhance performance and give you access to extra tools.
Another interesting new feature incorporates Nvidia's Background Removal tool on PCs with a GeForce RTX GPU. This allows you to apply a virtual background when streaming video of yourself, without needing a physical 'green screen'. It also eliminates echoes from the accompanying audio, which is useful if you're using a desktop mic or talking in a large or poorly soundproofed room.
If you don't plan to stream videos on YouTube, Facebook or Twitch, select 'Optimise just for recording, I will not be streaming' when you install OBS Studio and your settings will be optimised accordingly. It has plenty of tools that let you record what's happening on your desktop, in your browser, in another window or even playing in VLC. The Studio Mode makes it easy to preview how your videos will look and apply transitions and filters to them. OBS also offers a Virtual Camera you can use to make professional video calls through tools such as Zoom. Note that due to its more demanding system requirements, it no longer supports Windows 8.
IMAGE VIEWER
FastStone Image Viewer 7.7
www.snipca.com/43173
What you need: Windows 7, 8.1, 10 or 11
FastStone Image Viewer's second big update of 2022 (see Issue 630, page 18 for details of the first) adds several useful features and makes the program even quicker to use. It can now open images in Apple's HEIC or HEIF format between 40 and 100 per cent faster, which is handy for viewing photos you've taken with your iPhone or iPad. A new 'Show Dimension' option has been added to the Thumbnail tab of the Settings box (see screenshot), so you can quickly check the resolution of pictures when browsing a folder, and new 25% and 75% options are now available in the Quick Resize menu. Other improvements include the option to open photos tagged with GPS coordinates in OpenStreetMap (as well as Google Maps and Earth), better rendering of text in Slide Show view and the ability to annotate images without needing to keep clicking the Draw tool.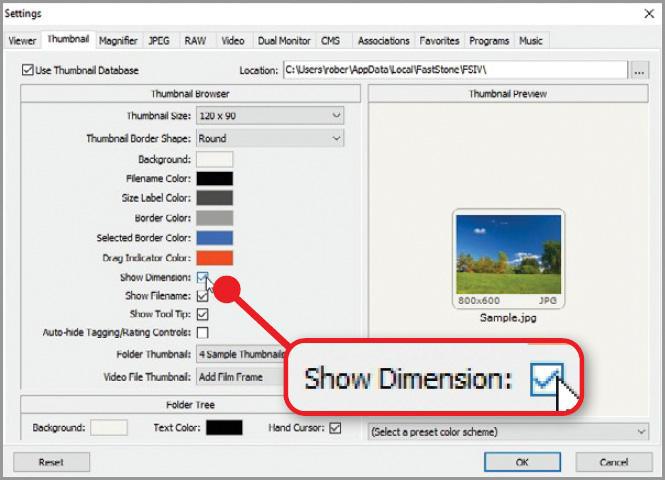 OFFICE SUITE
LibreOffice 7.4
www.snipca.com/43174
What you need: Windows 7, 8.1, 10 or 11, macOS or Linux
The latest update to LibreOffice makes a number of welcome enhancements to the popular free open-source office suite. These include increasing the number of columns supported by its Calc spreadsheet tool to 16,384 (the same number as offered by Microsoft Excel). LibreOffice also now lets you import and export images in Google's WEBP format and adds support for the compressed graphics format EMZ and WMZ files (Windows Media Player skins). The most notable improvement is to the tracking of changes in the office suite's Writer tool. You can now see adjustments made to documents you open in read-only mode, by going to Edit then Tracked Changes and selecting Manage (see screenshot), and track the insertion and deletion of footnotes. Additionally, LibreOffice's Extensions Manager now has a search box to make it easier to find specific add-ons.