Available for under £,the LG UltraGear 32GP850 provides a large 32in screen size and a rapid 165Hz (overclockable to 180Hz) refresh rate. What's more, it uses LG's Nano IPS panel technology for class-leading response time and what should be solid image quality. Read our LG ULTRAGEAR 32GP850 Review.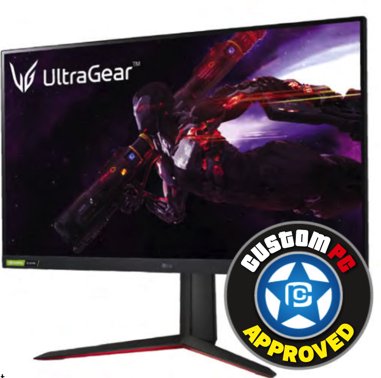 It's an attractive-looking bit of kit, if a little on the plain and plastic side. There's no RGB or extra gaming hardware, such as a headset hook, but it's a simple, classy-looking unit. The stand is reasonably elegant, although the long pointy leg design is a little less practical than a flat square base. It offers height and tilt adjustment, as well as rotation, although there's no swivel option.
Around the back, the ports face directly outwards rather than downwards. It's easier to plug cables into the monitor this way, but it's less tidy when it comes to cable management. The external power supply helps to keep the display slim, but you'll have a power brick to tidy away somewhere.
Those ports consist of one DisplayPort and two HDMI inputs along with a 2-port USB 3 hub and headphone jack. There are no speakers, but the headphone jack sounds good, unlike the ones in some cheap displays. A single mini D-pad/joystick on the underside of the panel controls the on-screen display menus and the setup process works superbly, while the selection of options is comprehensive for tweaking both image quality and gaming performance.
An important addition for many users will be the sRGB mode for reducing the colour gamut and, unlike on many monitors, in this case this mode doesn't lock the brightness. By default, the display offers a high colour gamut (100 per cent DCI-P3, 140 per cent sRGB) for an HDR-like colour range, but there are no contrast boosting technologies for proper HDR.
When it comes to image quality, this display's 2,560 x 1,440 resolution on a 32in panel makes pixels look quite large, so fans of ultra-sharp panels will have to look elsewhere. However, we found it enjoyable for gaming and video. LG only rates the contrast of this panel at 700:1, but in our tests it delivered over 900:1. As a result, it didn't obviously suffer the slightly washed-out look of some Nano IPS screens we've tested.
In both high gamut and sRGB modes, the display provided excellent image quality out of the box, with accurate colour temperature (6,384K in high gamut, 6,597K in sRGB), good colour accuracy (0.12 average delta E in both) and decent gamma response (2.16 high gamut, 2.31 sRGB). This means you shouldn't need to tweak any image quality options to get the best from this display, other than changing brightness and opting for the sRGB mode if desired.
For gaming, the native 165Hz refresh rate along with a snappy 1ms response time makes for an impressively responsive experience. You've also got FreeSync and G-Sync support for image tearing and stutter removal, and the option to overclock to 180Hz, although the latter didn't make much of a discernible improvement in our tests.
Conclusion
If you want a big screen without a huge cost and the need for an expensive 4K-capable GPU, the LG UltraGear 32GP850 is an ideal compromise. Its IPS panel offers great overall image quality and solid gaming performance. There are a few competitors in this general price range, but the LG is among the cheapest options yet lacks nothing in terms of performance.
EDWARD CHESTER
spec
Screen size 32in
Resolution 2,560 x 1,440
Panel technology IPS
Maximum refresh rate 165Hz (180Hz overclocked)
Response time 1ms
Max brightness 350cd/m2 (SDR)
Backlight zones 1
Contrast 700:1
Adaptive sync FreeSync and G-Sync
Display inputs 1 x DisplayPort 1.4, 2 x HDMI 2
Audio Headphone out
Stand adjustment Height, tilt, rotate
Extras 100 x 100mm VESA mount, 2-port USB hub
VERDICT
Editor choice
LG ULTRAGEAR 32GP850 Review
An ideal balance of screen size, image quality, gaming performance and price.
PROS
Great overall image quality
Excellent gaming performance
Low cost for its size
Superb OSD system
CONS
Can't really do HDR
Contrast is a touch low
Comparatively pixel density
Add your review
Best LG ULTRAGEAR 32GP850 prices ?
MORE DEALS